DowDuPont Hit as Factory Splurge Boomerangs to Drive Up Costs
(Bloomberg) -- The U.S. shale boom has for years blessed chemical makers with cheap energy, prompting record spending on new factories. Now that unchecked growth is costing the companies big.
DowDuPont Inc., Exxon Mobil Corp., Chevron Phillips Chemical Co. and others invested billions in new plants to take advantage of rock-bottom prices for ethane, a key raw material for making plastic. But they built so much so fast that demand for the feedstock exploded. Prices soared 43 percent last month and have doubled so far this year.
That's turning ethane, which used to give chemical makers a reliable cost advantage, into a squeeze on profit margins -- and a drag on shares. More ethane-fed plants are set to open next year, adding to the pressure on prices.
"Unfortunately, it could get worse,'' said Kelly Van Hull, manager of energy analytics at RBN Energy. Ethane supplies may not be able to catch up to demand until 2020, she said.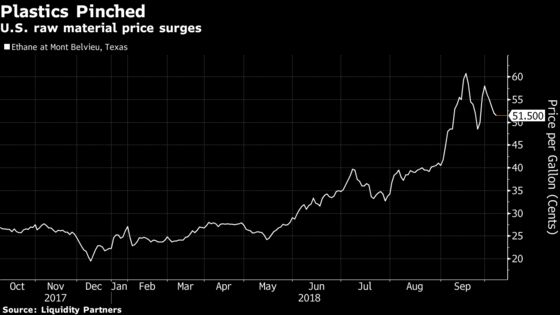 DowDuPont, one of the largest consumers of ethane, is seeing its years-long competitive advantage for making plastics in the U.S. erode just as it's planning to spin off its Dow materials unit early next year. As a smaller, standalone plastics maker, the spinoff will feel the pain even more acutely.
Surging ethane prices prompted Aleksey Yefremov, an analyst at Nomura Instinet, to lower his recommendation on DowDuPont last week to neutral from buy. He also chopped earnings estimates for this year and next. Two other analysts also cut their profit estimates for the company last month.
DowDuPont tumbled 7.7 percent last week, the most since February, and has dropped another 1 percent this week. Over the past month, the shares have posted the biggest decline on a Standard & Poor's index of materials makers.
Smaller competitors LyondellBasell Industries NV and Westlake Chemical Corp. have also slid, given their heavy reliance on ethane-based production. Ten analysts in September reduced profit estimates for Westlake, and 14 did so for LyondellBasell, according to data compiled by Bloomberg. The companies also were downgraded by some analysts.
JPMorgan Chase & Co. on Friday downgraded Eastman Chemical Co. to neutral from overweight because of rising costs for raw materials, including ethane. The shares fell as much 3.7 percent Friday to their lowest intraday since February.
The problems originated in a bonanza: The U.S. drilling boom in shale formations has produced abundant oil and natural gas, as well as gas liquids like ethane. Chemical companies rushed to build more plants in the U.S. to process the cheap feedstock into ethylene – a basic building block for plastics.
More than $200 billion in U.S. chemical investments have been announced since the shale boom began, with about half the projects completed, according to the American Chemistry Council, an industry group.
Now, U.S. ethane is even being exported to plastics makers in Scotland and India, increasing the pressure on prices. Suddenly, energy producers can't keep up with demand.
"We are in the midst of a bit of a demand surge," said Steve Zinger, senior vice president for chemicals at Wood Mackenzie. "There is probably a little panicking in the market."
There is a bright spot, however. Rising demand for plastics is increasing product prices. So plastic makers like DowDuPont and LyondellBasell will recapture profit from that end of the supply chain, said Jonas Oxgaard, a Bernstein analyst.
"For the U.S. producers, this price increase offset most, although not all, of the ethane price hike," Oxgaard said in a note Friday.
Hassan Ahmed, an analyst at Alembic Global Advisors, sees the spike in ethane prices reducing third-quarter earnings at the big U.S. plastics producers. But he's not too concerned about what he sees as a temporary market issue.
Next year will bring even more demand. Ethane-fed ethylene plants in Texas and Louisiana are on the way in the coming year from Sasol Ltd., Shintech Inc., Indorama Ventures Plc, Formosa Plastics Group and a joint venture of Westlake and Lotte Chemical Corp.
Ethane prices are at risk of remaining elevated for nine to 12 months before energy producers can build enough infrastructure to pipe it to the Gulf Coast and extract it from raw natural gas, Zinger said.
Adding to the pressure for some ethylene producers: the surge in new plants has created a surplus that deflated prices 26 percent this year through September. That means those companies pay more at the front for ethane, then get less for the ethylene they produce. Profit margins from ethane-fed ethylene plants have dropped to the lowest in 15 years, down 80 percent from a 2015 peak, according to data compiled by Nexant Inc.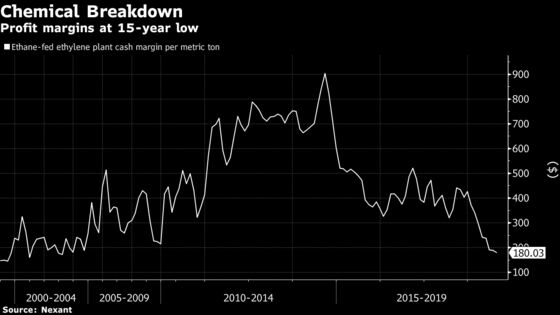 Until prices stabilize, companies have a few options to mitigate the damage, said Anne B. Keller, Genscape Inc.'s product director for natural gas liquids. Some ethylene producers can switch to other energy feedstocks that are now more competitive after ethane's price spike.
Companies with new plants coming online can delay start up, and some are pulling back production at existing plants, Keller said.
Eastman has temporarily idled an ethylene plant in Longview, Texas, said spokeswoman Tracy Kilgore Addington. Chevron Phillips reduced output at ethylene plants at two Texas plants, according to Keller. The company declined to comment. DowDuPont didn't respond to a request for comment.
It will take a while until ethane supply and demand are balanced again, Keller said.
"We'll be in a lot better shape next year," she said, "but it could be end of the year."