DowDuPont Surges as China, Auto Gains Fuel Optimism on Growth
(Bloomberg) -- DowDuPont Inc. rose the most in nearly three years after the chemical giant raised its cost-savings target and sidestepped concerns over global growth.
Revenue in China climbed 18 percent and sales to automakers gained 10 percent, driven by purchases of engineered plastics and electric-vehicle components. Both trends should continue, the company said Thursday, as Chief Executive Officer Ed Breen played down the short-term impact of trade tensions.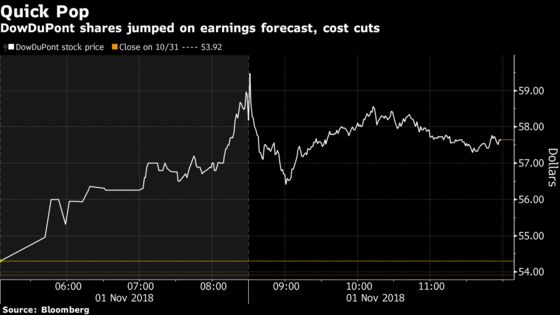 "Whatever macroeconomic fears may be weighing on the market, DowDuPont does not appear to believe they will affect fourth quarter performance," Jonas Oxgaard, an analyst at Bernstein, said in a note.
Breen's positive outlook rekindled investor optimism after worries about growth eroded almost a quarter of DowDuPont's market value in the last two months. The CEO boosted his goal for savings from last year's merger of Dow Chemical Co. and DuPont Co., which gave rise to the world's largest chemical maker. He also initiated a new stock buyback program as DowDuPont prepares to split in three next year.
The shares rose 7.5 percent to $57.97 at 3:01 p.m. in New York after advancing 10 percent, the biggest gain since the planned merger was reported in December 2015. DowDuPont tumbled 24 percent this year through Wednesday, the second-biggest drop on the Dow Jones Industrial Average.
The company's new cost-savings target of $3.6 billion is an increase of $300 million from the previous goal. It's also $600 million more than Dow and DuPont forecast when they announced their plans to combine.
DowDuPont said it will repurchase $3 billion in shares by the time the materials science division is spun off as Dow on April 1. That will add to $4 billion of buybacks completed since the merger.
The increased cost savings and the new repurchase program show that DowDuPont is "going on the offensive," RBC analyst Arun Viswanathan said in a note.
The company also announced directors for the planned spinoffs. Breen will join the board of Corteva Agriscience, a seed and pesticide company, as well as serve as executive chairman of the new DuPont, which was previously disclosed. Additional directors are being considered, Breen said on a conference call. Breen won't serve on Dow's board, spokesman Dan Turner said in an email.
DowDuPont is targeting investment-grade credit ratings for the three independent companies. New DuPont will issue $16 billion in new bonds, contributing $10 billion to Corteva to pay off almost all legacy DuPont debt and $2 billion to help new Dow reduce borrowings.
Third-quarter adjusted earnings rose to 74 cents per share, topping the 71-cent average estimate of analysts surveyed by Bloomberg. Sales climbed 10 percent to $20.1 billion. Analysts had expected $20.2 billion.
DowDuPont reaffirmed its full-year forecast for earnings per share to rise by a percentage in the low 20s.
Total sales volume and average prices each gained 5 percent. But the stronger U.S. dollar exerted a 1 percent drag on revenue, Chief Financial Officer Howard Ungerleider said in an interview.
The company faces declining near-term earnings from plastics, its largest business. But Chief Operating Officer Jim Fitterling said the company would perform better than an IHS Markit forecast for fourth-quarter profit margins the U.S. and Europe to contract more than 50 percent. Cost savings, higher sales volume and a more profitable product mix should mitigate the damage, he said.
"The early part of next year will be kind of a short and shallow compression here, and then we'll come out of it," Fitterling said on the call.