Dovish Fed Hike Seen by JPMorgan as Markets Flash 'Slowdown'
(Bloomberg) -- It may not be the "Powell Put," but the Federal Reserve is likely to deliver some response to the wave of risk aversion hitting global markets, according to JPMorgan Asset Management's fixed-income chief.
Policy makers can hardly ignore inversions showing up on the yield curve while a violent sell-off rocks U.S. stocks amid trade tensions, European political risk and plunging oil prices, Bob Michele, chief investment officer at JPMorgan AM said in an interview with Bloomberg Television.
"I would expect a dovish rate hike" at the Dec. 18 to 19 meeting, Michele said. "I would expect some clarity that we're near the end" of the indicative tightening trajectory.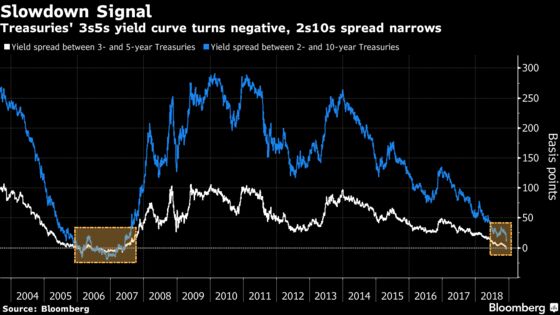 Fed Chairman Jerome Powell hinted late November that the central bank may temper the pace of rate increases next year from the three projected by officials in September. Those forecasts will be updated when officials meet later this month.
The spread between three- and five-year Treasury yields turned negative for the first time in more than a decade this week, a sign of vanishing confidence about the economic outlook.
"The Fed is certainly taking notice of the shape of the yield curve and they certainly don't want recession expectations to start to pervade through the market," Michele said. "If there's an increasing preference for investors to buy 10-year securities at a lower yield than they could get in cash that's telling you that there's a material slowdown brewing."
One way the Fed could buffer the impact of rate increases would be to signal the central bank is "open" to pausing its balance-sheet-reduction program. Signaling an outright hiatus in rate hikes at the December meeting "would be too much of a shock -- I think they would lose credibility," Michele said. "Getting to 3ish percent by June, the markets could tolerate that."
When asked about the concept of a Powell Put in a Bloomberg TV interview earlier this week, Fed Vice Chairman Richard Clarida cautioned investors against thinking the Fed would act to halt a sharp market decline.
This week's global bond rally from Germany, Japan to the U.S. has firm foundations, according to the JPMorgan investor. Crude bounced near a psychological threshold of $50 a barrel Thursday as OPEC struggled to forge an agreement on production cuts -- a fillip for bond bulls.
Slumping oil "will reflect right back into inflation expectations and those are going to come down," boosting prices for developed-market government debt along the way, Michele concluded.