Dollarama's Essential Services Nod Pushes Shares Higher
(Bloomberg) -- Dollarama Inc. being recognized as an essential service in some Canadian regions gave its stock a bump up this week amid the spread of coronavirus.
The company said early Tuesday it will continue to operate its Montreal-based distribution centre, warehouses and at least all of its retail stores with street access in Quebec and Ontario. Dollarama also implemented a 10% pay boost for employees.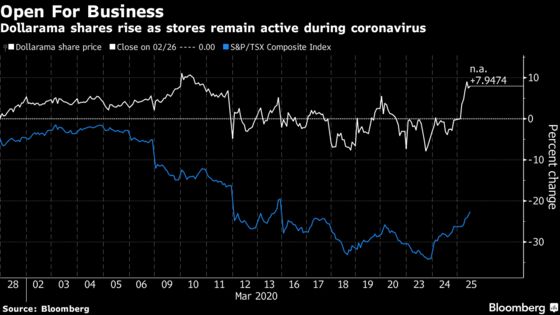 Shares of the Montreal-based dollar-store chain jumped as much as 9.7% Wednesday in Toronto trading, adding to the 6.8% advance on Tuesday after the announcement. The stock is now the second-best performer in Canada over the past month, trailing only Silvercorp Metals Inc.
TD Securities upgraded Dollarama's rating to buy from hold Wednesday, saying the company should gain market share as smaller competitors may be forced to close.
See a list here of businesses in Ontario deemed essential as governments aim to contain the spread of coronavirus.
"This is potentially favourable to Dollarama on a number of fronts," TD analyst Brian Morrison wrote in a note to clients. On Monday, Industrial Alliance analyst Neil Linsdell upgraded Dollarama, citing the company's discount retail offering.
Dollarama has seven buy ratings, six holds, and one sell, according to data compiled by Bloomberg. The company is set to report fourth-quarter results April 1.