Dollar Morphs Into Risk-On Currency Amid U.S. Growth Hopes
(Bloomberg) -- Hopes for the U.S. economic recovery seem to be transforming the dollar from a haven asset to the risk-on currency of choice.
The currency has been rising in tandem with global equities after three weeks of divergence. Their inverse correlation weakened to minus 0.46 from a peak of minus 0.73 in July. The Bloomberg Dollar Spot Index showed its changing colors Friday by dropping 0.4%, the most in three weeks, after a report showed the U.S. added fewer jobs than expected in January.
The greenback's turnaround is shaking up a consensus on Wall Street that a strengthening recovery would weigh on havens such as the dollar. The opposite appears to be happening, as the prospect of more-generous U.S. government spending from the Biden administration and rising Treasury yields have spurred the currency.
Currency Strategists Reassess Bearish Dollar Calls
It's still early days to call a trend, and hedge funds and asset managers remain bearish, according to aggregated data from the Commodity Futures Trading Commission.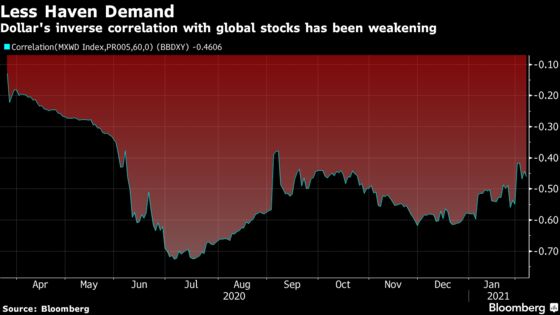 "The dollar looks overbought, but optimism toward the currency is strong," said Toshiya Yamauchi, chief manager for foreign-exchange margin trading at Ueda Harlow Ltd. in Tokyo. Traders are "ignoring bad catalysts for the dollar but jumping onto good ones."
The rally has rippled across global markets, with the greenback breaking major resistance lines versus other currencies. It stormed through the 100-day moving average against South Korea's won.
The dollar also climbed above its 200-day moving average against the yen -- the traditional haven that is often used to fund carry trades -- for the first time since June on Friday.
Dollar-Yen Breaks Through Key Milestone With Room to Run: Chart
So far this year the dollar has already advanced 2% versus the yen, to 105.61. This contrasts with calls for a drop toward the key psychological threshold of 100 yen among forecasters such as Goldman Sachs Group Inc. and JPMorgan Chase & Co.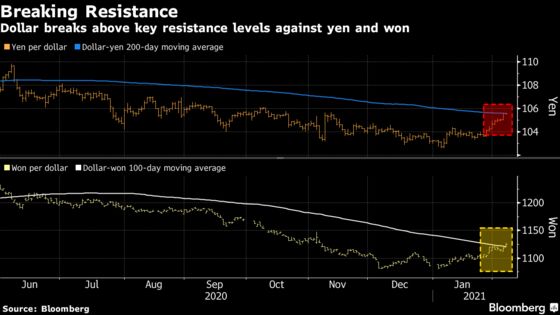 The outlook for a further rise in Treasury yields could support the greenback as the duo has moved in sympathy over the past few sessions.
The U.S. 10-year yield will climb to 1.50% by year-end, according to DBS Group Holdings Ltd., which sees the world's largest economy as well-placed to recover from the pandemic.
A widening yield differential over Japan should help propel the dollar to 108 by the end of June, said Masafumi Yamamoto, chief currency strategist at Mizuho Securities Co.
In his view, the combination of U.S. fiscal stimulus, slowing coronavirus infections and vaccine distribution is "a perfect storm."