Dollar Has No Equal for Investors Sheltering From Outbreak
(Bloomberg) -- Currency traders seeking shelter as the spreading coronavirus roils financial markets just can't get enough of the teflon dollar.
The greenback has gained versus some 30 major world currencies in the past month, coinciding with mounting concern over the outbreak's economic impact. The yen and the Swiss franc, two traditional haven currencies, have proven no match.
The dollar's appreciation is confounding the year-end consensus that overseas economies were set to strengthen and lure cash from the U.S. The deadly illness has upended that narrative, and yield-hungry investors are also shunning negative rates in Asia and Europe. And with no end in sight for the outbreak, momentum appears to be in the greenback's favor.
"U.S. growth is more insulated from the virus-related demand hit to" Asia and Europe, Columbia Threadneedle's Ed Al-Hussainy said in an email. Rate differentials also make "the dollar an exceptionally attractive safe-haven play."
With coronavirus worries rising, the senior interest rates and currency analyst said the asset manager reduced exposure to emerging-market currencies and closed long-euro and sterling positions versus the dollar.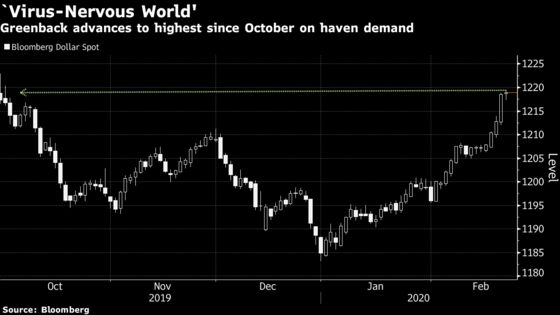 The dollar's strength is a boon for international investors repatriating proceeds from American holdings, but it's a potential drag for U.S. companies with earnings abroad.
The greenback touched a 10-month high of 112.23 yen Thursday amid worries that the ripple effects from the deadly illness could push Japan into recession. U.S. growth remains solid. Data Thursday showed a regional Federal Reserve manufacturing index surged this month to the highest level in three years. That contrast could mean further weakness for the yen -- usually a go-to currency in times of uncertainty.
Makoto Noji, chief strategist for SMBC Nikko Securities in Tokyo, sees the yen potentially dropping toward 115 per dollar, a level last seen in 2017, should U.S. and Japanese growth continue to diverge.
For Momtchil Pojarliev, head of currencies at BNP Paribas Asset Management, the yen has cheapened enough. He bought some Thursday on the view that its haven characteristics will reassert themselves should the virus's impact start showing up in economic data.
He's still bullish the dollar versus other major currencies, though, because it's "the clear safe-haven" and the virus "will have big implications for growth."
There are other oases: Gold reached a seven-year high Friday, while 10-year Treasury yields fell as low as 1.47%, the lowest since September. The Swiss franc has weakened 1.6% this year, while the yen is down 3%.
"The market is starting to better discern between the currencies/assets it wants to hold in this virus-nervous world," Alan Ruskin, chief international strategist at Deutsche Bank AG, said in an email. "In FX-land, the U.S. dollar is top."