China Developers See More Debt-Rating Cuts: Evergrande Update
(Bloomberg) -- Chinese property developers are suffering credit rating downgrades at the fastest pace in five years as a recent slump in new-home sales adds to concerns about the sector's debt woes. 
Moody's Investors Service, Fitch Ratings and S&P Global Ratings have cut Chinese builders' ratings a combined 91 times through Sept. 30, triple the number of this year's upgrades. That's already a record full-year count of downgrades. 
China Evergrande Group remains in the spotlight, with some holders of dollar bonds with interest payments due Monday saying they had yet to receive them. The latest payment uncertainties came after the embattled firm missed initial coupon deadlines for two other offshore bonds last month.
In a fresh sign of official concern about the property sector's health, the China Real Estate Association is reported to be planning a symposium with developers Friday to learn about the risks the companies are facing. 
China Property Developers Downgraded at Highest Rate in 5 Years
China Industry Group to Meet Builders to Discuss Risks: News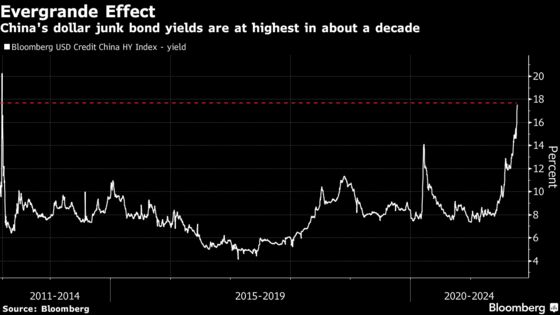 China Faces Tough Trade-off in Dealing With Evergrande, IMF Say (10:30 p.m. HK)
China faces tough trade-offs in dealing with the fallout from the financial troubles at Evergrande, the International Monetary Fund said.
On the one hand, the country risks being seen as backing off from its economic deleveraging drive if it provides too much support to Evergrande and other affected companies, the Washington-based lender said Tuesday in its semi-annual Financial Stability Report. On the other hand, it could spur more stress if it puts off arranging backing for the financial system.
China Industry Group to Meet Builders to Discuss Risks: News (4:08 p.m. HK)
China Real Estate Association plans to hold a symposium with property developers in Beijing Friday to learn about risks the companies are faced with, China Business News reported. 
The investigation would help the authorities implement property industry policies amid recent market fluctuations, the report cited an unidentified person as saying. 
China Resources Land Sales Slump Almost 24% (4 p.m. HK)
China Resources Land said contract sales tumbled 23.8% in September as the Evergrande saga continued to reverberate through the property sector.
Contracted sales for the month totaled 22.1 billion yuan, the company said Tuesday.
Chinese Developer Sinic Warns of Default as Hidden Risks Mount (2:31 p.m. HK)
Sinic Holdings Group Co. has become the latest Chinese real estate firm to warn of imminent default, as rising contagion risk leaves investors guessing on who else may face a credit crunch.
The Shanghai-based developer said in a Hong Kong stock exchange filing it doesn't expect to repay a $250 million dollar bond due Oct. 18 and that may trigger cross-default on its two other notes. The firm has $694 million in dollar bonds outstanding, according to Bloomberg-compiled data. The firm missed domestic payments in September, sparking an 87% stock plunge then. 
China Property Developers Downgraded at Highest Rate in 5 Years (1:14 p.m. HK)
Chinese developers' credit ratings have been cut at the fastest pace relative to increases since 2016, as a recent slump in new-home sales adds to worries about the sector's debt. 
The 91 downgrades through Sept. 30, already a full-year record, is also more than double 2020's full-year total, according to data compiled by Bloomberg. 
Chinese Developer Fantasia's Troubles Mount After Directors Quit (1:10 p.m. HK)
Fantasia Holdings Group Co.'s woes mounted after two directors quit the troubled Chinese developer, leaving it in breach of Hong Kong listing rules. 
Days after defaulting on a dollar bond, Fantasia said Ho Man resigned, expressing concern "that he had not been kept fully informed of certain crucial matters of the company in a timely manner." Another independent non-executive director, Wong Pui Sze, also left, saying she had no disagreement with the board.
China Starts Inspection on Financial Regulators, State Banks (11:06 a.m. HK)
China is inspecting the nation's financial regulators, biggest state-run banks, insurers and bad-debt managers for the first time in six years as Beijing steps up efforts to root out corruption in the $54 trillion financial system.
A team led by the Central Commission for Discipline Inspection will start a two-month anti-graft check of the China Banking and Insurance Regulatory Commission, and accept complaint reports from whistleblowers until Dec. 15, according to a statement late Monday. 
Moody's Cuts Modern Land to Caa2, on Watch for Further Downgrade (9:16 a.m. HK)
Moody's downgraded Modern Land (China) Co. by three notches to Caa2 late Monday and put the Chinese developer on watch for further downgrade, following the builder's request that bondholders defer repayment on much of an upcoming debt maturity.
Greenland Says Pre-Sale Permits Back to Normal in China Jinan (7: 45 a.m. HK)
Greenland Holdings Corp. said pre-sale permits for its property projects in the eastern Chinese city of Jinan are back to normal after the company corrected mistakes at some projects as required by the local government. 
The Shanghai-based developer issued a statement after the Economic Observer reported that Jinan authorities halted the firm's permits due to recent delays in home deliveries. 
Some Evergrande Bondholders Haven't Received Coupons Due Oct. 11 (10:10 p.m. HK)
Investors said they hadn't received coupon payments on the Evergrande's 9.5% note due 2022 and its 10% bonds due 2023 as of 5 p.m. Monday in Hong Kong. Together with the payment due on a third bond -- a 10.5% note due 2024 -- Evergrande's combined interest due was about $148 million, according to data compiled by Bloomberg.
Evergrande dollar bond interest deadlines:
Dollar bonds 
Coupon due date

Amount

(million dollars)

EVERRE 8.25% due 2022
Sept. 23
83.53
EVERRE 9.5% due 2024
Sept. 29
45.17
EVERRE 9.5% due 2022
Oct. 11
68.88
EVERRE 10% due 2023
Oct. 11
42.5
EVERRE 10.5% due 2024
Oct. 11
36.75