Dolce & Gabbana Faces China Boycott Calls Over 'Racist' Videos
(Bloomberg) -- Chinese consumers are calling for a boycott of Dolce & Gabbana after the Italian fashion house posted videos that are being criticized as racist and insensitive, setting off a social-media drama that's led to the postponement of a Shanghai runway show hours before it was due to start.
The storm intensified after screenshots of incendiary messages sent from co-founder Stefano Gabbana's Instagram account leaked on the platform and top Chinese talent pulled out of the event. The brand said in social media posts that its account and that of Gabbana had been hacked.
The videos show a Chinese model struggling to eat Italian dishes like spaghetti and cannoli pastry with a pair of chopsticks. They were originally posted this week on Weibo, a Chinese microblogging service, and were deleted after a widespread backlash. The clips could still be viewed on the company's Instagram account as of Wednesday.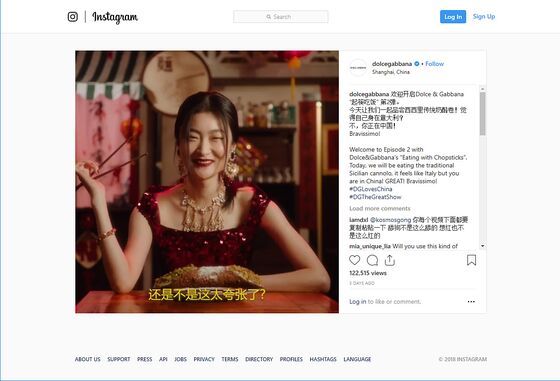 Dolce & Gabbana has run into trouble as global luxury brands are increasingly dependent on China to drive growth. The country's consumers spent more than $100 billion on high-end purchases last year -- almost a third of the global total. Fears that Chinese demand for premium goods was slowing in the face of waning consumer confidence and the ongoing U.S.-China trade war sent jitters across global luxury stocks last month, wiping out some $160 billion in market value.
Chinese netizens said the video ads had racist overtones, including the stereotypical look of the model, who was dressed in a red, sequined D&G dress. The clips feature traditional Chinese music and a suggestive voiceover from a male narrator, who asks the actress trying to eat the cannoli: "Is it too big for you?" The ads were part of a campaign to promote the luxury brand's Shanghai runway show that was scheduled for Wednesday.
The matter escalated as screenshots surfaced of Gabbana's Instagram account, including a message exchange that said the videos were posted "by my will." Another message complained of a "China Ignorant Dirty Smelling Mafia," according to a widely shared screenshot.
"Our dream was to bring to Shanghai a tribute event dedicated to China which tells our history and vision," Gabbana and co-founder Domenico Dolce said in an emailed statement. "What happened today was very unfortunate not only for us, but also for all the people who worked day and night to bring this event to life."
The latest uproar comes as Chinese consumers have become increasingly quick to call out brands for marketing they see as condescending, out of touch or racist. LVMH's Christian Dior has faced criticism for adding the Chinese social media star known as Angelababy -- often referred to as a sort-of Chinese Kim Kardashian -- to its roster of brand ambassadors while its lineup of Western stars includes A-list silver-screen star Jennifer Lawrence.
Dolce & Gabbana has previously courted controversy in China. Last year the brand pulled online ads after Internet users took to social media to criticize the company for portraying an underdeveloped China. Another campaign showed Chinese tourists taking selfies in Italy.
Before the brand announced the postponement of Wednesday's show, several Chinese celebrities, including actresses Zhang Ziyi and Li Bingbing, announced they would not attend and would boycott the brand.
Chinese social media users were riveted by the furor. "D&G show canceled" and "D&G designer" were the two most-searched topics on China's Weibo on Wednesday afternoon.