DNO Steps Up Faroe Criticism as It Confirms Hostile Bid
(Bloomberg) -- DNO ASA, which has made a hostile bid for Faroe Petroleum Plc, continued to criticize the company's leadership as it confirmed an offer that's been deemed too low by several shareholders.
DNO has slammed Faroe's share performance and expressed concerns over its corporate culture after being forced to withdraw a request for seats on the board. In a document published Wednesday, where it repeated its 152-pence-a-share offer, DNO criticized a recent swap deal by Faroe and questioned whether it would be able to develop its key Brasse discovery on time and on budget.
"Faroe has failed to deliver consistent shareholder returns over the last 15 years in part as a consequence of dilutive share issues, dilutive options schemes and recent growth-dilutive asset transfers," DNO Executive Chairman Bijan Mossavar-Rahmani said in a statement. "This full and fair offer provides Faroe shareholders a rare opportunity to exit."
DNO's renewed charge comes after Faroe urged shareholders to snub the Nov. 26 offer, which it said undervalued the company. Some of its biggest investors said DNO, which already owns a 28 percent stake, would need to raise its bid to succeed. Analysts including Teodor Sveen Nilsen of Sparebank 1 Markets AS have also said they believe DNO will need to boost its offer, and that Faroe's swap deal with Equinor ASA, which includes trading a position in the Njord redevelopment for already-producing fields, is positive for the company.
"Faroe jettisoned a crown-jewel asset for mature production and did so without shareholder consultations," jeopardizing its future growth and attractiveness, DNO said.
Later Wednesday, Faroe issued a response, saying "DNO's opportunistic offer seeks to exploit the recent oil-price fall to acquire Faroe on the cheap." Faroe's board believes "DNO's criticisms of Faroe are unfounded and purely a tactic to distract from the simple fact that its offer substantially undervalues the company," it said.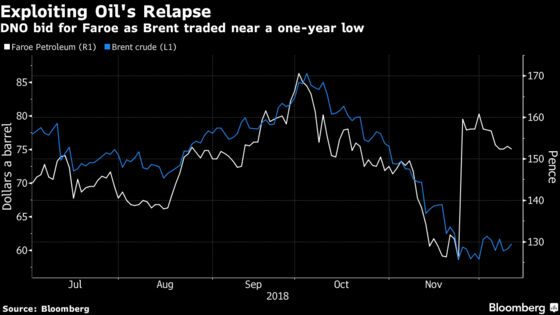 Bloomberg Intelligence analyst Will Hares also said that DNO's criticism may be a strategy to get Faroe shareholders to accept the bid, but it could also backfire.
"The hostility playing out in full view between DNO and Faroe is unlike anything I have witnessed," Hares said. Yet it "may prove to be self-defeating," as the criticism -- especially of the swap deal -- "raises questions of DNO's continued acquisition interest."
Faroe traded down 0.4 percent at 152.4 pence as of 2:27 p.m. in London, erasing earlier gains. DNO rose 2.3 percent in Oslo.