Diversity Is in Vogue Again as Oil Investors See Potential Beyond Shale
(Bloomberg) -- Suddenly, diversity is in again for the oil business.
Explorers with a hand in multiple fronts -- from onshore to deepwater, pumping crude to refining it -- are trading at a premium to pure-play U.S. shale drillers, analysts at Wood Mackenzie Ltd. said in a report Tuesday. After a mid-decade crash in American shale fields and a rebound in international crude prices, "diversified independents" like ConocoPhillips and Occidental Petroleum Corp. are back in favor, the researchers said.
That's a turnaround from recent years, when investors smiled on companies that doubled down on "unconventional" drilling in the U.S. while shedding assets elsewhere. Eight of the nine explorers WoodMac analyzed are outpacing the industry index in 2018: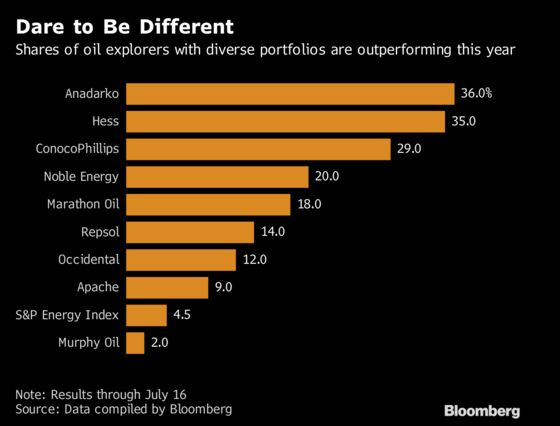 "Both the diversified independents and the majors have overtaken the focused U.S. players for the first time," WoodMac analysts including Kris Nicol and Zoe Sutherland said in a statement.
"The oil price collapse has underlined the benefits of having portfolio exposure to cash-generative legacy assets, flexible unconventional opportunities and high-margin international growth."
The opportunity may be fleeting. Big share buybacks have propelled the stocks this year, but it's unclear how sustainable they'll be, the analysts wrote. And the pool of diversified players is likely to shrink with consolidation "an ever-present threat, both within the peer group and from larger predators," WoodMac said.