Ditching the U.S. Dollar Emerges as a Popular Call for 2019
(Bloomberg) -- Strategists in the $5.1 trillion-a-day currency market are gearing up for a slumping dollar next year, while pinning their hopes for 2019 gains on the yen.
A major driver of the dollar's decline could be a downturn in the U.S. economy, especially in the second half of the year, JPMorgan Asset Management predicted. Others expect the Federal Reserve to slow down interest-rate increases, which they see as bearish for the greenback. Rising market volatility and capital demand abroad will also spur an outflow of funds from the U.S., according to Morgan Stanley strategists.
Whatever the reason, a popular view is for a dimmer dollar. The greenback is 10 percent to 15 percent overvalued, according to Morgan Stanley. A Bloomberg survey of foreign-exchange forecasters shows losses are expected for the greenback against traditional haven currencies such as the yen and Swiss franc. The median forecast for the dollar-yen pair is that it will drop from its current level near 113 yen to 108 yen by the end of 2019.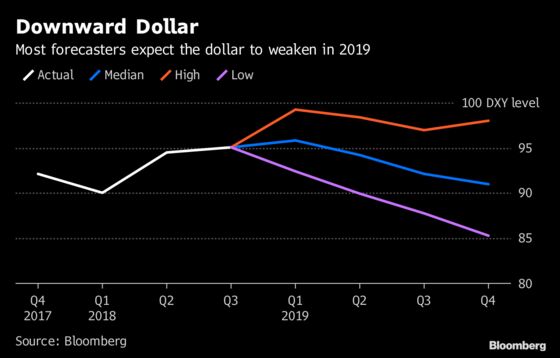 Of course, the dollar was also widely expected to lose in 2018, but the Bloomberg Dollar Spot Index rallied starting in April as the Fed continued with gradual rate hikes, the American economy outperformed the rest of the world and trade tensions ramped up between the U.S. and China. The index has risen about 4.1 percent this year.
Some analysts see the dollar climbing further. Barclays Plc strategists including Ajay Rajadhyaksha said "rumors of USD weakness have been greatly exaggerated." They see the greenback's real effective exchange rate increasing by between 2 percent to 3 percent in 2019, though most of the support will come from continued Fed rate hikes in the first half of the year.
However, market-implied odds show traders are skeptical about Fed rate increases in 2019, with less than a full hike expected next year after an anticipated move next week.
Along with a weaker dollar, another popular Wall Street currency forecast calls for a stronger yen in 2019.
The yen could climb if the Bank of Japan continues to loosen its hold on Japanese government-bond markets during the first half of next year, TD said. Bond yields could rise further, with "more balanced" rate differentials encouraging Japanese investors to bring assets back home, the firm wrote.
Japanese demand for foreign assets was healthy this year but may be challenged in the coming months, Daniel Katzive, North America head of FX strategy at BNP Paribas, wrote in a Nov. 28 note. He projects the expected pause in Fed rate hikes will ultimately push down U.S yields and cause Japanese investors to shed dollars.
"Japanese investors adding FX exposure at current exchange rates could be wary" of the yen appreciating, Katzive wrote.
Morgan Stanley is another yen bull, expecting the dollar-yen pair to tumble to 102 by the end of next year as Japanese investors bring funds home to fund accelerating private capital expenditures, strategists led by global head of foreign-exchange strategy Hans Redeker said in a Nov. 25 report. A flatter U.S. yield curve will shrink Japanese investors' currency-hedged returns on long-term American holdings, he wrote.
Watch Swedish, Norwegian Currencies

Scandinavian currencies are also predicted to do particularly well in 2019.
Shorting the dollar against the Norwegian krone is one of Societe Generale's trade recommendations for the year, on hopes that the krone will act as a "high-beta euro" given Norway's tight labor market, higher interest rates and stabilizing oil prices. A dollar short against a basket of euro and Swedish krona is one of Morgan Stanley's top FX 10 trades of 2019, on the basis that the krona will become more attractive amid rate hikes by Sweden's central bank, which meets next week.
UniCredit, too, is looking for rallies in the krona and krone, but expects that their appreciation may not be as large as it could be unless both country's central banks are more hawkish than investors expect.