Disney Wins New Fan Almost a Year After Announcing Fox Takeover
(Bloomberg) -- Walt Disney Co. investors now have a clearer picture of what lies ahead, and that's got one analyst more optimistic on the shares.
Disney has come a long way since announcing its intention to acquire 21st Century Fox Inc.'s entertainment assets last December, Imperial Capital's David Miller said in a note to clients. While fiscal 2019 will be a year of transition, 2020 "should see an abundance of catalysts" for the company, he wrote. Imperial has upgraded the media conglomerate to outperform for the first time from its previous in-line rating, and boosted the price target by 14 percent to $129. Shares closed at $112.55 on Monday.
The "tepid performance" of Disney shares since the deal was announced has been largely due to unanswered questions -- both structural and strategic -- investors previously had about the transaction, Miller said. But most of those have now been resolved, he said.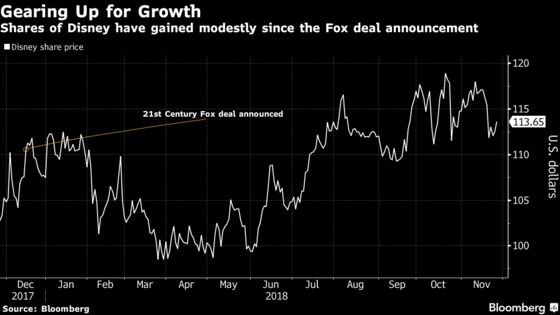 Next year is shaping up to be one of transition for Disney as the company pursues its global campaign to win regulatory approval for the Fox deal, having secured a nod from the Chinese authorities recently. But catalysts coming in fiscal year 2020 -- from buybacks to a hefty film slate including follow-ups to the "Deadpool" and "Fantastic Four" franchises -- are prime factors for Imperial's upgrade.
Disney stands to see substantial pricing power around its three over-the-top (OTT) services, Miller wrote. Though nothing has been formally announced, he believes a $20-per-month package deal for its Disney+, ESPN+ and Hulu platforms would be quite compelling to consumers.
Still, the initiative for a package deal is no answer to a Netflix Inc. The global streaming network's vast array of titles and genres make it a destination of volume, and Disney would much rather focus its menu on quality over quantity, Miller told clients in a note.
Disney's renewed focus on streaming underscores the increased confidence in the future of online video services to drive new areas of growth. Netflix has proved a formidable competitor as viewers have veered toward new media options.
But Disney is still a darling of the media industry.
Since Disney "is a highly visible name and a Dow component, it would not surprise us to see the market price in these catalysts fairly quickly," Miller said.