Disney Soothes Hollywood and Wall Street After Surprise CEO Move
(Bloomberg) -- Retirement was a favorite topic for Bob Iger. He talked about it often, and for years, setting no fewer than five dates when he would give up the job of presiding over the world's largest entertainment company.
But when the word finally came that he was actually stepping down from the helm of Walt Disney Co., it was a shock.
Disney announced Tuesday that Bob Chapek, the theme-park division head, would take over as CEO, effective immediately. For all the focus on Iger's leaving one day, few saw this coming. Interviews with executives, agents and Wall Street analysts this week depicted an initial period of confusion and conspiracy theories in the wake of the announcement, followed by a coordinated effort by the company to calm the waters.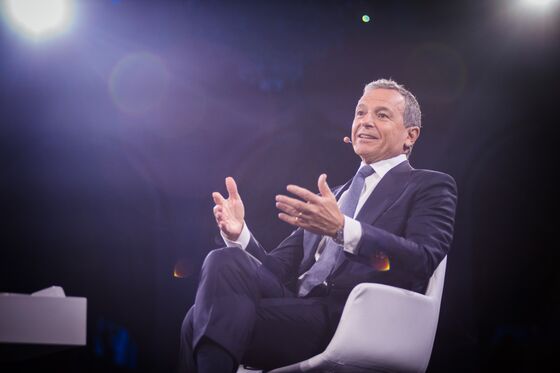 Maybe the company planned it that way. Senior executives were told only that morning. Analysts phoned in for a question-and-answer session just 30 minutes after the news hit the wires. Disney employees learned in a memo soon after.
In Los Angeles, agents at a top talent agency wondered what was going on. Was Iger sick? Was there a scandal? There were many such questions. Disney's shares fell on the news and continued to slide the next day.
The Coronavirus outbreak, which shuttered theme parks in Asia and delayed movie openings in China, was already weighing on the stock, which fell to its lowest level since April 2019.
Executives spent the following days reassuring employees, investors and analysts, with some success.
"I wasn't expecting something so soon, but I understand why they went ahead and did it," said David Heger, an analyst with Edward Jones in St. Louis. "It makes a lot of sense as a I get better acquainted with Chapek."
In fact, the handoff wasn't abrupt but a move Iger had been plotting for weeks if not longer. As part of the transition, Iger, who became CEO in 2005, will stick around as executive chairman until December 2021, to supervise the creative side of Disney's business, from its ailing Fox film unit to its mighty Marvel brand.
Disney convened a town hall via video on Wednesday, with staffers on the East Coast watching as they ate sandwiches at their desks. At headquarters in Burbank, California, people came in early and piled into the main theater on the lot. By Thursday morning, "both Bobs" -- as one executive referred to Iger and Chapek -- were in New York to sit down with the team at ABC News, a Disney division, according to people familiar with the visit.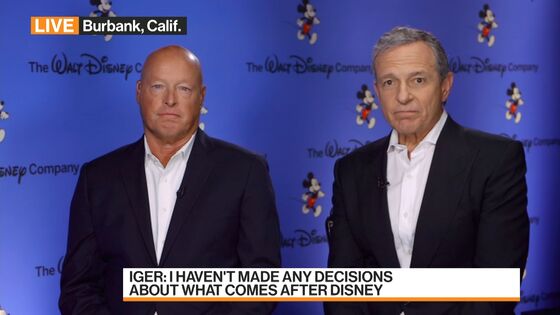 To some at Disney, the sudden ascension of Chapek, 60, violated corporate protocol. Why hadn't he been named president or chief operating officer first? Iger had served as both for five years under his predecessor, Michael Eisner.
Others saw the announcement as classic Iger: no leaks, decisive, catching everyone off guard.
The 69-year-old had surprised many in his decadeslong career, from board members who didn't think he had what it took to replace Eisner, to all the competitors who watched in awe as he announced deals to buy Pixar, Marvel, Lucasfilm and Fox.
At least the succession decision ended years of "Game of Thrones"-like suspense that had seen several potential successors come and go.
Until Tuesday, much of the speculation had centered on Kevin Mayer, the architect of Disney's direct-to-consumer strategy, who was enjoying a remarkable run by signing up 28 million customers to the new Disney+ streaming service. Other names mentioned included Peter Rice, a suave TV executive who came along with the Fox acquisition last year.
Iger and the board likely took inspiration from the recent change of command at Nike Inc., where Mark Parker, a Disney board member, named a successor but also stuck around as executive chairman to supervise the transition.
As the week wore on, investors, employees and former colleagues continued to digest the news. At ESPN, Disney's giant sports network, employees took to heart that Chapek was one of them, a diehard fan of Indiana University and Michigan State teams.
"He's a good guy," said former ESPN President John Skipper. "Always kind of a dark horse, a steady guy, who kept his head down."
At the massive theme-park division, staffers are hopeful Chapek will continue to support their business, according to Austin Lynch, a negotiator for Unite Here, which represents hotel workers.
As Iger noted on the call with analysts Tuesday, Chapek supervised the largest expansion in the history of the parks, including a $5.5 billion Disneyland in Shanghai and two $1 billion, Star Wars-themed lands that opened in California and Florida last year.
"We've identified Bob actually quite some time ago as a likely successor to mine," Iger said on the call. "And with everything else falling in place, the time seemed right."
Still, theme-park fans remember him as the guy who raised ticket prices and cut back on some popular shows. After Chapek terminated a well-liked park executive last year, the #FireChapek hashtag began trending on social media.
And when one of the Jungle Cruise boats sank at Walt Disney World in Orlando, Florida, on Thursday, social media piled in to take shots at the new boss. "Bob Chapek was CEO for two days and already brought the submarine voyage back to Magic Kingdom, so quit your complaining," a former employee wrote sarcastically on Twitter.
Disney promoted Chapek abruptly enough that it didn't have a replacement to name to run the parks.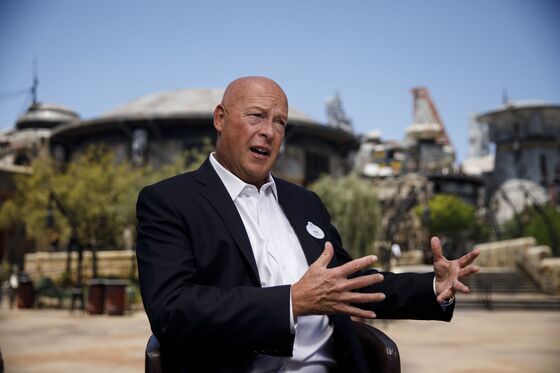 Before leading theme parks, Chapek oversaw consumer products. Anne Sweeney, who used to run the Disney Channel and ABC TV businesses, recalled that Chapek helped turn some children's shows, like "Doc McStuffins," into lucrative toy and clothing lines. "He worked extremely well with the Disney Channel team."
Brian Goldner, the CEO of Hasbro Inc., which makes toys based on Disney's princesses, Star Wars and Marvel brands, praised Chapek's "laser focus" on the consumer.
On Thursday, Iger and Chapek met with roughly 15 to 20 analysts at the ABC building in New York to soothe jitters, according to people who attended. The pair stressed that there was no "ulterior motive" in making the change now, Citigroup Inc. analyst Jason Bazinet said. With Disney's shareholder meeting in two weeks, it seemed appropriate.
John C. Hodulik, an analyst at UBS Group AG, said Iger will have a heavy workload as executive chairman focused on significant properties, including Star Wars, so the shake-up makes sense.
"After hearing the wide range of projects that will get his attention, we feel confident that what you see is what you get regarding the CEO change."
Iger's move also allows him to focus on the vital creative lifeblood of the business, rather than plodding through the many duties of a CEO, such as contingency-planning around the coronavirus and working through the integration with Fox, said a senior Hollywood executive who works closely with the company.
For the rest of Disney's management ranks, the move sets off a new horse race, the executive said. Who will be in charge of the creative vision of Disney after 2021, orchestrating the futures of Star Wars, Marvel, Pixar, Fox and Mickey Mouse himself?
Chapek now has just under two years to show he can learn that part of the job, or decide who he can trust to take it on.