Dismissing a Santa Claus Rally Wouldn't Be Prudent: Taking Stock
(Bloomberg) -- While another 90 days may not change much, the market is still reacting strongly to any positive movement on the Trump-Xi trade truce front.
S&P futures are surging ~40 handles (though almost 20 points off the overnight highs and back below 2,800), and that's even after a near 5% rally for the cash index last week. If the rally doesn't get sold, I'd think that it "wouldn't be prudent" (in the best Dana Carvey doing his George. H.W. Bush voice) to dismiss the notion of a Santa Claus rally that appears to be in full effect.
This phenomenon has been talked about by Wall Streeters for days now, and we should hear more about it if these gains hold, like today's note from Wells Fargo strategist Christopher Harvey titled, "Santa Claus Rally Checklist: Eat, Drink & Be Merry Now for We Diet in 2019."
Or this Friday comment from LPL Financial senior market strategist Ryan Detrick: "Although the well-known Santa Claus rally is technically the last five days of the year and the first two of the new year, you can't deny the fact that December tends to bring with it good vibes and stocks gains."
Trade proxies like Caterpillar, Boeing, and 3M are going to be bid up in a big way today (check the sell-side section below to see how analysts are already warming up to CAT after the weekend's news), as should General Motors and its ilk on Trump's claim that China agreed to "reduce and remove" tariffs on imported American-made cars.
And the same can be expected for Apple (so much for the iTariff?), which has underperformed its FAANG brethren over the past couple months, and the beleaguered semiconductors group, which has been hit with a discount all year partly on concerns over the impact from a full-blown trade war. Here's what some semi analysts are saying about the news:
Wedbush's Dan Ives says that the trade agreement "will remove a near-term overhang on tech stocks caught in the cross fire with Apple and the semiconductor space front and center"
Mizuho's Vijay Rakesh says the delayed/averted tariffs position semis for a relief rally with the potential for a better March quarter "as emerging market and China OEMs could try to ship ahead of the Mar-31 deadline of another potential 25% tariff hike"
Morgan Stanley's Joseph Moore and Craig Hettenbach, who've been out in front on the semiconductor caution train, are still pounding the table on that call: "While we believe there will likely be some relief for semiconductor stocks from alleviation of trade tension (at least short term), the challenges are still in place - pervasive memory oversupply, contraction in lead times flushing out double ordering, and a decelerating demand growth environment across all end markets"; they add that there is also some risk that there was some pre-building activity in 4Q from OEMs ahead of the earlier threat of tariff increase on Jan. 1
Meanwhile, chip stocks that have seen their M&A premiums dwindle as a result of the breakdown in talks between the two sides could get an added bump after Xi came out of nowhere with comments that he'd reconsider another NXP Semi/Qualcomm proposal -- the latter has already closed the door on a revived deal (probably to the relief of the swaths of risk arbs who got burned the first go-around), but that doesn't mean this won't have spillover impact to other future deal plays.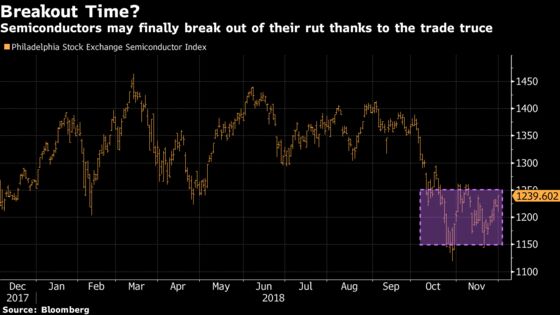 Gaming stocks with Macau exposure, like Las Vegas Sands and Wynn Resorts, should act well on a more sanguine outlook for concession renewals plus better-than-expected November revenue growth numbers in the region.
Agriculture machinery and fertilizer names, such as Deere and CF Industries, should move higher on the ~2% pop in soybean prices, with the White House saying China agreed to immediately start buying ag products from American farmers, while the entire energy sector has the chance to lead all S&P 500 sectors thanks to a ~4% bounce in both WTI and Brent crude; a Russia-Saudi pact, an unprecedented production cut from Alberta, and Qatar leaving OPEC are all playing a factor here as well.
On the flip side, expect defensive sectors, like utilities, telecom and consumer staples, to underperform for the time being unless we get a dramatic reversal in the tape at some point in today's session.
This is one of those situations where we'll have to wait and see how this all plays out over the course of the session i.e. will we continue the melt-up or will longs take the opportunity to sell into strength as the S&P 500 tests multiple technical levels, including the 100-day moving average at ~2,815 (which currently sits atop both the 50-day and 200-day, as the chart below shows).
Bloomberg Intelligence last week made the call that a series of closes above the 100-day moving average, which marked key resistance during the short-term recoveries in October and November, "could mark the beginning of the end of the corrective process."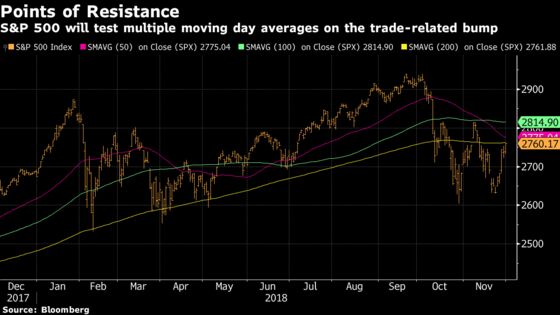 Here's some stuff you might have missed since Friday's close:
The stock market will be closed Wednesday for a national day of mourning to honor former President George H.W. Bush, whose last words were reportedly "I love you, too" to his son, George W. Bush (here is our obit and links to those from the NYT and the Washington Post);
Element Capital's Jeffrey Talpins is the "hedge-fund king you've never heard of," according to a WSJ feature; Barron's cover story is about the "boom in big data" and how the harvesting of digital personal information is becoming a more important tool in investing; the WSJ's weekend interview is about the "Amazing Madoff Clawback," where two lawyers recovered 75 cents on the dollar of the stolen money; the Your Money columnist for the NYT attended a steak dinner annuity pitch, and "the salesman wasn't pleased"; this week's New Yorker has a feature on the friendship that "made Google huge"; Kareem Hunt is reportedly unlikely to get claimed on waivers before today's 4pm deadline; Brett Favre was tricked into recording an anti-Semitic video by a group posing as a veterans organization; and the College Football Playoff is set with Alabama initially favored by two touchdowns over Oklahoma and Clemson favored by 11.5 points over Notre Dame (Buckeyes and the Bulldogs are on the outside looking in).
BofAML upgrades Caterpillar to a buy as "macro risks recede for now" and AGCO to a neutral on the trade truce, and they're not the only one making waves in the space. Baird's machinery analyst is elevating both Caterpillar and Deere to bullish Fresh Pick status: "A true trade deal involving higher demand for US energy and industrial product could result in demand boost for US exports further supporting equipment/industrial capex cycle."
JPMorgan is shifting ratings in the telecom space by upgrading AT&T to an overweight, adding that stock to its focus list, and downgrading Verizon to a neutral. On the former, the analysts cite a better understanding of expectations around organic growth after recent management meetings and the analyst event last week.
Goldman's credit research team is initiating the homebuilders sector with a cautious view that reflects their stance that there are significant downside risks to consensus home prices entering FY2019 brought on by the nearly 100bp boost in mortgage rates over the past year. "We believe that the highly favorable environment of ever-rising home prices that allowed builders to recover margins is ending and that the next stage of the housing market revolves around price and pace rationalization," the note reads. They are most bearish on Beazer Homes, which gets an underperform tag.
Tick-by-Tick Guide to Today's Actionable Events
Today -- Monthly auto sales (see preview)
Today -- ASH conference continues; may impact AMGN, BLUE, CELG, GILD, NKTR
8:00am -- Fed's Quarles speaks at Council on Foreign Relations
8:00am -- Glencore business update call
8:00am -- BHF 4Q guidance call
8:30am -- Quintessential Capital's Gabriel Grego at Kase Learning Shorting Conference
8:45am -- DISCA at UBS media and communications conference
9:00am -- AFL outlook webcast
9:00am -- SLG investor conference
9:00am -- Bridgewater's Ray Dalio at Business Insider Ignition conference
9:00am -- Kerrisdale Capital's Sahm Adrangi at Kase Learning Shorting Conference
9:20am -- Gracian Capital's Matthew Kliber at Kase Learning Shorting Conference
9:30am -- S, MTCH at UBS media and communications conference
9:40am -- Viceroy Research's Fraser Perring at Kase Learning Shorting Conference
9:45am -- Markit U.S. Manufacturing PMI
10:00am -- ISM Manufacturing, Construction Spending
10:00am -- FMC investor day
10:00am -- PFG investor day
10:00am -- Pinnacle View's Victoria Hart at Kase Learning Shorting Conference
10:15am -- CHTR at UBS media and communications conference
11:00am -- NYT at UBS media and communications conference
11:20am -- Muddy Waters' Carson Block at Kase Learning Shorting Conference
11:30am -- XNCR analyst meeting (at ASH meeting)
11:50am -- Berman Capital's David Berman at Kase Learning Shorting Conference
12:00pm -- VIAB at UBS media and communications conference
12:10am -- Aristides Capital's Chris Brown at Kase Learning Shorting Conference
1:00pm -- Fed's Kaplan speaks at community forum in Texas
1:00pm -- NFLX at UBS media and communications conference
1:15pm -- VMW at Raymond James tech conference
1:40pm -- Anson Funds' Sunny Puri at Kase Learning Shorting Conference
1:45pm -- WWE at UBS media and communications conference
1:50pm -- NTAP at Raymond James tech conference
2:10pm -- MTCH CEO Mandy Ginsberg at Business Insider Ignition conference
2:20pm -- Bodenholm Capital's Mads Thamsborg at Kase Learning Shorting Conference
2:40pm -- ShadowFall Capital's Matthew Earl at Kase Learning Shorting Conference
3:00pm -- F.G. Alpha Management's Dan David at Kase Learning Shorting Conference
3:35pm -- APRN at Raymond James tech conference
3:50pm -- Spruce Point's Ben Axler at Kase Learning Shorting Conference
4:05pm -- COUP, SMAR (roughly) earnings
4:10pm -- MCHP at Raymond James tech conference
4:10pm -- Cruiser Capital's Keith Rosenbloom at Kase Learning Shorting Conference
4:30pm -- J Capital's Anne Stevenson-Yang at Kase Learning Shorting Conference
Tonight -- Redskins at Eagles (-6)