Discount Airlines Allegiant and Viva Aerobus Seek Profit-Sharing Alliance
(Bloomberg) -- Allegiant Airlines and Grupo Viva Aerobus SAB are seeking government approvals in the U.S. and Mexico for an alliance that would allow them to jointly plan fares, flight schedules and routes -- the first venture of its kind for deep-discount carriers. Allegiant also will invest $50 million for an undisclosed stake in its Mexican partner. 
The airlines' agreement would boost transborder competition at lower fares, they said. Allegiant, a unit of Allegiant Travel Co., would begin to offer flights to Mexico, while Viva Aerobus would expand its customer base by tapping the distribution network of its U.S. partner. Flights under the deal would start in the first quarter of 2023, pending approval by both governments for the antitrust immunity needed to coordinate pricing.
The biggest global carriers have used such arrangements for years in the trans-Atlantic and trans-Pacific markets, reducing operating costs by coordinating service and attracting passengers by offering more choice. Allegiant and Viva Aerobus are focused on beach and vacation markets in Mexico as well as U.S. tourist destinations. An announcement of their plans is expected on Wednesday.  
"This groundbreaking alliance will reduce fares, stimulate traffic and ultimately link many new transborder cities with nonstop service," said Maury Gallagher, chief executive officer of Las Vegas-based Allegiant, who would join the Viva Aerobus board. "In short, it will bring meaningful ULCC competition to the U.S.-Mexico market for the first time in history."
Ultra-low cost carriers offer low fares and usually charge for anything extra, including small amenities such as bottled water. The venture will allow the partners to compete with bigger airlines for travel between the U.S. and Mexico on a level they couldn't achieve separately, the airlines said. More than 250 potential route opportunities were identified as part of a filing they plan to submit to the U.S. Transportation Department, and plans for service would be announced after approval.
The airlines will split profits equally on all new alliance routes and will allocate costs based on which carrier is operating each flight, Gallagher said in an interview. Revenue in excess of costs will be split equally. 
The carriers declined to specify revenue potential from the partnership but said the U.S.-Mexico market historically has been the third-largest for travel between two countries, behind U.S.-Canada and U.K.-Spain. It has been the largest market this year, with 31 million passengers, as coronavirus restrictions remained in many countries, said Viva Aerobus CEO Juan Carlos Zuazua.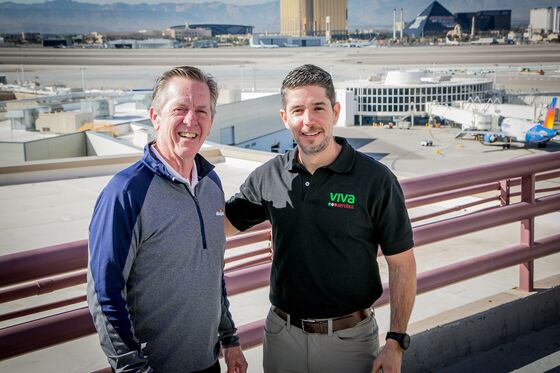 Allegiant flies to more than 130 U.S. cities, primarily linking those with little airline service to leisure destinations. Viva Aerobus, based in Monterrey, Mexico, offers service across that country and to some destinations in the U.S. and Latin America, with about 16% of revenue coming from passengers flying into the U.S., Zuazua said. The carriers intend to share information systems, marketing, codesharing and loyalty programs.
The proposed Allegiant-Viva Aerobus partnership, which the companies said is the first for ultra-low-cost carriers, could face increased scrutiny in the U.S. following a July executive order from President Joe Biden seeking to increase competition. It cited the airline industry as an area where consolidation has reduced the number of competitors. Allegiant and Viva Aerobus are "very bullish" that regulators will take a positive view of the venture, Gallagher said.
The U.S. Justice Department in September filed suit to block a partnership between American Airlines Group Inc. and JetBlue Airways Corp., saying their Northeast Alliance is a de facto merger that illegally eliminates competition between them. On Nov. 22, the carriers asked a federal judge to throw out the government challenge, saying their partnership has expanded options for consumers and increased competition with Delta Air Lines Inc. and United Airlines Holdings Inc. in New York, Boston and other markets.
Barclays Plc, Goldman Sachs Group Inc. and White & Case LLP acted as financial and legal advisers for Viva Aerobus, while Wilmer Cutler Pickering Hale and Dorr LLP and Garofalo Goerlich Hainbach PC were legal advisers for Allegiant.