Disaster Scenario Avoided, But Another Test Awaits: Taking Stock
(Bloomberg) -- It was all baked in!
That's pretty much true, as the ~20+ handle spike in the S&P futures is a relatively paltry sum given the mayhem that we've woken up to on previous election days.
RBC's head of U.S. equity strategy Lori Calvasina gave a nice play-by-play that sums it all up nicely: "Early on election night, when it looked like Republicans might pull off a sweep, U.S. equity futures and the U.S. Dollar rallied. But the market gave back those gains as the results for the House started trending in favor of Democrats. Importantly, after that initial Republican hope trade faded, U.S. equity futures trimmed gains but did not move into negative territory, reinforcing our view that some of the things that most investors won't like about a divided government (primarily removing the prospect of further stimulus/tax cuts) had already been priced in during October's decline."
So the disaster scenario for the market has been avoided, but we're clearly not out of the woods as we await a) Trump's response (he's out with one tweet so far that is pro-trade and sans any seething vitriol), b) a deluge of earnings tonight from several high-profile momentum stocks, as mentioned in the next section, and c) tomorrow's Fed statement, with the 10-year yield soaring to a near 52-week high of ~3.25% overnight.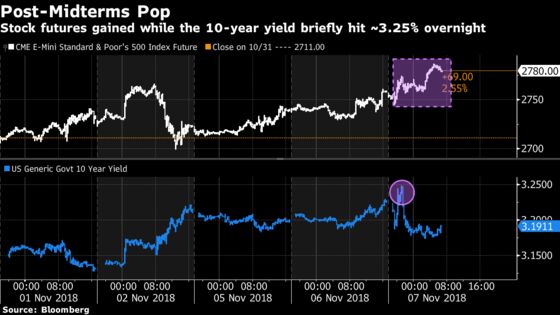 What a split Congress ultimately means for the biggest overhang in the stock market, the U.S.-China trade war, isn't entirely clear at this point. The answer is likely waiting in the wings with Trump's next course of action -- the tweet mentioned how so many "foreign nations (friends)" that are hoping for trade deals sent him their congratulations on the "Big Victory last night" and how he's ready to "get back to work and get things done!" -- so reading between the tea leaves, Trump's head appears to be squarely focused on some sort of deal with China at the G-20 versus ratcheting up the tariffs in another round that could devastate global markets.
Another Test Awaits
If positioning into and out of the midterms wasn't enough, we have a slew of momentum stocks reporting after the bell at a time when these names are reeling from a recent investor aversion to growth and a month of almost nothing but straight selling.
Look no further than the recent mini-meltdown in the iShares Edge MSCI USA Momentum Factor ETF (ticker MTUM) to see how badly the recent tech rout bled through to these higher growth stocks, many of which have been atop hedge fund managers' shopping lists for months now -- and apparently bought on the dip given our story yesterday about recent data showing tech and consumer stocks were bought heavily in the last five days of October.
Or last night's blowups in Zillow -19% (that's two absolute washouts in a row for this one) Match Group -9%, and TrueCar -14%. Or last week's post-earnings sell-offs in e-commerce favorite Wayfair and one-time IPO darling Spotify, which are down 37% and 21% since the beginning of October, respectively.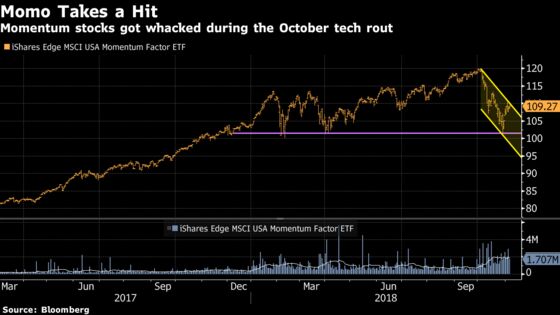 Tonight's headliner is Jack Dorsey's payments-processing baby Square, which has exploded higher by ~123% year-to-date even after its 26% slide in October, compounded by the recent news that its CFO extraordinaire was bailing for another company. Options imply a whopping 12% one-day move after this report, which may seem a bit precarious considering shares have risen 8 of the last 9 days after earnings.
Other momentum types on tap to report include midcap streamer Roku (quadrupling from its Sept. 2017 IPO), "Red Dead Redemption" purveyor Take-Two (up almost 400% in four years), and a couple of online auto retailers in Carvana and CarGurus (up 210% and 86% year-to-date prior to October) -- Cars.com is also scheduled to report later this morning.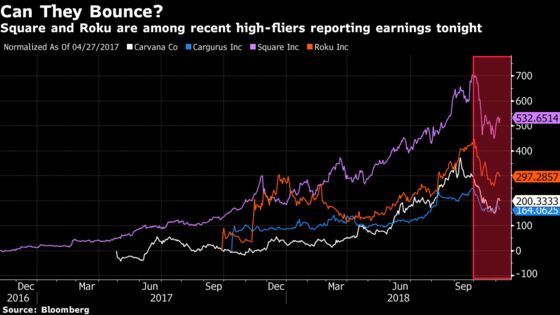 Assuming things hold as they do now, I'd imagine the bull market winners (tech and consumer) to outperform in addition to energy stocks, with Crude trading at overnight highs, while the defensive sectors like utilities and REITs will likely bring up the rear
DJ Basin exploration and production companies, namely Anadarko (shares up 5.9% pre-market), Noble Energy (+3.8%), PDC Energy (+5%), and SRC Energy, after Proposition 112 failed in Colorado
Pot stocks, like Tilray (+6.7%) and Canopy Growth (+4.3%), after Michigan approved legal recreational marijuana while a Missouri ballot measure legalizing medical pot sales also passed
The restaurant sector may be weak after Tuesday's outperformance on the back of disappointments from Wendy's (shares fell >5%) and Red Robin (tanked almost 10%)
Apparel space with Michael Kors sinking more than 11% after a cut to its full-year comp sales forecast
Online real estate-related companies like Redfin after Zillow blows up for the second time in a row, as mentioned above
Opticals space after Infinera collapsed by more than 25% last night after guiding sales way below the low end of what the sell-side had modeled
Weight loss stocks like Weight Watchers, which is already in the gutter from last week's earnings whiff, after Medifast sinks almost 20% on results
Industrials ahead of presentations from Boeing, Honeywell, Raytheon, Norfolk Southern and Union Pacific at Baird and Stephens conferences
Sectors that may move with earnings over the next ~24 hours include the semis (Qualcomm and Microchip), fintech (Square and Worldpay), streamers (Roku and TiVo), e-commerce (Groupon), online travel (TripAdvisor and Ctrip), online auto retail (Carvana, CarGurus and Cars.com), video games (Take-Two), media (Fox, News Corp., and IAC), beverages (Keurig Dr Pepper and Monster), homebuilders (D.R. Horton), home security (ADT and Alarm.com), casinos (Wynn), insurance (Prudential), lithium (Albemarle), gene editing (Editas), dialysis (DaVita), drug distributors (Cardinal Health), and generic drugmakers (Endo)
Notes From the Sell Side
Cowen upgrades Target to an outperform with a price target of $100, which matches the Street high, on conviction that the company's investment plans are gaining traction with shoppers and amid continued physical and digital momentum.
Morgan Stanley lifts its rating on Progressive Corp. to an overweight with a price target of $84, which is among the highest out there, on sustainable double-digit premium growth and the potential for rising yields to boost investment income by ~75% in 2019-20.
RBC slashes Freeport-McMoRan to an underperform on the stock's premium valuation ahead of an expected decline in 2019 production. The analysts also cite operating risks at Grasberg and integration concerns associated with Inalum becoming a new partner.
Tick-by-Tick Guide to Today's Actionable Events
Today -- NAREIT REIT World conference in San Francisco starts (day one of three)
Today -- IPO lockup expiry: HUYA
7:00am -- MBA Mortgage Applications
7:00am -- ROK, SMG earnings
7:30am -- CARS earnings (roughly)
7:30am -- BMRN R&D Day
8:15am -- NSC at Stephens Fall Investment conference
8:30am -- GRPN earnings
8:30am -- HON at Baird industrial conference
9:00am -- UNP at Stephens Fall Investment conference
9:30am -- NCR investor day
10:00am -- RTN at Baird industrial conference
10:30am -- DoE oil inventories
11:30am -- Trump to hold press conference
11:50am -- ODP CEO Gerry Smith on Bloomberg TV
1:00pm -- DWDP investor meeting (day one of two)
1:00pm -- APTI investor meeting
3:00pm -- Consumer Credit
4:00pm -- KDP, UPWK earnings (timing uncertain)
4:00pm -- BA at Baird industrial conference
4:01pm -- WYNN, DVA, EDIT (roughly), HOLX earnings
4:03pm -- TRIP earnings (roughly)
4:05pm -- QCOM (roughly), FOXA (roughly), TTWO, CYBR, CVNA, CARG, ADT, ALRM, GDOT, MNST, FOSL (roughly), TWNK, FLS (roughly), CLNE, TEUM earnings
4:10pm -- HUBS, NKTR earnings
4:15pm -- SQ, NWSA, TIVO, MCHP, ALB earnings
4:18pm -- PRU earnings
4:20pm -- ROKU earnings (roughly)
4:30pm -- IAC (roughly), LBTYA (roughly), MRO, ET earnings
4:30pm -- WYNN earnings call
4:45pm -- QCOM earnings call
5:00pm -- MUR (roughly) earnings
5:00pm -- SQ, ROKU earnings call
6:00pm -- CTRP earnings