Jamie Dimon Sits Among the Gender Fringe at Davos's Equality Lounge
(Bloomberg) -- The room was packed Tuesday night at the Panorama Hotel in Davos as JPMorgan chief Jamie Dimon shared a small room for an informal discussion on gender issues with two of the bank's senior female executives. It was just one of hundreds of events held at Davos this week, but with one noticeable difference: Most of the audience were women.
Men made up 78 percent of the attendees at the World Economic Forum this year. But at the dozens of gender- and diversity-focused events, most of which weren't on the formal agenda, the ratio was often reversed.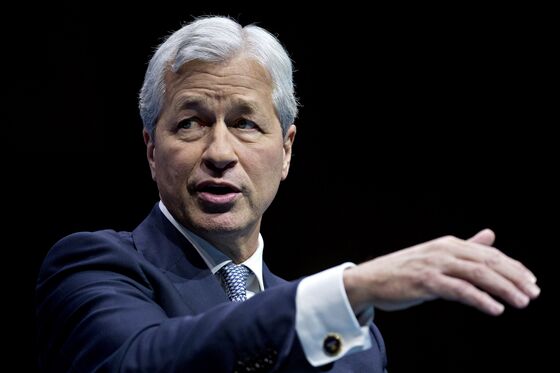 "It's been standing room only, and we've had some amazing speakers," said Shelley Zalis, chief executive officer of the Female Quotient, which works with companies to develop equality in the workplace. For the past four years Zalis has run what she calls the Equality Lounge to accommodate events such as Dimon's talk. This year executives from Procter & Gamble, Bank of America and Twitter also appeared, each drawing an audience of hundreds.
Last year, the #MeToo movement hung over the World Economic Forum, perhaps best highlighted by Canadian Premier Justin Trudeau's keynote speech in which he called on executives to value female employees and take the issue of sexual harassment seriously. This year, however, the issue has been overtaken by cyber security attacks, the U.K. exit from the European Union, trade wars, and the just-resolved U.S. government shutdown.
"We've moved very much on to Tech/AI, which seems to be a heavy discussion," Vas Narasimhan, CEO of Swiss drugmaker Novartis AG, said in an interview from Davos. "Even when I look at the rooms, as an American, but an Asian American, I am still in a room full of mostly male Caucasian executives. And I hope we don't lose momentum on this point.''
The World Economic Forum doesn't give an breakdown of attendees by race or ethnicity. Women made up 22 percent of the official guest list, little changed from 21 percent last year. Among the 600 or so panels offered as part of the official program, women's presence is slightly better felt: about 37 percent of Davos panelists were women, according to forum data. Almost 95 percent of panels included at least one woman.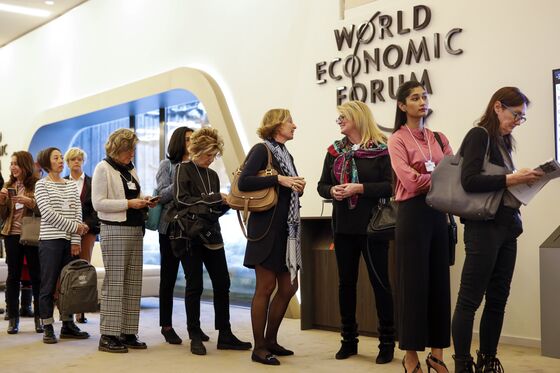 Davos has so few women in part because there aren't that many in senior positions at the 120 companies the WEF considers its strategic partners. The WEF has tried to counteract that by encouraging companies to bring the few women they do have. Traditionally, WEF partners are allowed to bring just four executives to Davos, but the WEF now allows five, as long as one is a woman. Eighty-five percent of strategic partner companies brought at least one woman.
This year, Goldman Sachs promoted the relaunch of its 10,000 Women program, designed to support women in the workplace, and CEO David Solomon said he opted to bring three women in its delegation: Stephanie Cohen, chief strategy officer; Sheila Patel, CEO of International Asset Management; and partner Dina Powell. All three spoke at Goldman's Wednesday night dinner at the Belvedere Hotel, as well.
For three days during Davos, people could visit the Female Quotient's lounge, which offered a selection of candy that cost women 79 cents and men $1 -- a wink at the global gender pay gap. The venue hosted more than 100 speakers on topics from pay inequity to child care for working parents to the general lack of opportunity that keeps women out of the upper ranks.
During his talk, Dimon addressed men's reluctance to directly engage with women and other underrepresented groups. He told a story of a meeting in which a senior JPMorgan Chase & Co. executive chatted with all the men about baseball and what they did over the weekend, ignoring the women.
"I observed this a couple of times in a row, and I went to see him and said 'It's inappropriate' and I've seen this with many managing men," Dimon said during the discussion. "They've got their friends, their goombas (slang for friend), their buddies. Every now and then there's a woman among their group -- but if you are a leader you cannot do that."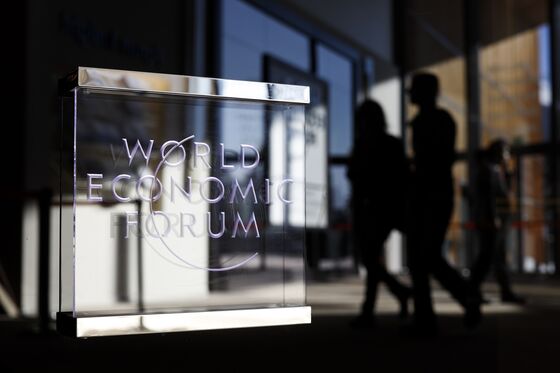 With this story, Dimon touched on the larger problem for Davos — or any high-profile event. Female Quotient's panels attracted mostly women, even though it's really the high-powered men who most need to learn and understand the issue.
A more effective method is to integrate equality and gender into broader discussions on economies and business, which is starting to happen, said Anino Emuwa, founder and managing director of strategy company Avandis Consulting, who attended Davos.
"Once [a panel] has 'woman' in the title, it's read as 'for women,'" she said in an interview. "Eighty percent of people who should be there, aren't really there."