Diehards Stick With Koch-Backed Lobby Amid Corporate Exodus
(Bloomberg) -- Several tables sat empty -- salads untouched -- in the Washington ballroom as hundreds of lawmakers, lobbyists and others ate roasted chicken as a speaker blamed over-regulation for the nation's lack of affordable housing.
"That's why you see people out with all those tents," Housing and Urban Development Secretary Ben Carson said.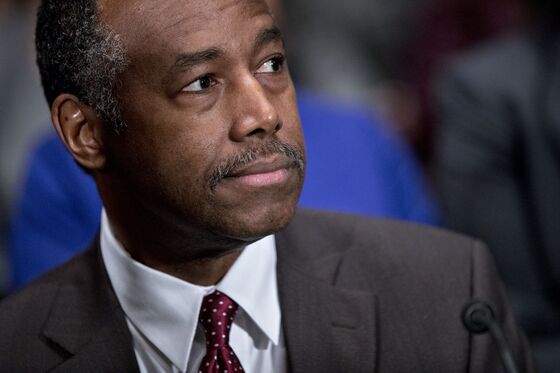 The American Legislative Exchange Council this week held its Washington policy summit a few blocks from the White House. Participants said it seemed smaller than in years past as the conservative lobby's rejection of climate science and embrace of other conservative ideals prompted corporations to drop out to protect their reputations.
But some companies are sticking with the group, attracted by the influence it wields in statehouses through the "model" legislation it crafts with the aid of corporate lobbyists. Bills adopted by ALEC that have made their way into legislatures throughout the country include stand-your-ground gun laws and voter-ID requirements.
Companies that remain active in the group weigh the access they get to ALEC's 2000 mostly Republican state legislature members against the risk of alienating American customers who don't support those policies.
"You have to take that into consideration," Victoria King, a lobbyist for United Parcel Services Inc., said while standing in line at the buffet table.
ALEC doesn't publicly disclose their private sector members, but named sponsors of the week's events provide clues. They included pharmaceutical powerhouse Pfizer Inc., shipping giant FedEx Corp., as well as coal miner Peabody Energy Corp. Other sponsors included cable companies Charter Communications Inc. and Comcast Corp. Businesses listed on name tags at the event included coal company Alliance Resource Partners LP, and the Charles Koch Institute, which is backed by Koch Industries Inc. Chief Executive Officer Charles Koch.
Chris Rhodes, a director at Cooperative Energy Inc., an electric co-op, said the benefits of ALEC include a chance to learn what local legislators are hearing and curious about. But the company may be shielded from reputational damage because it isn't a consumer brand.
"We're a small company in Mississippi so we haven't experienced any controversy," Rhodes said.
The three-day meeting comes as ALEC has shed 113 corporate members, as well as 19 non-profits since 2012, according to the Center for Media and Democracy, a non-profit watch dog group that tracks ALEC. ALEC disputes the timing of those departures.
The exodus followed bad publicity for the organization over its support for stricter voter identification requirements and loosening gun restrictions, and then later for its opposition to renewable energy that led tech companies like Microsoft Corp. to depart.
Exxon Mobil Corp. left the group earlier this year over an ALEC resolution that declared climate change isn't a risk -- a position the oil company rejects. And an inflammatory speech at the group's meeting in New Orleans by right-wing activist David Horowitz, who the Southern Poverty Law Center identifies as "a driving force of the anti-Muslim, anti-immigrant and anti-black movements," fueled another round of departures including AT&T Inc.
"We have ended our membership with ALEC and their convention speaker was a key factor in the decision," AT&T spokesman Jim Greer said in an email. Verizon Communications Inc. has ended their membership with ALEC as well, according to a company spokesman.
ALEC distanced themselves from Horowitz in a statement issued in September, saying he "did not abide" by their program parameters and had taken a video of his remarks off the Internet.
In recent years the group has also pushed a balanced budget amendment and repealing the 17th amendment in order to let state legislatures appoint U.S. senators instead of having them stand for election.
"They are taking positions out of the main stream that are uncomfortable for a lot of corporations," said Arn Pearson, the Center for Media and Democracy's executive director. "It gets embarrassing for them to associated with those far-right positions."
Bill Meierling, an ALEC spokesman, said the organization was still growing and denied it had shifted to the far right or that affiliating with the group posed a risk for companies. ALEC says it still has 200-300 members.
"It's a sign of the times that companies are being attacked on an ongoing basis for things that have nothing to do with them, or politics, as opposed to public policy," Meierling said. "It's a real shame that businesses are being pressured away from the very organizations that support business."
At this year's conference, the audience heard from White House budget chief Mick Mulvaney, who conceded his efforts to slash spending would never come to fruition because of micromanagement from Congress and instead urged the crowd to move forward with balanced-budget amendments at the state level.
A group of ALEC members had received a tour of the Interior Department that featured some face-time with the Secretary Ryan Zinke, who has advocated for shrinking national monuments and opening up more swaths of federal land for oil and natural gas drilling.
New items on the ALEC agenda this year during the three day conference was a resolution to allow longer trucks on state's roads -- twin 33-foot trailers -- a policy backed by FedEx and UPS that would allow them to ship more freight and cut down on fuel use. The policy has yet to gain traction on the federal level amid opposition from the rail industry and lawmakers concerned about road wear and tear.
The group is also weighing a resolution expressing state support for eliminating a $7,500 federal tax credit for purchasers of electric vehicles a move long supported by ALEC-funder Koch Industries and an issue thrown into the national spotlight recently after Trump threatened to take away subsidies from General Motors Co.
"AFPM adamantly opposes EV subsidies and mandates, which are costly, disproportionately benefit a few wealthy companies and individuals, and limit consumer choice," American Fuel and Petrochemical Manufacturers President Chet Thompson said in statement.