Diamondback Boosts Permian Basin Presence With 2 Shale Deals
(Bloomberg) -- Diamondback Energy Inc. rounded off a tumultuous year for the U.S. shale industry with the acquisition of two rivals for about $1.4 billion that will expand the company's position in the Permian Basin.
Diamondback on Monday announced an agreement to buy shale explorer QEP Resources Inc. in an all-stock deal and, separately, an accord to acquire closely held Guidon Operating LLC, which was co-founded in 2016 by funds managed by Blackstone Group, for a mix of cash and stock.
The purchases are a bet by Midland, Texas-based Diamondback on the resilience of the shale sector, where production has dropped following this year's historic collapse in crude prices. The deals are Diamondback's largest since its $7 billion takeover of Energen Corp. in 2018, and will bring its total leasehold interests to more than 276,000 net surface acres in the Permian's Midland sub-basin.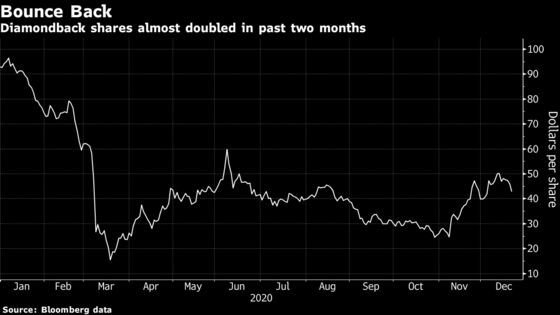 "These trying times can present great opportunities for companies that are prepared," Diamondback Chief Executive Officer Travis Stice told analysts and investors during a conference call. "These acquisitions check every box when it comes to Diamondback's corporate development strategy."
At least four large shale deals have been announced in the past few months, the largest of which was ConocoPhillips's proposed takeover of Concho Resources Inc. for about $9.7 billion.
Diamondback said QEP's assets in the Williston Basin in the Dakotas and Montana are "non-core" and will be used as a cash generator or sold off. Diamondback dropped 6.3% to $42.97 at 12:06 p.m. in New York. QEP fell 8.9% to $2.11.
Although the assets to be acquired represent a "solid fit" with Diamondback's existing operations, the two deals add nearly $2 billion in net debt to its balance sheet, "which is not exactly what we think the market is looking for the company to do right now and is counter to the company's plan to prioritize absolute debt paydown in 2021," Leo Mariani, an Austin-based analyst at KeyBanc Capital Markets Inc., wrote in a note to clients.
Prior to Monday's announcements, Diamondback's stock had almost doubled in the space of less than two months.
"Fortunately for us, the rally in the last couple of months has allowed us to have real conversations and get two deals done," Diamondback Chief Financial Officer Kaes Van't Hof said during the call. "When we get bigger, we have to get better and this acreage makes us better."
As oil prices have slowly recovered from their historic crash earlier in the year, shale explorers have looked to consolidation as a means to bulk up amid a depressed demand environment.
Marathon Oil Corp. addressed the "topic du jour" last month, saying it's willing to look for a combination beyond its primary theaters of operation in the Eagle Ford Shale of South Texas and the Bakken region in North Dakota. Meanwhile, billionaire Harold Hamm said in October he's open to merging his Continental Resources Inc. with a rival if the opportunity arises.
Diamondback's moves on Monday appear to conflict with its most recent public statements about already holding sufficient scale to compete, analysts at Tudor, Pickering, Holt & Co. wrote in a note to investors.
However, the deals align "with management's acquisitive track record and comments about generally supporting industry consolidation," according to the note. "The no-premium transactions add relatively top-tier exposure" to Diamondback's existing asset base and ideally closes the book on any more deals in the near-term.
For the QEP deal, Goldman Sachs Group Inc. is lead financial adviser to Diamondback, with Moelis & Co. also serving as a financial adviser. Akin Gump Strauss Hauer & Feld LLP and Gibson, Dunn & Crutcher LLP are its legal advisers. Evercore and Latham & Watkins LLP are QEP's financial and legal advisers respectively.
For Guidon, Morgan Stanley is Diamondback's financial adviser and Akin Gump Strauss Hauer & Feld LLP is its legal adviser. Citigroup Inc. and RBC Capital Markets are Guidon's financial advisers and Kirkland & Ellis LLP is its legal adviser.