DIA Loses Moody's Investment-Grade Rating on Earnings Fall
(Bloomberg) -- Spanish supermarket operator Distribuidora Internacional de Alimentacion SA's credit rating was slashed two notches to Ba2 by Moody's following a profit warning this week and could yet fall lower, as the ratings firm put it on review for further downgrade.
DIA has the lowest investment-grade rating from S&P, which is on negative outlook.
The company now expects an adjusted Ebitda this year in the range of 350 million euros ($400.7 million) to 400 million euros versus the 568 million euros it made in 2017. The earnings slump, coupled with expectations for 1.2 billion euros of net debt, may test its 3.5 times leverage covenant, BI analyst Louise Parker wrote in a note today.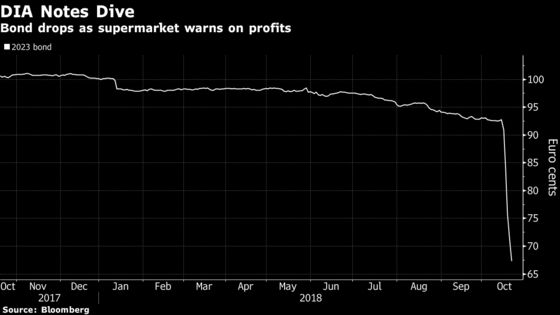 DIA's stock and bonds have plunged this week, with shares losing more than half their value since the company suspended its dividend and chairman Ana Maria Llopis quit following Monday's profit warning. Meanwhile, its 300 million euros 0.875% bonds due 2023 have fallen more than 26 percent to 68.4 euro cents.
DIA spokeswoman Lara Vadillo declined to comment when contacted by Bloomberg News.