Di Maio Draws Line in Sand on Italy-France High-Speed Rail Plan
(Bloomberg) -- Italian Deputy Premier Luigi Di Maio hardened his position against a plan to link his country to France via high-speed rail, saying the project won't be built as long as his party is in government.
"I prefer to invest money to guarantee a rapid connection between Rome and Pescara, and for highway safety," Di Maio said in an interview with daily Il Messaggero published Friday.
Di Maio and his coalition partner, Matteo Salvini's League, have been clashing for months over the $10 billion link between the Italian city of Turin and Lyon on the French side of a proposed tunnel.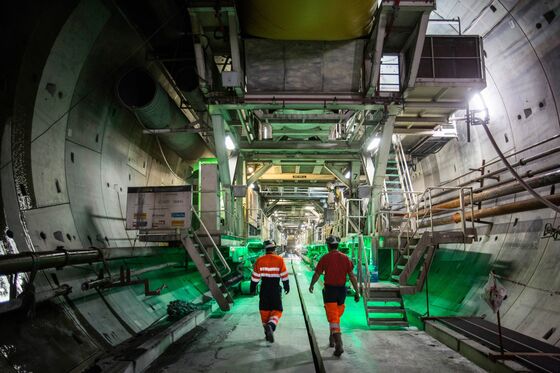 Five Star cut its teeth as a political movement with environmental-based opposition to the plan, while the League, which counts northern-based businesses among its main supporters, has come out in favor of the project, known as TAV.
After caving in on other environmental promises, Five Star needs a win now, as the two allies and rivals prepare to face off in European elections this spring. Many Five Star voters say green policies are the most important issue to them, so the party's credibility could be on the line.
Salvini upped the stakes earlier this month, making favorable comments about the link during a visit to the project site, as Di Maio denied works were even taking place.
Tensions intensified after reports that an analysis commissioned by the League estimated the cost to halt the project at around 24 billion euros ($27 billion) -- more than the cost of completing it.
Though an official cost-benefit analysis commissioned by the full government has not been made public yet -- a copy has been forwarded to the French -- it's expected to conclude that the project isn't economically viable, Bloomberg reported in December. The project is co-financed by Italy, France and the European Union.
The first high-speed trains between the industrial center of Turin and Lyon, France's second-biggest city, are scheduled to start running in 2030. The European Union said in November it's ready to raise its contribution to 50 percent of the overall cost.
French Transport Minister Elisabeth Borne told the Italian government in November it must decide on TAV by early 2019 or risk losing some funding for the project.