Deutsche Bank Vows to Reverse Revenue Slump, Defying Headwinds
(Bloomberg) -- Deutsche Bank AG pledged to reverse years of declining revenue and kept a key profit target intact, striking a more upbeat tone than some rivals as it starts merger talks with Commerzbank AG.
The defiant outlook -- just two days after UBS Group AG warned that the first quarter was one of the worst environments in recent history -- lifted Deutsche Bank's shares and may strengthen Chief Executive Officer Christian Sewing in talks with investors on the merger. Sewing in the past year accelerated a turnaround plan focused on cost cuts, but the failure to reverse revenue declines has been seen as a key weakness.
"We are not yet where we want to be; but we believe that we are on the right path to provide you, our shareholders, with sustained higher returns," Sewing wrote in the bank's annual report on Friday. "It's important to highlight that we operate in a challenging market environment and we are considering strategic opportunities as they arise."
Deutsche Bank rose as much as 3.3 percent and traded little changed at 10:18 a.m. in Frankfurt. The lender lost more than half its market value last year.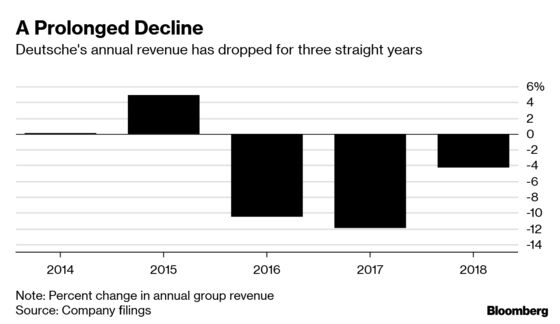 Deutsche Bank and Commerzbank announced formal merger talks last weekend after struggling with separate turnaround plans. Germany still owns 15.6 percent in Commerzbank, and the Finance Ministry favors a merger to support the small and mid-sized companies that are the backbone of the export economy, people familiar with the matter have said. Germany's slowing economy and continued low rates have added to the urgency.
Sewing has said previously that he wants to restore revenue growth this year, and he set a full-year target for a 4 percent return on tangible equity, a common measure of profitability. Revenue in 2019 should be "slightly" higher than last year, assuming "solid" economic growth, the Frankfurt-based lender said Friday. It maintained the profitability target but said that goal remains dependent on how markets develop.
"Market conditions have improved as compared to those experienced in the fourth quarter of 2018, however, they are somewhat weaker than we had anticipated," Deutsche Bank wrote.
Analysts polled by the bank are skeptical it will succeed -- their consensus estimate anticipates a decline in revenue and a return on tangible equity of less than half Sewing's goal. January was a terrible month for the trading business at Deutsche Bank, though February saw an improvement, people familiar with the matter have said.
"Revenue growth would be great for Deutsche Bank. Given a weak comparison year in 2018, that's not completely unrealistic," said Daniel Regli, an analyst with Mainfirst. "But the first quarter is traditionally the bank's strongest, and a weak performance will mean it faces an uphill battle."
Executives at both Citigroup Inc. and JPMorgan Chase & Co. warned in recent weeks of weaker trading revenues compared with a year ago. At UBS, CEO Sergio Ermotti said there has been very little merger or initial public offering business outside of the U.S., with investment banking revenues down about one third compared with a year ago. The Swiss bank will slow down hiring and deepen cost cuts by about $300 million, he told investors on Wednesday. The Swiss bank's downbeat outlook sent bank shares lower across Europe.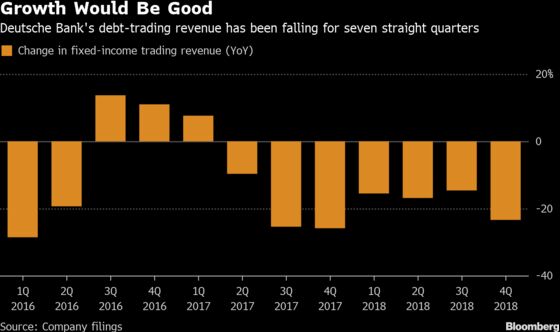 Deutsche Bank said that after cutting jobs at the investment bank, the focus is now on revenue growth. Redeployment of excess liquidity should reduce costs and help the unit achieve a "slightly higher" top line this year. Fixed income sales and trading, one of its biggest areas of business, should improve, helped by an "expected increase in client activity levels and a more favorable trading environment."
"While financial market conditions in our sales and trading businesses have improved significantly in the first quarter of 2019 compared to the turbulent environment we saw in the fourth quarter of 2018, activity levels are relatively muted on a historical comparison," Sewing said. "To support the achievement of our financial targets to the fullest extent possible, we will continue to manage all aspects in our direct control, including ongoing expense discipline."
Deutsche Bank said that Brexit, global trade disputes, central bank policies and levels of client activity could all impact its outlook.