Deutsche Bank, Barclays Fortunes Differ in Turkish Turmoil Bets
(Bloomberg) -- Deutsche Bank AG traders generated a $35 million profit in two weeks sparked by economic turmoil in Turkey. That same volatility cost Barclays Plc some trading losses, according to people with knowledge of the matter.
The Deutsche Bank fixed-income traders, who work on a desk focused on central and eastern Europe, the Middle East and Africa, made more than $10 million on Aug. 10 when the Turkish lira plunged the most in almost two decades, the people said, asking not to be identified discussing private information. The team was positioned to profit from any slump in asset prices across the region, they said.
The world's biggest financial firms are feeling the impact of tumult in Turkey, where U.S. sanctions and tariffs sparked by the imprisonment of an American pastor have collided with an already overheating economy. That's led to a broader slump across emerging markets.
A senior Barclays credit trader was said to have faced losses of about 15 million pounds ($19 million) when he was caught on the wrong side of a wager on Turkish bonds over several days in the past week, according to people familiar with the matter.
The Deutsche Bank desk, run by Aditya Singhal, has made about $135 million this year, the people said. The group trades across credit tied to borrowers from the so-called CEEMEA region, foreign exchange and rates products. Singhal has been leading that group since the end of 2016.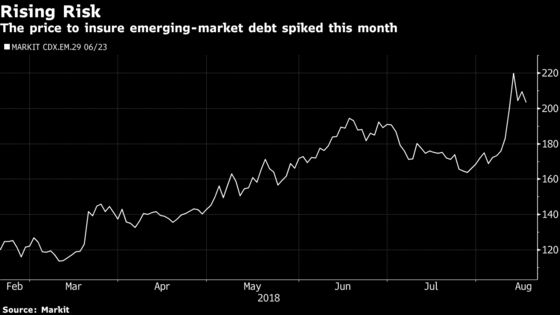 The credit team has made $45 million this year under head trader Niru Raveendran, with a quarter of those gains coming just in the past week across bond and derivative trading, the people said. Raveendran had previously worked with JPMorgan Chase & Co. and BNP Paribas SA.
"In such a volatile and uncertain market, profit and loss swings can be massive," said Mark Williams, a finance lecturer at Boston University's Questrom School of Business. "Deutsche Bank is showing a greater risk tolerance in emerging-market fixed income trading."
Neither European bank discloses specific gains tied to trading emerging market products. Deutsche Bank said in its annual report earlier this year that it expected emerging market trading to help propel a rebound in fixed-income trading in 2018, after that business slumped last year.
The trading gains may provide some respite for Deutsche Bank Chief Executive Officer Christian Sewing, who is overhauling the fixed-income business after years of underperformance and fines for misdeeds. In July, Germany's largest lender vowed to maintain its place as the world's fourth-largest trader of fixed income and currencies, pushing back against calls for a more radical restructuring.
Charlie Olivier, a spokesman for Deutsche Bank in London, declined to comment.
The German bank's desk has benefited from betting on an emerging market slide. Investors have dumped those assets this year as fears over softening economic growth, a brewing U.S.-Chinese trade war and political tumult collide with the Federal Reserve's plans to hike interest rates. The Bloomberg Barclays Emerging Markets Hard Currency Aggregate Index, which tracks the performance of almost 2,000 bonds sold by issuers in developing economies, has slid almost 4 percent this year.
Yet while the volatility has led to losses for some, the swings in asset prices have also prompted increased trading volume for banks. Investors traded $956 billion of credit-default swaps, or CDS, tied to emerging markets in the first half of the year, a 44 percent increase on the same period a year earlier and the highest since 2009, according to research from trade association EMTA. These are instruments used to speculate on a borrower's ability to repay debt or to hedge against losses.
At Barclays, senior London-based credit trader Tolga Kirbay was caught on the wrong side of a wager over three trading days starting from Thursday, said the people, who asked not to be identified as the details aren't public. Barclays generally makes up to $100 million in revenue each year trading emerging-market corporate bonds in Europe, the Middle East and Africa, according to the people.
"Barclays has an established and diversified credit business with all our trading positions hedged across the business," the British bank said in an emailed statement this week. The Turkish trading operation "represents a very small part of our overall credit business."