Deutsche Bank Says It Will Cut at Least 7,000 Jobs in Revamp
(Bloomberg) -- Deutsche Bank AG will cut a quarter of equities jobs and reduce overall positions by at least 7,000 as Chief Executive Officer Christian Sewing seeks to slash costs and boost profitability.
The reductions will take the number of jobs at the Frankfurt-based lender to well below 90,000 and lead to a restructuring charge of as much as 800 million euros ($935 million) this year, it said in a statement on Thursday ahead of its annual shareholder meeting. The bank also plans to reduce funds at risk and seek to further drive down expenses.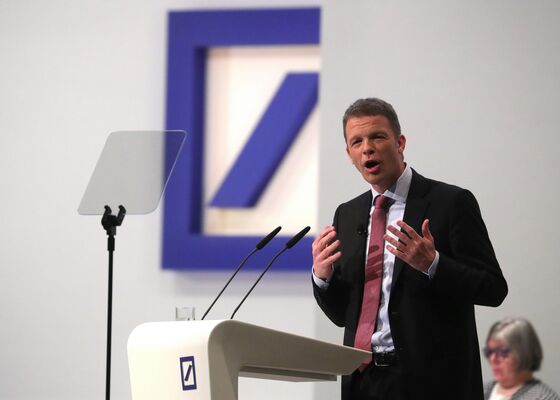 Sewing is accelerating a push to refocus the lender on its European home market and reverse a two-decade effort to compete head-to-head with the large Wall Street firms that dominate volatile securities trading. The future of the investment bank and failure of predecessor John Cryan to cut costs and restructure fast enough had been key factors in last month's management shakeup. Global equities has been one of the new CEO's first targets.
The cuts may end up being closer to 10,000, according to a person with knowledge of the plans. The bank is giving itself some room on the final number by committing to reducing the workforce to "well below" 90,000 from "just over" 97,000 at present.
"The equities business is a very sensible area to focus the cuts on seeing as they haven't been achieving the return on capital they want there," Neil Smith, an analyst at Bankhaus Lampe, said by phone from Dusseldorf. "The key issue for Sewing to focus on immediately is cost, where Deutsche Bank disappointed last year."
The new targets are the most precise yet given by Sewing, who last month also said the bank will scale back in U.S. rates and trading and corporate finance in the U.S. and Asia. Sewing told shareholders that, just in the seven weeks since he took over, 600 staff had already left the corporate and investment bank.
The new targets incorporate much of Cryan's medium-term plan, unveiled in late 2015, analysts said. That plan had foreseen 9,000 in-house job cuts by 2020 and thousands more among the bank's external contractors. Group headcount actually fell by about 1,500 during Cryan's tenure.
There has been increasing evidence in recent weeks that the pace of job cuts is picking up, with the corporate and investment bank bearing the brunt. Deutsche Bank has said it will move to smaller premises in New York and will close its Houston office entirely due to a withdrawal from advisory services for the oil and gas sector.
The measures announced Thursday will cut funds at risk in the corporate and investment bank by 'approximately 10 percent' of total exposures at the division.
The bank said it expects to be able to cut its adjusted costs to 22 billion euros by 2019, from 23 billion euros this year. It said it plans "no further significant disposals" at present. But it is setting up a new strategy committee, Chairman Paul Achleitner told the shareholder meeting. The committee will be headed by former Merrill Lynch CEO John Thain, provided shareholders confirm his appointment to the board later Thursday.
The bank said the measures will help it reach a target of around a 10 percent post-tax return on tangible equity -- a key measure of profitability -- from 2021 onwards.
However, analysts and investors' first reactions were underwhelming. By 10:45 in Frankfurt, the bank's shares were flat at 10.98 euros, only a few cents above the 18-month low they hit last week.
"We view this as confirmation of our view that drastic but necessary restructuring is impossible at this stage," analysts at Keefe, Bruyette and Woods said in a note to clients, who said that it is "highly unlikely" that the bank can generate the 6 billion euros in annual profit implicit in the target for return on equity.