Deutsche Bank Mulls Shake-Up as Regulatory Frustrations Continue
(Bloomberg) -- Deutsche Bank AG's management changes have yet to run their course.
Germany's largest lender is replacing senior executives in the U.S. and is considering changing staff who tend its relationships with regulators, according to a person with knowledge of the matter. The moves come on the heels of strong cuts to the U.S. operations and after authorities in the country -- and in Europe -- expressed frustration with the firm's efforts to prevent financial crime.
Sylvie Matherat, a management board member who serves as the bank's chief regulatory officer, and Tom Patrick, who runs operations in the Americas, are among executives who might ultimately leave, the person said. For now, no decisions have been made and discussions are continuing, the person said, asking not to be named because the deliberations are confidential.
Deutsche Bank has appointed James Davies to succeed Zia Huque as head of U.S. debt trading, according to a person familiar with the matter. Though Huque will remain head of the bank's U.S. broker dealer, it's not clear how much longer he will stay for, the person said. Earlier this month, the bank's U.S. head of municipals, Dennis Tupper, also left and was replaced with Nir Vidra, according to a memo seen by Bloomberg.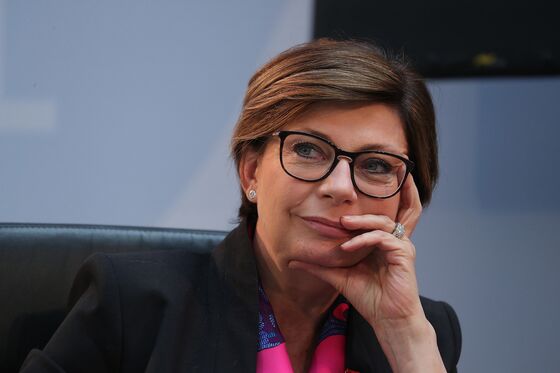 Kerrie McHugh, a spokeswoman for the Frankfurt-based bank, declined to comment.
Deutsche Bank is trying to reassure regulators it can improve compliance systems after repeated failures in heading off misconduct. In September, Germany's markets regulator ordered the firm to improve money-laundering and terrorism-financing controls, and took the unprecedented step of appointing a monitor to oversee the efforts. The stock has hit record lows in recent weeks as investors worry that the lender is being drawn into a multibillion-dollar money laundering scandal at Denmark's Danske Bank A/S.
Deutsche Bank was down 0.7 percent at 8.6 euros in Frankfurt as of 12:20 p.m. The stock has declined about 46 percent this year.
Matherat, a former French central bank official, was promoted to Deutsche Bank's management board under then-Chief Executive Officer John Cryan three years ago. She's the only woman left on the panel after the departure earlier this year of Chief Operating Officer Kim Hammonds. Already, Matherat has presided over four global heads of anti-financial crime -- Ulrich Goeres, Peter Hazlewood, Philipp Vollot and now Stephan Wilken. Her management style can be tough at times, according to people who know her.
Matherat declined to comment.
Frank Kuhnke, who succeeded Hammonds as COO, has been taking a fresh look at internal processes and implementing projects -- such as bolstering so-called know-your-customer documentation -- that other managers including Matherat previously hadn't carried out. Some present at a supervisory board meeting in the summer where Kuhnke's progress was discussed considered his successes to be an embarrassment for Matherat, according to people with knowledge of the matter.
At least one top financial regulator has been disappointed in Matherat's progress in changing the bank's controls, a person familiar with the matter said, asking not to be identified discussing the private details. It's not clear if the regulator still sees Matherat as the right person for the job.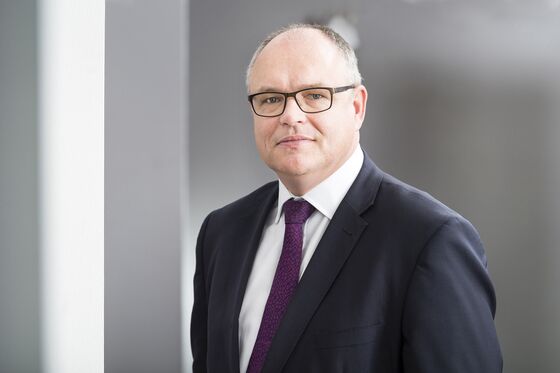 Matherat, meanwhile, has privately told associates she might need to prepare to leave, the Wall Street Journal reported earlier on Tuesday. The newspaper said she has expressed unhappiness to some associates over what she described as constraints on improving controls and mending the bank's relationships with authorities.
A Danske Bank A/S whistle-blower, who stunned lawmakers by saying he was offered hush money by the Danish bank, has estimated that $150 billion in suspect funds the lender handled were funneled through another bank that he didn't name. It was later identified by a person familiar with the matter as Deutsche Bank's U.S. unit.
Deutsche Bank serves as a correspondent bank, handling transactions initiated by foreign lenders on behalf of their customers. The German lender has said that as a correspondent bank, "your only relationship is with the bank and the bank itself has the responsibility to check its own client to monitor the transaction and to do all these kinds of checks."
Under Matherat, the bank has stepped up hiring for compliance and anti-financial crime positions and the number of people will rise to 3,000 by the end of the year from 2,000 when she was appointed to the management board in 2015, she told a newspaper in April.