Deutsche Bank Joins Call to Stop Polish Mortgage Levy
(Bloomberg) -- The top executives of six lenders led, by Deutsche Bank AG, Commerzbank AG and Raiffeisen Bank International AG, urged European Union leaders to block a proposed Polish levy aimed at helping borrowers who took out mortgages in foreign currencies.
The banks sent a letter to EU commissioners, signed by each firm's chief executive officer, saying a draft law being considered by the Polish parliament breaches rules for property rights, state aid and the free movement of capital, according to a copy of the document seen by Bloomberg. The European Commission in Brussels has received the letter but can't comment on any possible response, spokesman Johannes Bahrke told journalists on Tuesday.
Thousands of homeowners in Poland who took out mortgages in foreign currencies, mainly the Swiss franc, found themselves in dire financial straits when the zloty plummeted against other currencies. While providing relief for borrowers was a key campaign promise for President Andrzej Duda -- backed by the ruling Law & Justice Party in 2015 -- the matter has stalled over the past two years over concerns about its impact on Warsaw-traded banks. More than half a million Poles hold $34 billion of foreign-currency mortgages.
Read more:
Poland's Swiss-Loan Rescue to Benefit the Rich, BCP Unit Says 
Swiss Loans Boomerang to Trim Dividend Odds for Polish Banks 
Poland May Mull Easing Bank Dividend Rules With FX-Loans
In an election year, the Polish parliament is advancing with a draft that envisages banks contributing as much as 0.5 percent of the value of their foreign currency mortgages every quarter, or as much as 3.2 billion zloty ($840 million) a year to a special fund to facilitate the voluntary conversion of the loans to zloty. Parliament's finance committee will discuss the draft on Wednesday, offering one of the last chances for any coordinated effort to change it.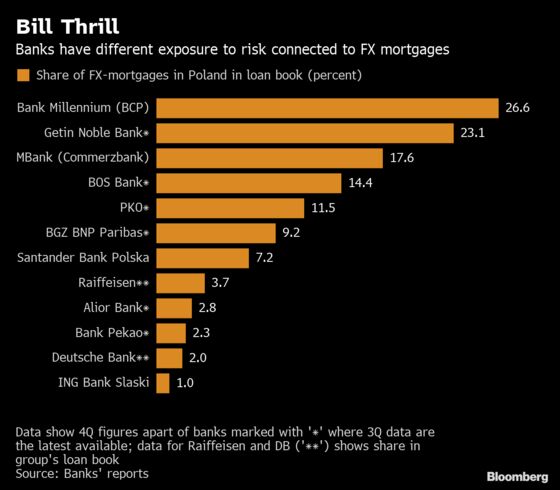 "We believe the proposed legislation, if adopted, will have a material negative impact on the banking sector in Poland," the six CEOs, including Deutsche Bank's Christian Sewing and Santander's Jose Antonio Alvarez said in the letter. "Therefore, we respectfully request the European Commission to raise these issues with the Polish government."
Poland's move comes weeks after Romania imposed a so-called tax on greed on the nation's mostly foreign-owned banks to shore up its budget. Hungary and Croatia, which also struggled with mortgages in foreign currencies, years ago forced banks to swallow the currency losses instead of borrowers.
Poland's current proposal lets lenders decide how to motivate clients to convert their loans, with the aid of money from the special fund. If a bank fails to complete a set number of conversions over six months, it will lose access to some of the money in the fund, which will then be made available to its competitors.
The other signatories were Banco Santander SA, Banco Comercial Portugues SA and GE Capital. BCP's Bank Millennium SA unit has criticized the proposal for lacking criteria to determine who needs help the most. Commerzbank's MBank SA said the new regulations would violate contractual obligations between lenders and their clients.
The plan may become a special burden for Deutsche Bank, Raiffeisen and GE, which have sold their Polish banking operations but had to keep the Swiss-franc mortgages, as they have limited options to raise revenue elsewhere. The levy would cost Raiffeisen as much as 60 million euros ($68 million) a year at the current rate, almost 5 percent of group's last year's net income. Deutsche Bank had about 18 billion zloty of mortgages at the end of 2017, according to its Polish unit.
Polish lawmakers are "open for discussion and potential amendment proposals" to the bill, but see the current proposal as a compromise that is affordable for lenders, Tadeusz Cymanski, head of parliamentary committee working on Swiss franc loans, said by phone. Since 2015, politicians dropped the idea of forcing conversions at a historical rate.