Deutsche Bank Sells Bond to Boost Capital as Recession Looms
(Bloomberg) -- Deutsche Bank AG is offering a subordinated bond to boost its capital ratio as the bank girds itself for the deepest recession in almost a century.
The euro-denominated bond, known as Tier 2, "will increase Deutsche Bank's total capital ratio" and "improve its buffer versus regulatory capital requirements," the lender said in a statement on Monday.
Chief Executive Officer Christian Sewing recently said that increased lending and higher credit provisions due to the coronavirus will cause the bank's capital buffers to temporarily fall below the minimum threshold he set. Germany's largest lender was already dipping into its capital reserve before the crisis to pay for the deep restructuring that the CEO revealed last summer.
European and national regulators have granted banks more flexibility in how they can meet certain capital requirements to help keep lending flowing to businesses struggling amid the crisis.
"We're issuing now because the market environment is supportive," said Dixit Joshi, Deutsche Bank's group treasurer. "The issue will also help to support business growth and our clients."
The lender will sell 1.25 billion euros ($1.4 billion) of Tier 2 notes at 600 basis points above benchmark midswap rates, according to a person with knowledge of the sale, who asked not to be identified as they're not authorized to speak about it.
Deutsche Bank also launched a tender for 2 billion euros in outstanding bonds to "provide liquidity" to investors, Joshi said. If successful, the deal may also boost quarterly earnings as the current valuation likely means Deutsche Bank could buy the securities below the price the lender has used to account for them on its balance sheet, potentially providing an accounting benefit.
See also: Europe Banks May Spy Bargains in Own Bonds After Virus Sell-Off
The new bond won't affect the bank's common equity tier 1 ratio, a key measure of financial strength. However it will widen the gap between its total capital ratio and a regulatory requirement known as maximum distributable amount, which determines whether coupons on Additional Tier 1 notes can be paid. The requirement is 15.04% and the bank had a 16.59% ratio at the end of the first quarter.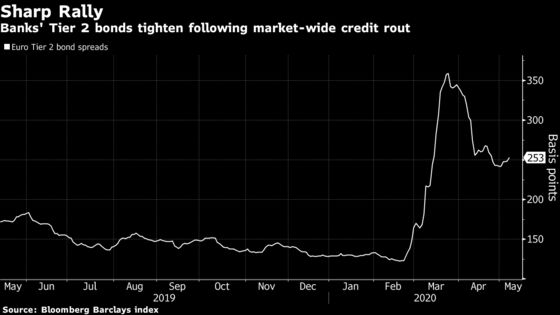 Bond issuance conditions have improved significantly since the coronavirus crisis shuttered primary markets in February. The average spread on euro Tier 2 bonds is more than 100 basis points tighter than it was in late March, according to a Bloomberg Barclays index. Royal Bank of Scotland Group Plc last week became the first European lender to sell Tier 2 debt for nearly three months.
Deutsche Bank's bond makes use of a recent regulatory change that now allows banks to use more subordinated debt to meet regulatory requirements, helping them to cut costs. The change makes it likely that other banks will sell more subordinated bonds, whether Tier 2 or riskier Additional Tier 1s, said Tom Kinmonth, a fixed income strategist at ABN Amro.
Banks who aren't "in a super-comfortable situation" with their capital buffers are particularly likely to use the new flexibility provided by the regulator, said Andreas Meyer, who helps manage more than 3 billion euros including bank bonds at Aramea Asset Management in Hamburg.