Deutsche Bank Mulls Trading Base Metals Again in Growth Hunt
(Bloomberg) -- Deutsche Bank AG's leadership is discussing whether to resume trading commodities such as copper and aluminum as part of Chief Executive Officer Christian Sewing's drive to boost growth.
The discussions over trading in base metals are being led by the lender's fixed-income trading unit under Ram Nayak and are at an exploratory stage, according to people familiar with the matter. Such a move would involve some hiring and require building capabilities on top of the existing precious metals trading desk, one of the people said. 
A return to base metals, whose prices have soared in recent months, would partly reverse Deutsche Bank's withdrawal from the commodities business eight years ago. Sewing is trying to hit an ambitious 2022 profitability goal that has increasingly come to depend on the boom at his biggest revenue engine, the fixed-income trading division. The lender has hired several senior executives to help expand the unit and recently said it's returning to trading credit-default swaps.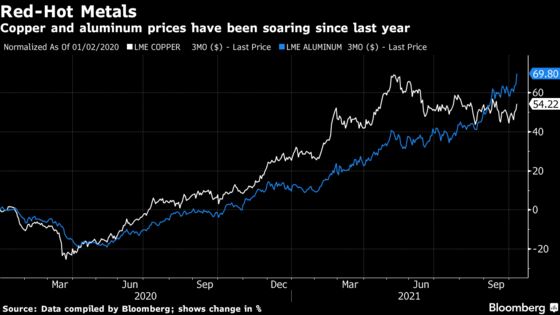 The people asked not to be identified discussing private information. A spokesman for Deutsche Bank declined to comment.
Deutsche Bank in 2013 decided to exit dedicated energy, agriculture, dry bulk and base metals trading and transfer its financial derivatives and precious metals desks to the fixed income unit, as tighter rules made the business less attractive. The move marked an early step of a series of cuts to the trading unit that led to a steep decline in market share.
Sewing initially continued on that path, exiting equities trading and targeting more cuts in fixed income. He started changing course when interest rates failed to rise as expected while the pandemic fueled a broad trading rally.
The fixed-income unit has grown rapidly over the past two years and has outperformed the average revenue growth on Wall Street for several quarters, in a sign that Deutsche Bank is winning back market share. Its executives have pointed to improving credit ratings and a more focused business strategy as reasons why former clients are returning to do business with the lender. 
Sewing is now preparing an investor update, to be held next year, in which he will lay out his strategy beyond 2022. The raft of new hires and activities he's considering for the securities unit could indicate a bigger role for that business in the future.
The global trading rally has included base metals such as copper, which hit a record earlier this year and helped boost revenue at large trading firms. Goldman Sachs Group Inc.'s commodities traders last year doubled their revenue haul, generating more than $2 billion in revenue for their best annual showing in about a decade. 
Deutsche Bank isn't the only firm considering boosting its commodities desks amid the price rally. Barclays Plc is thinking about setting up a carbon credit and emission trading desk in New York nine years after it pulled out of the business, Bloomberg has reported.