Deutsche Bank Bid to Collect $320 Million From Vik Drags On
(Bloomberg) -- Deutsche Bank AG has been trying to collect hundreds of millions from Norwegian billionaire Alexander Vik since he lost an $8 billion lawsuit against the lender in 2013.
The bank's efforts to collect $320 million took another detour at a court hearing last week where Vik's lawyers challenged accusations that he had shown a "pattern of evasion" in regards to the debt. The 63-year-old, who faces jail time for his failure to answer questions about the case, didn't attend the hearing.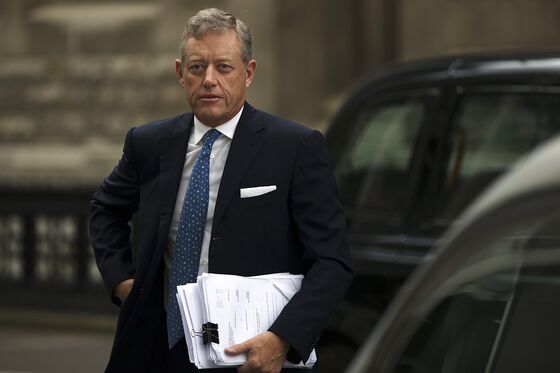 The lawsuit was one of many high-profile cases that grew out of the financial crisis a decade ago. Vik's investment fund, Sebastian Holdings Inc., said that the bank's margin calls as currency markets tumbled in 2009 led to the termination of trades that would have made him billions of dollars.
The claims were tossed out and Vik was ordered to repay about $236 million from margin calls plus legal costs, which has now increased with interest to $320 million and spawned more legal battles.
Deutsche Bank said in documents prepared for last week's Court of Appeal hearing that Vik "deliberately failed to disclose a substantial volume of relevant documents" and "key parts of his oral evidence were false" during a 2015 hearing.
A spokesperson for Deutsche Bank and lawyers for Vik declined to comment. An email sent to Vik's company Xcelera Inc. bounced and an email request to Vik Retreats for comment went unanswered.
The bank wants to enforce a U.K. ruling saying that Vik must disclose information about his assets and attend court to answer questions about them, or face jail for contempt of court.
Vik Retreats includes properties in Chile and Uruguay. Suites at the 11,000-acre vineyard in Chile start at $1,200 a night and Vina Vik was listed as one of the most fascinating travel destinations for wine lovers in 2016.
According to Vik's written arguments at the June 27 hearing, he is appealing on the grounds that the court doesn't have jurisdiction over him as he doesn't live in the U.K.
Vik says the allegations against him are "entirely without merit," according to the court filings. He says he disclosed "all documents he was reasonably able to" and answered questions in court truthfully.
Deutsche Bank accuses Vik of stripping Sebastian Holdings of its assets and transferring them to closely connected third parties.
Deutsche Bank said in court documents for the hearing last week that "Mr. Vik and his associates have resisted tooth and nail Deutsche Bank's extensive efforts -- in various jurisdictions -- to enforce the judgment debt".
At a 2015 hearing in London, one of the last times he turned up in court, Vik denied he'd hidden assets to avoid paying the debt and said that he owed much more to his own father.
The businessman, whose wealth is estimated at $1 billion in reports, is domiciled in Monaco, according to court documents. He was served the order to disclose the information when he was "fleetingly" in London on another matter in 2015.
The case is Deutsche Bank v Sebastian Holdings, UK Court of Appeal, Civil Division
Division Case No: A3/2017/1082