Deutsche Bank Cuts From New CEO Begin to Pay Off
Five months into Deutsche Bank AG's biggest restructuring in decades, Chief Executive Officer Christian Sewing is turning to the investment bank to save his plan.
Germany's largest lender on Tuesday said fixed-income trading is up this quarter from last year and that it was optimistic the business had halted a slide in market share. With interest rates set to stay low for longer, the bank said it will need to rely more on such volatile investment banking businesses to meet revenue goals that are looking increasingly "ambitious."
Sewing is trying to convince shareholders his strategy is on track, after announcing a plan to slash a fifth of the workforce and exit equities trading. He's sold off unwanted assets, cut costs and won a reprieve from the bank's main regulator, which lowered a key capital requirement. But the outlook for a prolonged period of negative interest rates is hurting revenue from lending, forcing Sewing to count on riskier investment banking businesses such as trading or providing leveraged financing.
"We have seen an October and a November that were ahead of our expectations" in the investment bank, Sewing said in an interview with Bloomberg TV in Frankfurt ahead of the bank's investor day. "I'm encouraged by the momentum we have. We took swift management action, in particular in the investment bank, to focus on our key strengths."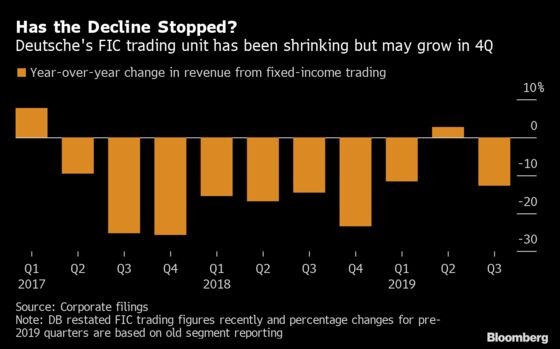 The bank on Tuesday formally lowered its mid-term revenue target to about 24.5 billion euros ($27.1 billion) from 25 billion euros, saying the retail and the corporate clients divisions at the center of Sewing's turnaround will be particularly hard hit by negative rates. Chief Financial Officer James von Moltke previously indicated the target would be below the original goal because the bank's assumptions about rates and the economy had proven too optimistic.
To help offset lower-than-expected income from lending, the bank wants to generate 100 million euros annually from passing on negative interest rates to wealthy and corporate clients, von Moltke said in a presentation. Deutsche Bank also raised the revenue outlook for the investment bank, making its turnaround effectively more dependent on the unit that bore the brunt of cutbacks in recent years.
Read more about the ECB's decision to lower the capital requirement.
Shares of Deutsche Bank swung between gains and losses, falling 0.6% at 4:53 p.m. in Frankfurt after rising as much as 1.7% earlier in the day.
The Frankfurt-based lender has helped arrange almost $15 billion of new leveraged loans in the U.S. and about 7.6 billion euros across Europe, the Middle East and Africa, data compiled by Bloomberg show. The firm has also managed the sale of $15 billion of U.S. junk bonds and some 7.1 billion euros in the EMEA region, the data show.
Highlights from the investor day release:
4Q revenue from fixed-income trading to date up from last year
Target of 8% ROTE by 2022 is now 'more ambitious'
New target for ROTE core bank of more than 9% by 2022
Bank confirms cost targets for 2019-2022
Says sales of unwanted assets are ahead of plan
Sees year-end CET1 capital ratio above 13%
The trading gains this quarter reflect a generally better environment for that business, with market-wide sales of euro-denominated, investment-grade debt up more than 50% from a year ago, according to data compiled by Bloomberg. That's in contrast to the final three months of 2018, when sales of new bonds in Europe plummeted after a series of company blow-ups unnerved the market.
Ram Nayak, who oversees fixed income trading, said the bank has concluded the majority of cuts to revenue-generating staff at the investment bank. He said he was optimistic that his unit, which was responsible for a decline in investment bank revenue this year, has since halted that trend.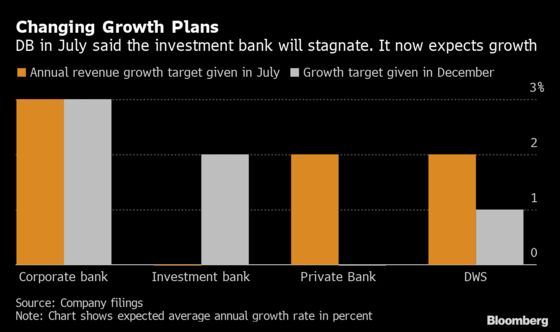 "It is still very early days, but we are pleased with the momentum we have seen over the past three or four months," said Nayak. "We are optimistic that we have arrested or possibly even reversed the market share losses in fixed income over the first nine months of this year."
Sewing, while warning of headwinds from interest rates in the mid-term, confirmed the remaining financial targets set when he first unveiled his plan. He set a new profitability target for the core bank -- the operations he is keeping -- which he says aims for a return on tangible equity of more than 9% by 2022.
The bank got a further boost as the ECB reduced its capital burden for next year, following the decision to shrink and simplify the lender. That may ease concerns that the company could need to sell new shares to shoulder the costs of its overhaul. Deutsche Bank is seeking to complete the process without tapping investors.