Deutsche Bank Warns of Loan Defaults After Surprise Profit
(Bloomberg) -- Deutsche Bank AG became the latest European lender to gird for mounting losses from the coronavirus pandemic, setting aside about 500 million euros ($542 million) to cover bad loans after a better-than-expected first quarter performance.
Revenue and net income at Germany's largest lender beat analyst estimates during the first three months of the year, for the most part unaffected by the outbreak, the company said late Sunday. But its provisions for soured credit were probably the highest in six years and the bank scrapped its minimum target for capital buffers as fallout from the virus spreads.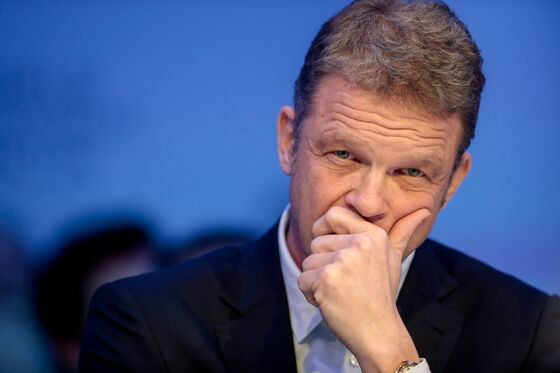 Chief Executive Officer Christian Sewing has been trying to reassure stakeholders the bank is entering the crisis stronger than it has been in a long time after he cut risk and refocused on financing Germany's exporters. Yet many of those clients are now hit hard by widescale lockdowns and disruptions of global supply chains, reviving old fears about the ability of the country's largest lender to weather another severe crisis.
"This extraordinary economic environment suggests that we will see a higher level of credit defaults," Deutsche Bank said. It said it's now making use of the "additional headroom" on capital buffers provided by regulators and it's "therefore possible that the bank will fall modestly and temporarily below its previous CET1 target of at least 12.5%."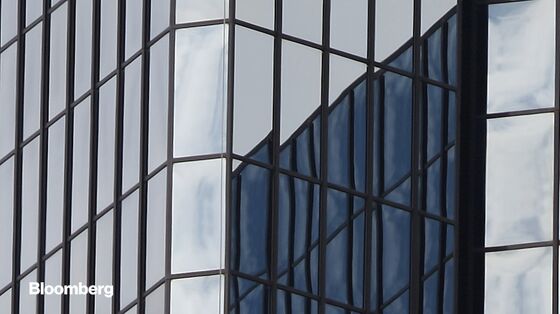 Large drawdowns of existing loan commitments in March contributed to the lower capital buffer, but the pace of drawdowns has since slowed, according to a person familiar with the matter. The bank also wrote down the value of some leveraged loans, though the effect was mitigated by hedges, the person said, asking not to be identified discussing internal information.
Deutsche Bank is among the lenders that have agreed to provide more than 10 billion euros in financing for the private equity buyout of Thyssenkrupp AG's elevator division before the coronavirus crisis. Credit Suisse Group AG, which is also in the group, said last week that it took $293 million in writedowns on its leveraged loan portfolio.
Deutsche Bank rose as much as 13% and traded 10% higher at 12:50 p.m. in Frankfurt, the best performing large bank stock in Europe. It hit a record low last month and has a price-to-book ratio that's lagging well behind peers.
The company announced key earnings figures ahead of more detailed results, which will be published on April 29. Provisions were in line with those at Credit Suisse, and could be the highest since the fourth quarter of 2013, depending on how they were rounded. Italy's UniCredit SpA has said it would take an additional 900 million euros in provisions because of the pandemic.
At Deutsche Bank, loan-loss provisions in the first quarter more than tripled from a year ago, but that's still a smaller increase than in the U.S., where the largest banks saw the combined amount they set aside more than quadruple. European regulators have encouraged lenders in the region to spread the hit from provisions, in part because they're not as profitable, Bloomberg has reported.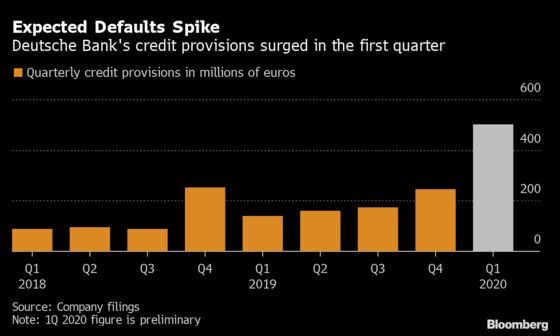 Revenue amounted to about 6.4 billion euros and net income of 66 million euros defied analyst predictions for a loss. The figures suggests the lender may have joined Wall Street peers in benefiting from a surge in client trading as the virus triggered violent market swings.
Before the announcement, Bloomberg Intelligence expected Deutsche Bank to generate a Europe-leading $1.86 billion in trading from fixed income, currencies and commodities. The bank is expected to break out those numbers later this week.
"We await details of the strong revenue performance, which may be driven by a strong" fixed-income trading result, JPMorgan Chase & Co. analysts led by Kian Abouhossein said in a note. "The only negative we can see from these otherwise strong" figures is the outlook for the capital buffer.
Deutsche Bank's CET1 ratio -- a key measure of capital strength -- fell to 12.8% at the end of the quarter from 13.6% as of Dec. 31. The firm said it may also miss a leverage ratio target this year unless regulatory changes improve its reported figure. It stuck with its 2022 targets for both metrics, calling the current effects "temporary."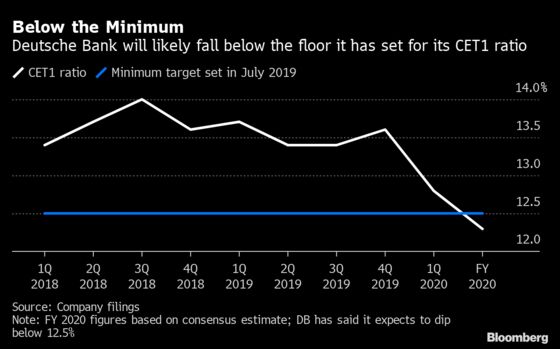 Despite the drop in its capital buffer, it exceeds the legal minimum by more than before the crisis, after European regulators reduced requirements to encourage lending to struggling companies. Deutsche Bank said the lower buffer reflects increased lending to companies in need of cash during the crisis, which could further increase risk-weighted assets in the months ahead.
"Many of our clients are facing great challenges from Covid-19 and they need our support now," the company said in a separate statement on its website. "We aim to support them with our strong balance sheet, while always remaining within regulatory requirements."
Sewing announced plans last summer to cut almost 18,000 jobs over the next three years as part of a huge restructuring to restore the bank to profitability. In March, the bank put plans for large-scale reductions on hold because of the outbreak.