Deutsche Bank Disagrees With Analysts on Investment Bank's Role
(Bloomberg) -- The future of Deutsche Bank AG's investment bank is shaping up as the key issue as executives, analysts and shareholders regroup following the collapse of merger talks with Commerzbank AG.
Analysts are urging Germany's largest bank to consider more radical changes to the securities unit, with Citigroup Inc. calling it the "only option left." So far, their calls are falling on deaf ears as Chief Executive Officer Christian Sewing and Supervisory Board Chairman Paul Achleitner both pleaded for more time to implement their existing strategy.
"Every executive has to constantly adjust to a changing market environment," Achleitner told the Financial Times. "But in this regard, we are not talking about strategy, we are talking about execution" of the existing plan.
The securities unit, the largest source of revenue, has long been the main concern at the lender as it struggles to make money. It's also been at the center of various legal scandals costing billions of euros in fines over the years. Four restructuring efforts aimed at cutting around the edges have failed to put the unit on a stronger footing, culminating in five weeks of merger talks that collapsed on Thursday.
Now that a deal is off the table, Deutsche Bank's only option is "a more radical investment bank restructure, with a potential exit from the US region and the equities product line," Citigroup Inc. analysts led by Andrew Coombs wrote in a note on Monday. The current strategy won't be enough to improve Deutsche Bank's share price, said Credit Suisse analysts. JPMorgan Chase & Co. analysts made similar comments on Friday.
Executives' refusal to consider deeper change to the investment bank may pit Deutsche Bank against its investors. Several large shareholders were disappointed that the plan unveiled by Sewing last year didn't include stronger cuts to the investment bank. They have since been asking for more, people familiar with the matter have said.
Deutsche Bank fell for a sixth straight trading day, declining 0.6 percent at 1:25 p.m. in Frankfurt trading. The shares plunged by more than 50 percent last year.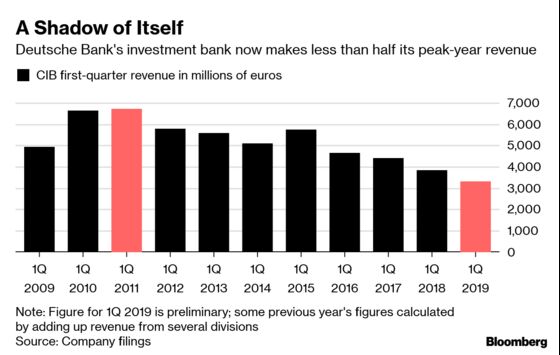 The investment banking division on Friday reported the lowest first-quarter revenue in over a decade. Some of that decline was due to the cutbacks implemented last year, the bank said. The revenue drop contributed to the bank's decision to cut its full-year revenue outlook for the group as a whole. It also said that it depends in part on markets to reach its profitability target, which is the key metric for the CEO.
The bank "needs to take further steps in respect to costs, in our view, considering the difficult revenue environment, which is much tougher than expected," JPMorgan analysts led by Kian Abouhossein wrote in their note last week.
The bank's current turnaround plan, announced last year after Sewing took over, is Deutsche Bank's fourth since 2015. Sewing had been working on changes to the strategy -- a Plan B -- to present to shareholders even as talks with Commerzbank were still going on, people familiar with the matter have said. They would either consist in a large-scale restructuring that may incur upfront costs or a smaller ones involving more cuts, including to the investment bank.
While Achleitner said he didn't see a need for a fundamental change to the investment bank, Sewing gave a more nuanced assessment over the weekend.
"We need time" to boost the bank's profitability over the next two to three years, he told the Sunday edition of Frankfurter Allgemeine Zeitung. But the bank will "need to think of something else" if performance in the investment bank doesn't improve over time, he said.