Deutsche Bank Cuts Revenue Outlook After Merger Talks Collapse
Deutsche Bank AG cut its outlook for full-year revenue after suffering its ninth straight quarter of contraction, underscoring the need to put Europe's largest investment bank on a stronger footing following the collapse of merger talks with Commerzbank AG.
The bank said it expects business to be flat this year, after previously predicting a slight increase. Income from buying and selling securities fell 19 percent in the first quarter, worse than the average drop of 14 percent at its U.S. competitors, handing the investment banking division its weakest first quarter since the financial crisis.
Deutsche Bank on Thursday ended more than five weeks of talks about a historic tie-up with Commerzbank, saying such a deal would be too difficult to execute and wouldn't justify the restructuring costs and additional capital requirements. The decision leaves Europe's once dominant financial institution to come up with other options to boost profitability and revenue, while opening the door for European competitors to court Commerzbank.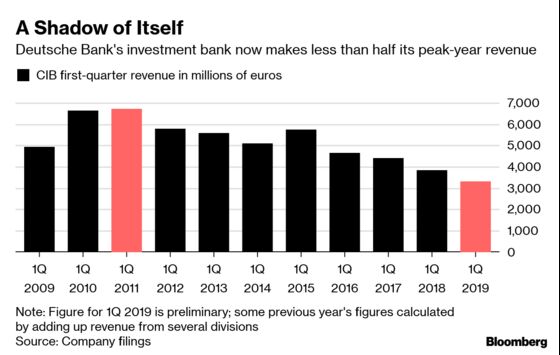 Chief Executive Officer Christian Sewing on Friday declined to comment on the options he's considering for the bank, insisting he won't entertain further large cuts to its operations in the U.S. and Asia.
"We will continue to review alternatives, as I said, that could potentially accelerate our existing objectives," he said on a call. "Our non-negotiable starting point is that Deutsche Bank will remain a globally relevant financial services institution present and serving clients in the key geographies, and that includes the U.S. and Asia."
The main concern at Deutsche Bank has long been the investment bank, as both revenue and profit have been shrinking for years. It's also been at the center of various legal scandals that have cost the banks billions of euros in fines over the years. The bank has since invested heavily in better control systems.
Sewing last year unveiled cutbacks to the division but many of the bank's big investors have been disappointed that the cuts weren't deeper, people familiar with the matter have said. Deutsche Bank said in early March it expects the division to report rising revenue this year, but the forecast is contingent on a benign economic outlook.
Other highlights from the earnings report

Confirms 2019 cost target; says ROTE target depends in part on markets
1Q net revenue EU6.4 billion, down 9%
1Q net income EU178 million, up 48%
1Q Asset Management revenue EU525 million, down 4%
1Q Private & Commercial Bank revenue EU2.51 billion, down 5%
1Q Corporate & Investment Bank revenue EU3.33 billion, down 13%
Friday's results provide more detail on what drove the revenue slump in the first quarter, after the bank had given the key figures when it announced the collapse of the talks. Fixed income trading declined 19 percent from a year earlier, reflecting cuts to the rates business and difficult markets, and income from equities trading fell 18 percent, the release showed.
Fixed-income trading was "worse than global and European peers" and shows the bank "is losing market share," Kian Abouhossein and Amit Ranjan, analysts at JPMorgan Chase & Co., said in a note. Deutsche Bank "may require long term further restructuring."
Global transaction banking, a business within the investment bank that provides cash management and trade finance to corporations, posted a 6 percent increase in revenue, while the business of advising companies on deals and stock or bond issuance saw a decline. Revenue also fell in the private and commercial bank, which serves retail clients and small businesses and has been hit by low interest rates, as well as in asset management. Net income rose because of a lower tax burden.
Deutsche Bank fell 3.1 percent at 11:39 a.m. in Frankfurt, declining for a fifth straight trading day and paring this year's advance to 4.1 percent.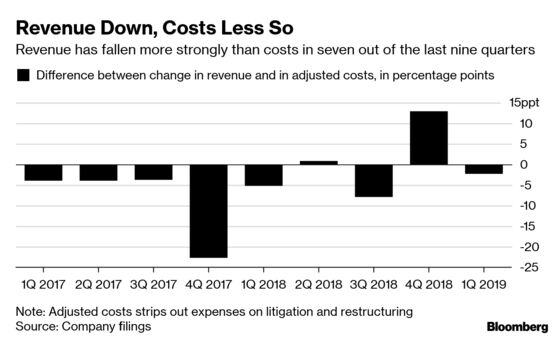 Shareholder pressure may mount for Sewing to present a new strategy now that the talks have failed. The CEO has been working on a Plan B that would either be centered around accelerated cost cuts, including to the investment bank, or a strong strategic revamp that would result in upfront restructuring costs, people familiar with the matter have said.
The bank's DWS business, meanwhile, has been looking at potential combinations with firms including Amundi SA and Axa SA about various forms of partnerships including joint ventures, people familiar with the matter have said. It is favoring a tie-up with UBS Group AG's money management unit, though talks are complicated because Deutsche Bank isn't willing to give up control of DWS, the people said.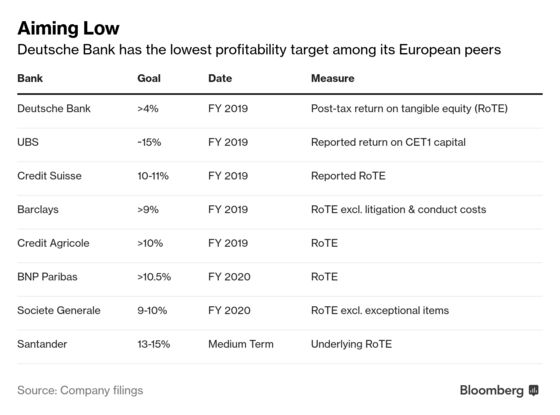 DWS clients added a net 2.5 billion euros in new money in the first quarter, after yanking 22.3 billion euros last year. The inflows as well as market swings helped push assets under management to 704 billion euros. Shares of the money manager rose Friday, even as the parent's stock declined.
UBS CEO Sergio Ermotti on Thursday said he is willing to look at large scale merger and acquisition opportunities, while declining to comment directly on DWS. Sewing told analysts on Friday that he expects to participate in the consolidation of the asset management industry, the strongest indication yet that the bank is considering deals for DWS.
"We intend to participate in the industry consolidation we expect in asset management," Sewing said. "This was one of the key reasons to take that company public last year."