Deutsche Bank Seeks to Break Vicious Circle as Growth Eludes
(Bloomberg) -- After multiple turnaround plans and promises to restore growth, Deutsche Bank AG investors are no longer buying the talk.
The German lender -- already the worst-performing major bank stock in Europe this year -- closed at a record low on Wednesday after Chief Executive Officer Christian Sewing conceded that cuts to the investment bank are having a deeper impact than expected. The continued bleeding, despite a decade-long bull market, is fueling speculation the bank may need to be merged before the next crisis hits.
"The vision of the bank they want to be and what businesses they want to be in still isn't quite clear," said Clemens Hansmann, who counts Deutsche Bank bonds among the about 9 billion euros ($10.3 billion) he helps manage as head of fixed income at Gutmann KAG in Vienna. "It feels like there's a lot of perplexity at the bank and they need to find a solution for that. A merger is one option for dealing with their revenue decline, but the question is with whom?"
Deutsche Bank reported its lowest third-quarter revenue since 2010 and now predicts a slight decline for the full year, after earlier guiding for a flat result. While lower costs should help the lender post its first annual profit in four years, Sewing said the focus now has to be on growing the top line without compromising controls -- something his predecessor John Cryan pledged twice but failed to deliver.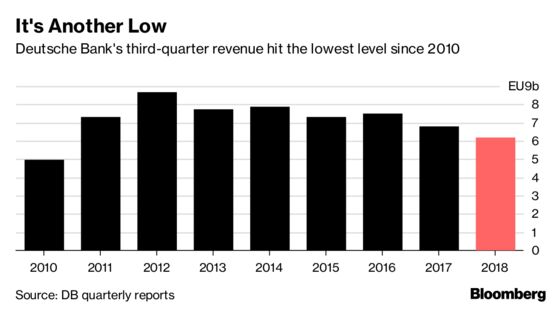 "We made headway on our cost reductions," Sewing wrote in a memo to employees. "On the other hand we have not yet achieved a turnaround in terms of revenues."
Deutsche Bank fell as much as 5.2 percent and ultimately closed down 4.8 percent at a record low of 8.87 euros. The stock is down 44 percent this year. It traded above 90 euros in 2007.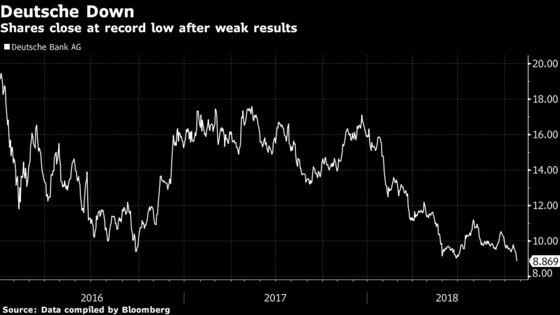 "It's tough to imagine what kind of franchise we'll ultimately see come out of this," said Thomas Wissler, who holds Deutsche Bank shares in the 3 billion-euro portfolio ($3.4 billion) he helps manage at Aramea Asset Management in Hamburg.
The stock's decline for now limits Deutsche Bank's strategic options. The German government is backing a potential a tie-up with Commerzbank AG, the country's No. 2 listed lender, to create a heavyweight that would finance the export-oriented economy, people involved in the discussions told Bloomberg last month. A deal could ensure credit remains open even during a financial slowdown when foreign investors might withdraw, the people said. But policy makers in Berlin are also open to a merger with a European player once the banking, fiscal and capital-markets union is complete, they said.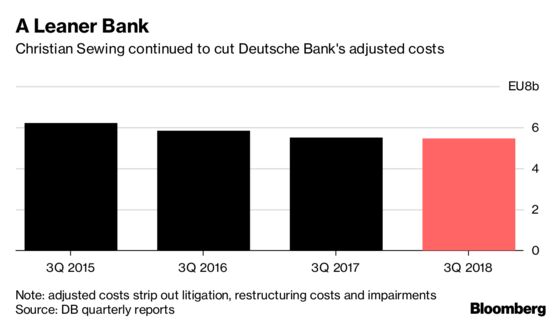 Deutsche Bank "has done an excellent job under Sewing" on cost reductions and improving the bank's capital strength, JPMorgan Chase & Co. analyst Kian Abouhossein wrote in a client note. Still, "we remain concerned about DB's inability to turn around" the investment bank division.
The main issue for Sewing is the contraction in the investment bank, the biggest contributor to the top line. In the third quarter, trading income in the key fixed-income and currency division slumped 15 percent from a year earlier. Equities trading, where Wall Street banks on average posted gains, declined at the same pace. The business has been among the hardest-hit by executives departures recently.
The results are in stark contrast with U.K. rival Barclays Plc, where CEO Jes Staley reported stronger trading results across the securities unit, sending the shares higher. Equity revenue surged 35 percent, beating even Wall Street peers.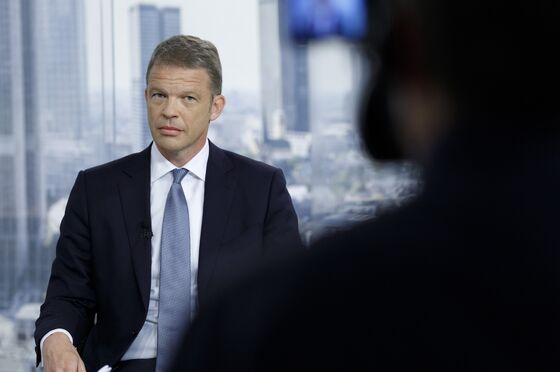 Sewing has vowed the investment bank will remain a core business for Deutsche Bank, with at least half of the revenue coming from the unit. At the same time, he's cutting at least 7,000 jobs and retrenching in areas such as prime finance, U.S. rates and corporate finance in the U.S. and Asia. Headcount declined by 700 positions in the third quarter after about 1,700 jobs in the three months through June.
That's left the business stuck in what Chief Financial Officer James von Moltke has called a "vicious circle" of declining revenue, "sticky" expenses, a lowered credit rating and rising funding costs. The bank on Wednesday highlighted higher funding costs and geopolitical events among the headwinds for the securities unit.
Garth Ritchie, who heads the business, urged employees in a memo to "focus resolutely on rebuilding revenue momentum" in the final quarter. Von Moltke said on a conference call that the bank wants to redeploy excess cash to return to growth, as restructuring expenses are likely to be lower than previously expected. He said rating companies would be comfortable with such use of capital.
Jerome Legras, an investor at Axiom Alternative Investments, said he's heard it all before. He is holding Deutsche Bank's debt -- while betting against the shares.
"I have been thinking that for many years -- it is not important who runs the show at Deutsche," he said. "Every time they reduce costs they reduce revenues."