Deutsche Bank Cuts Investment Bank Bonuses About 30%
(Bloomberg) -- Deutsche Bank AG is cutting the bonus pool at its investment bank by about 30%, deepening pay reductions after a tumultuous year that saw the lender embark on a huge restructuring.
While the figure is an average at the division housing fixed income trading, there'll be some adjustments for individual performance and units, people with knowledge of the matter said, asking not to be identified as the matter is private. Overall, variable pay will fall about 20% at the bank, they said.
Chief Executive Officer Christian Sewing is caught between his oft-repeated pledge to cut costs adjusted for restructuring expenses to below 21.5 billion euros ($24 billion) while needing to retain top talent at the struggling investment bank and appease regulators. The trade-off between slashing expenses and achieving growth has become even more acute after he said at an investor day in December that he was placing the fixed-income trading unit at the center of expansion plans.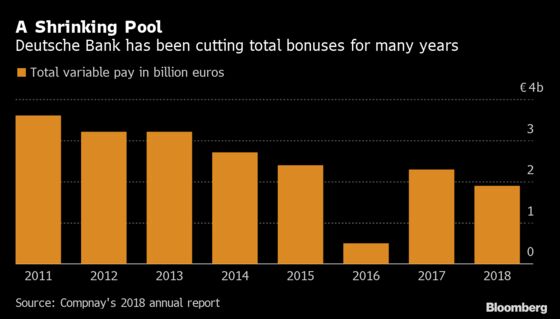 The bank is seeking to sharpen the differences between bonus pay for top and lower performers, according to two of the people, with cuts to the bonus pool also a reflection of lower headcount as part of the restructuring plans.
The bank sets aside money for variable pay during each quarter throughout the year but typically books a big chunk in the final three-month period, especially if it decides to pay out big bonuses. That may collide with the need for Sewing to pare fourth-quarter costs by about 8% year-on-year to achieve his 2019 target. Proposed cuts at the fixed income business and in research have prompted the leadership of those businesses to appeal to the management board, one of the people said.
A Deutsche Bank spokesman declined to comment.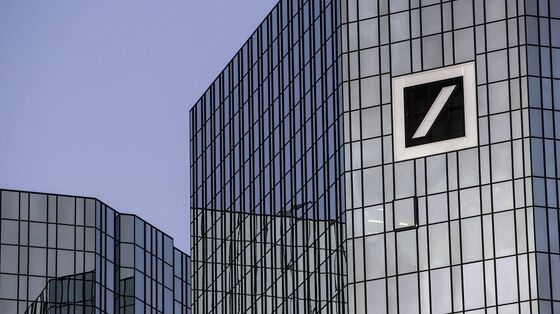 The bank awarded variable pay worth 1.95 billion euros last year. That suggests a reduction by a fifth would save Sewing approximately 400 million euros.
Sewing -- who broke off talks with Commerzbank in April last year -- is overhauling Germany's largest lender in a turnaround plan that will radically shrink and reshape its global operations. The bank is cutting 18,000 jobs, suspending its dividend, reducing risk in the investment bank and exiting equity sales and trading.
Bloomberg in December reported that Deutsche Bank is considering cuts to the bonus pool of about 20%. The lender is scheduled to report fourth-quarter results on Jan. 30 and it usually discloses the size of its bonus pool in its annual report, which will be published on March 20.
ALSO READ
RELATED COVERAGE
Deutsche Bank Sees 'Distressed Debt Cycle' Starting in China