Deutsche Bank Cuts Fail to Inspire as CEO Races to Fix Firm
(Bloomberg) -- Deutsche Bank AG's new chief executive officer is wasting no time overhauling Germany's biggest lender more aggressively than his predecessors. Investors are wondering if it's too little, too late.
Christian Sewing has committed to cutting almost 10 percent of jobs, retrenching in costly trading businesses and effectively giving up on competing head-to-head with Wall Street firms. The plans so far have failed to convince: Deutsche Bank shares fell to a new 17-month low on Thursday and they're down about 7 percent since Sewing took over from John Cryan in early April.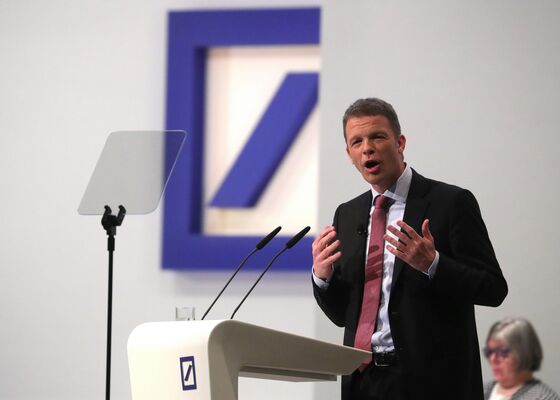 Sewing is battling to regain shareholder confidence after three attempts to restore profitability in recent years ended up eroding revenue and failed to bolster returns. At Deutsche Bank's annual investor meeting on Thursday, Chairman Paul Achleitner faced the wrath of owners because of the company's lack of direction that's left the firm languishing and its stock the worst-performing of any major bank in Europe so far this year.
"Job cuts in itself are not a new strategy and they are also not value creating," Hans Christoph Hirt, head of Hermes EOS, which advises institutional investors in the bank, said on Bloomberg TV on Thursday in Frankfurt. "We would expect in due course, perhaps today, maybe in a few weeks or months, a much clearer strategy setting out what exactly will change and how Deutsche Bank will create value for shareholders in the foreseeable future again."
Jobs reductions announced on Thursday will reduce the number of full-time positions by at least 7,000 from current levels to "well below" 90,000. The cuts may end up being closer to 10,000, according to a person with knowledge of the plans. The bank may be giving itself some room on the final number, which will also include reductions at the bank's largely German retail networks.
Details of the cuts and targets outlined Thursday:


Equities business headcount to be cut by 25 percent
Sewing told shareholders 600 staff had already left the investment bank since he took over seven weeks ago
Reduction by 100 billion euros ($117 billion) in leverage exposures, or 10 percent of CIB total
Adjusted costs to fall to 22 billion euros in 2019 from 23 billion euros this year
Targeted post-tax return on tangible equity of 10 percent by 2021
The new targets incorporate much of Cryan's medium-term plan, unveiled in late 2015, analysts said. That plan had foreseen 9,000 in-house job cuts by 2020 and thousands more among the bank's external contractors.
"Drastic but necessary restructuring is impossible at this stage," analysts at Keefe, Bruyette and Woods said in a note to clients, who said that it is "highly unlikely" that the bank can generate the 6 billion euros in annual profit implicit in the target for return on equity. The bank has posted three years of losses.
But if Thursday's measures weren't enough to satisfy investors, some warned that more ambitious ones could backfire on the new CEO.
"Radical change is unlikely because Deutsche cannot afford it," UBS Group AG analysts Daniele Brupbacher and Mate Nemes wrote in a note to clients. They warned that more radical action would revive fears of the bank having to raise yet more capital -- barely a year after Cryan's 8 billion-euro stock sale.