Deutsche Bank CEO Opens Door to Deals After Profit Gain
(Bloomberg) -- Deutsche Bank AG is open to a merger once the lender has boosted its profitability over the next 18 months, Chief Executive Officer Christian Sewing said.
"We have a very clear plan to remain a global bank, but we have to work on profitability now," Sewing said Monday at an event in Berlin. "If that happens, we can talk about other things," he said in response to a question about a possible deal with Commerzbank AG. Italy's Il Sole 24 Ore newspaper said Tuesday the bank may study a large capital increase for such a deal, without citing anybody. A spokesman for the bank declined to comment.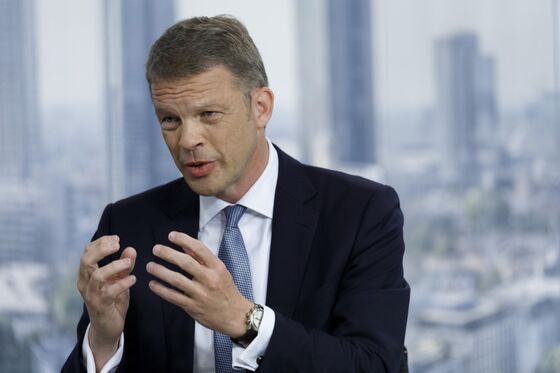 Combining Germany's two largest banks has won the backing of government officials who are keen on creating a financial heavyweight to support the country's exporters before a downturn strikes. But with both lenders struggling to show they can grow profitably, a merger wouldn't come without issues.
Deutsche Bank Chairman Paul Achleitner has also discussed the option with German officials, though the lender is wary of a deal because it's still seeking to show that it can thrive on its own, people familiar with the matter have said.
A key obstacle to a transaction is Deutsche Bank's depressed share price, with investors previously telling Achleitner that they don't want a tie-up at the moment because it would dilute the value of the stock and potentially trigger a capital increase, people familiar with the matter have said.
A domestic solution has gained favor in Germany as the European Union struggles to agree on a banking and capital markets union. Many bank CEOs and regulators say the continent needs the reforms to encourage companies to carry out more cross-border deals.
Deutsche Bank ran through various merger scenarios at a strategy meeting in mid-September and decided the time wasn't yet right, people familiar have said. The company is also aware that a Commerzbank tie-up would lead to more staff cuts, while joining forces with a lender in another European country might open up bigger strategic possibilities, one of the people said.
Deutsche Bank is seeking to navigate its fourth strategic overhaul in three years, cutting thousands of jobs and paring back businesses in the U.S. and Asia. The lender was up less than 1 percent at 10:47 euros at 1:29 p.m. in Frankfurt. The shares have fallen 34 percent this year.
"For the time being, we at Deutsche Bank want to do our homework," Sewing said.