Deutsche Bank Wins Capital Group Backing, Sparking Rally
Deutsche Bank AG Chief Executive Officer Christian Sewing gained a major new U.S. shareholder in a further sign of optimism that his 6-month old turnaround plan is taking shape.
Capital Group, the $2 trillion fund manager based in Los Angeles, unveiled a 3.1% stake on Thursday, making it the German lender's third-largest investor and driving the shares to their biggest intraday gain since February 2016. Deutsche Bank rose as much as 14% in Frankfurt and was trading 13.3% higher as of 4:50 p.m. local time.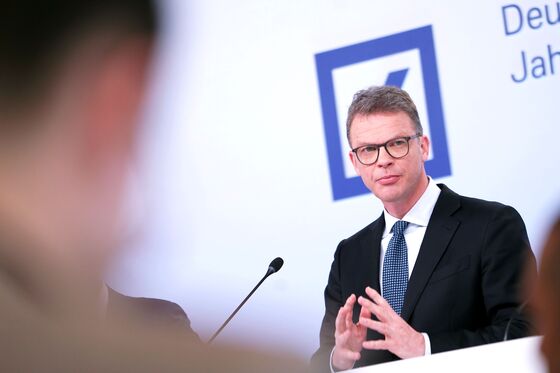 The lender, long emblematic of the troubles at Europe's banks, has seen a sudden surge in investor interest after a trading rebound added to signs of progress in Sewing's plan. The CEO is rolling back years of expansion as a global investment bank to focus on lending to German and European companies, while seeking to retain its prowess in fixed-income trading.
Deutsche Bank's shares have gained more than 40% since Sewing gave a presentation to investors in December on progress made in the overhaul he embarked on earlier in the year. It's the best performing stock among European banks this year. Credit default swaps are also trading near a two-year low, in a further sign that the sense of crisis is ebbing.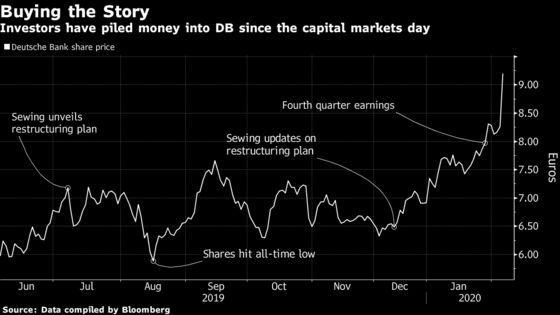 "We are happy for any shareholders, especially those with the track record and credibility of Capital," a spokesman for Deutsche Bank said by email.
Capital Group is one of the most storied names in U.S. money management. Founded in 1931, it has resisted the more recent trend toward passive investments that simply replicate indexes. The closely held firm says its long-term returns mostly beat passive products, whose lack of agility would be exposed in a bear market.
The disclosure marks the first addition of a top investor since ex-JPMorgan Chase & Co. finance head Doug Braunstein revealed a 3.14% holding by his Hudson Executive Capital firm in October 2018.
Still, top investors have been burned before betting on Deutsche Bank. The stock is down more than 40% since Cerberus Capital Management disclosed a stake in November 2017. Other major shareholders such as BlackRock Inc. and members of the Qatari royal family also suffered when the German lender tapped investors for fresh capital.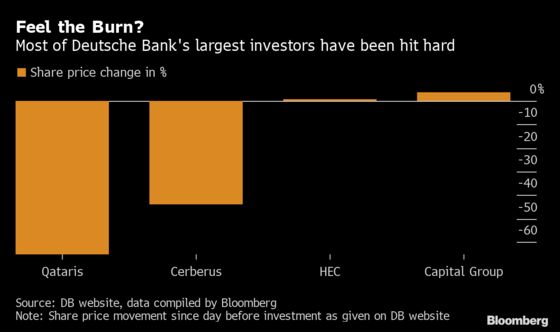 This isn't Capital Group's first investment in Deutsche Bank, according to data compiled by Bloomberg. The firm built up a stake in 2011 and 2012, when the lender was still committed to going head-to-head with global investment banks, only to sell down its holding in subsequent years when that strategy largely fell flat.