Deripaska Mocks FBI's Hunt for 'Putin's Money' at Raided Houses
(Bloomberg) -- Russian billionaire Oleg Deripaska poured scorn on the Federal Bureau of Investigation for raiding homes linked to him, mockingly accusing agents of a forlorn hunt for President Vladimir Putin's alleged riches.
"Did they find a load of Putin's money in those abandoned homes," Deripaska asked in an expletive-laced post on Telegram Wednesday. "Did they manage to refresh themselves with some sour jam from the pantries and a couple of bottles of vodka?"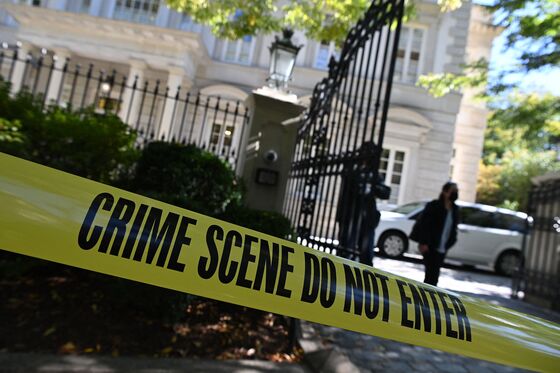 The houses in Washington and New York searched by FBI agents on Tuesday belong to members of Deripaska's family and were raided in line with two court orders linked to U.S. sanctions, the tycoon's spokeswoman said earlier. The FBI said it was "court-authorized law enforcement activity."
Deripaska and his companies were targeted by U.S. Treasury Department sanctions in 2018 over his ties to Putin in response to Russia's "malign activity around the globe."
At the time, Deripaska was forced to relinquish control of United Co. Rusal International PJSC, the largest aluminum producer outside of China, in order to remove it from the sanctions list. Deripaska personally remains under the penalties. 
"I never cease to be amazed at the transcendental stupidity of a part of the American establishment" that "continues persistently to spin this tale about the allegedly colossal role of Russians in the U.S. presidential elections in 2016," Deripaska wrote in his post. Donald Trump defeated Democratic contender Hillary Clinton because U.S. voters were ready to back anyone who opposed the "Clinton clan," he said.
The U.S. sanctioned Deripaska and six other Russian oligarchs in April 2018 for their roles in backing malign activity, including the occupation of Crimea, support for the Syrian regime of Bashar al-Assad and attempts to subvert Western democracies. The U.S. said it was targeting him for acting or purporting to act on the Russian government's behalf and for operating in the country's energy sector. A Senate Intelligence Committee report released last year described Deripaska as a proxy for the Russian state and its intelligence services.
Deripaska in June lost his claim in the U.S. challenging his designation as an oligarch, but he filed an appeal in July.
Rusal shares closed down 5.7% to 79.18 rubles in Moscow, the largest drop since June. They were up 3.7% at 2:25 p.m. in Moscow.