Diamond Crisis to Last Another Year
The glut that's depressing the diamond market will last another year, according to industry consultant Bain & Co.
The inventory backlog will probably be cleared in the beginning of 2020, but it will take some time for the market to fully recover, Bain said in a report released on Wednesday. Bank financing to the industry's midstream -- the traders that buy rough gems for cutting and polishing -- will continue to drop next year, the consultant said.
"The industry's first and strongest opportunity to rebalance and regain growth will be 2021," said Bain, which added that supply could fall 8% that year.
The diamond industry is wrestling with an oversupply problem that's driven down prices and squeezed profit margins. Tighter bank financing has also made it harder for traders to make money.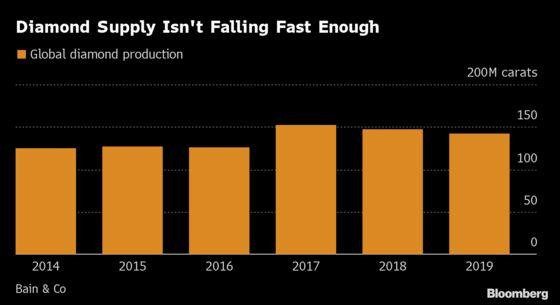 On Tuesday, De Beers curbed its plan to expand diamond production over the next two years, which suggests the biggest miners are responding to weak demand.