Denny's Beyond Burger Debuts in L.A. Monday, Nationwide in 2020
(Bloomberg) -- Beyond Meat Inc. is notching another win.
Denny's Corp. will start serving the meatless burgers at about 180 Los Angeles-area locations Monday, and then at its more than 1,500 restaurants nationwide beginning in 2020.
In addition to a new menu item, guests can swap a Beyond patty into any other burger on the menu for an extra $2. For Denny's, the move is about offering more choices to draw additional foot traffic, said John Dillon, the company's chief brand officer.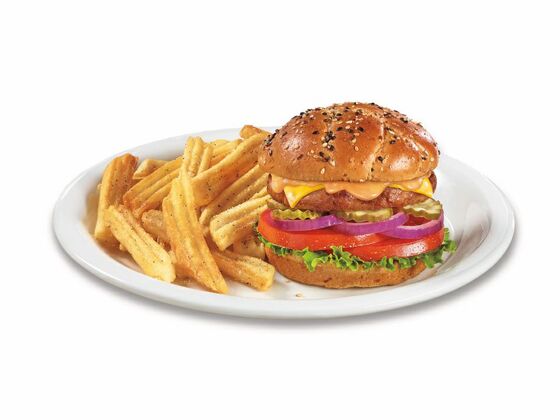 "Are we bringing in a different type of consumer? That's what we'll be watching for," Dillon said in an interview. The chain is looking to expand beyond its current customer base, hoping to appeal to younger, millennial and multicultural families, he said.
Restaurants are racing to line up non-meat menu items as Americans warm to patties and sausages that mimic the flavors and textures of the real thing but are made with plants. Beyond Meat, whose stock has rallied more than 300% since its public offering in May, announced a nationwide rollout of its breakfast sausages in more than 9,000 Dunkin' locations last week.
Beyond Meat's main competitor, Impossible Foods Inc., snagged a big win earlier this year when its plant-based Whopper landed in some 7,000 U.S. Burger Kings. But the real prize -- a spot on McDonald's Corp.'s U.S. menu -- is still anyone's game. The fast-food giant selected Beyond Meat for a plant-based burger test in Canada but has yet to choose an alternative-meat supplier for its roughly 14,000 locations in its home market.
How Denny's fits into Beyond Meat's larger plans may be noted in the faux meat company's third-quarter earnings report, which is slated to be released after markets close on Monday.