Democrats Query Powell on Regulatory Response to Repo Blowup
(Bloomberg) -- Senate Democrats sent a letter Thursday to Federal Reserve Chairman Jerome Powell seeking answers about the central bank's ongoing interventions in the money markets to relieve a cash crunch that erupted in September.
Senate Banking Committee Democrats, including ranking member Sherrod Brown and presidential hopeful Elizabeth Warren, posed a series of questions about the mid-September episode, including whether it was being used as a pretext to relax regulations that were put in place after the 2008 financial crisis. Powell is scheduled to testify before the committee on Feb. 12.
In mid-September, over $100 billion in bank deposits at the Fed quickly disappeared as a large corporate tax payments collided with a settling Treasury auction, sending overnight interest rates on repurchase agreements -- so-called repo loans -- as high as 10%. It was the first major test of liquidity conditions since the Fed completed a partial unwind of its balance sheet, a process which shrank the amount of cash outstanding in the banking system by almost $900 billion between the end of 2017 and July 2019.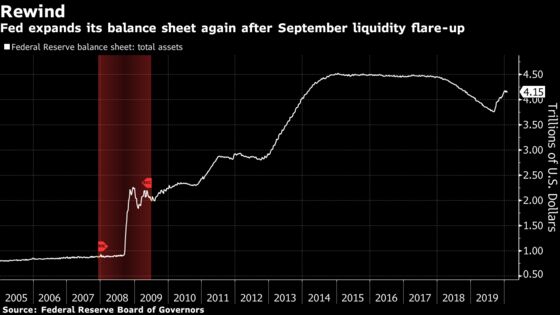 The September episode suggested Fed officials had underestimated the amount of remaining liquidity, and they've since pumped hundreds of billions of dollars back into the money markets via a combination of repo loans and outright purchases of Treasury bills. But banks have argued new regulations put in place since the financial crisis that discourage lending are also to blame, and Fed officials have said they are reviewing the rules.
Warren sent a letter quizzing Treasury Secretary Steven Mnuchin in October and she and her colleagues turned their attention to Powell on Thursday.
"While one potential explanation is the convergence of events in September, some market participants have argued that capital and liquidity regulation and supervision are to blame," they wrote. "Could a bank use access to this facility to game capital or liquidity standards, and what steps are supervisors taking to ensure that is not the case?
In the multi-trillion-dollar repo market, cash-rich entities like banks and money-market funds offer loans to borrowers in exchange for collateral like Treasuries as security, often on an overnight basis. In the letter, the senators asked Powell whether lenders in mid-September could have suddenly stepped back from the market in order to force an easing of the regulations.
"Since September 2019, has the Board discussed the possibility of weakening or otherwise altering liquidity, capital, or other regulatory and supervisory standards in order to address this issue? Does the Board continue to consider any such changes?" they asked, following the question up with another about whether Fed officials have "considered the possibility that market actors refused to lend into the market, sacrificing short-term profits in order to raise questions about prudential regulation."
Demand from banks for the cash loans from the Fed continues to be strong. A $30 billion auction of two-week loans was oversubscribed on Thursday, the New York Fed said, marking the second time in a row that bids were in excess of the offering size.
The Fed last week indicated that it's not ready to abandon the support it's been providing since the upheaval, announcing that it will continue to conduct repo operations at least through April. The central bank will adjust the size and pricing of the loans, scaling them back as it shifts toward replenishing banking-system liquidity through its outright purchases of Treasuries, Powell said Jan. 29.