Democrats Take Aim at Trump's Business Empire: Balance of Power
Donald Trump's famously opaque business will have to come to terms with a new level of scrutiny next year.

Once Democratic opponents take control of the House, they are planning to unleash a flurry of subpoenas against the Trump Organization, to look at how much contact the president maintains with executives and whether he discusses business with his sons, Eric and Donald Jr., who he left in charge.
Democrats also have questions about the Trump Organization's contacts with foreign governments, its potential ties to Russian and Saudi interests and its loans from Deutsche Bank AG.

One congresswoman even suggested the company may be a front for a money laundering racket. Trump has promised a "war-like" response if his opponents come after him.

Local and state authorities in New York and federal prosecutors in Manhattan are in fact already investigating the president's business interests, largely in secret. But open-ended inquiries from Congress would take the probes to another level.

"What will we learn?" asked Representative John Garamendi of California. "Well, that's why you use a subpoena."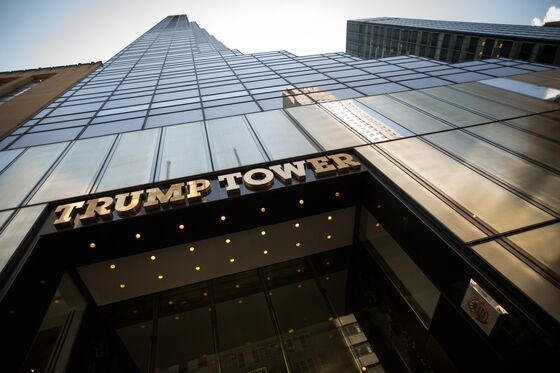 Meddling with Mueller | Trump said he won't stop acting Attorney General Matthew Whitaker if he curtails special counsel Robert Mueller's investigation into possible Russian interference in the 2016 presidential election. "It's going to be up to him," Trump told "Fox News Sunday." The president said he gave "very, very complete" written answers to questions from Mueller's team, though he will weigh any follow-up request for a sit-down interview.
Screening investment | The European Union is hammering out the first bloc-wide rules to prevent foreign investments from threatening national security, amid political unease at Chinese acquisitions. Negotiators may agree on draft legislation tomorrow, Jonathan Stearns reports. The European Commission says the goal is to limit threats to "critical" infrastructure and technology.
Criticizing China | Vice President Mike Pence sharpened U.S. attacks on China amid fears of a Cold War dividing Asia. During a week of summits in the region that ended yesterday, Pence urged nations to avoid loans that would leave them indebted to Beijing and said the U.S. won't shift course on the trade war "until China changes its ways." Chinese President Xi Jinping said implementing tariffs and breaking up supply chains was "doomed to failure."
Enemy within | Nigerian President Muhammadu Buhari's chances of winning re-election in February are facing a potentially insurmountable hurdle: widening divisions in his own party. Top officials dissatisfied with the state of affairs include his wife, Aisha, and defectors such as the Senate president and speaker of the House of Representatives. It's especially troubling for him as the campaign of his main challenger, Atiku Abubakar, gains momentum.
Cooling off | Dubai may be losing its luster, Zainab Fattah reports. Building continues, though it's unclear who'll occupy the new space. Expatriates complain about surging costs, while the 2014 oil slump hit big-spending visitors from neighboring Gulf states. Dubai's image as a Switzerland of the Gulf is suffering as the United Arab Emirates becomes embroiled in regional conflicts, while the city's role as a trading post is also being undermined by the global tariff war.
U.K. Prime Minister Theresa May appeals to business leaders to help her deliver her Brexit deal in a speech to the Confederation of British Industry in London today, as she fights almost insurmountable opposition in Parliament and a possible leadership challenge.
Russian President Vladimir Putin and Turkish leader Recep Tayyip Erdogan meet in Istanbul today to mark completion of the underwater part of the TurkStream pipeline to transport Russian natural gas across the Black Sea to Turkey from next year. The U.S. is opposed to the expansion of Kremlin-backed energy projects.
And finally…Two days after calling for "decorum" in politics, Trump dubbed one Democratic critic "little Adam Schitt." "Wow, Mr. President, that's a good one," Schiff (as he's actually called), a representative from California, fired back. The president's tweets frequently contain both spelling errors and derogatory nicknames for his enemies. This message, so far, has not been corrected.