Democrats Discover New Path to Beating Trump in Deep South
(Bloomberg) -- Barring a reversal of fortune by runoff or recount, Georgia's next governor will be a Donald Trump-adoring white guy in a flannel shirt -- not the first black female state executive in American history, a symbol of change in a region that invented Jim Crow laws.
A victory for Republican Brian Kemp over former legislator Stacey Abrams would seem to prove, once again, that the New South is the Old South. Dig deeper into the results, though, and it's clear that something has changed.
Consider Georgia's Sixth Congressional District. Former House Speaker Newt Gingrich won the rich, white Republican stronghold in suburban Atlanta 11 times. Last year it became briefly famous when Republican Karen Handel beat back a Democratic upstart named Jon Ossoff. On Tuesday night, Handel lost the seat to Lucy McBath, a black Democrat.
Across the state line in Florida, Tallahassee Mayor Andrew Gillum, an African American, is headed for a recount in the governor's race against Republican Ron DeSantis, who was leading. A couple telling electoral details: Gillum flipped at least one large county that voted Republican four years ago, and matched (white) Senator Bill Nelson's showing in another county that once was a Klan haven. In Mississippi, a black man, former Agriculture Secretary Mike Espy, is in a runoff for the U.S. Senate.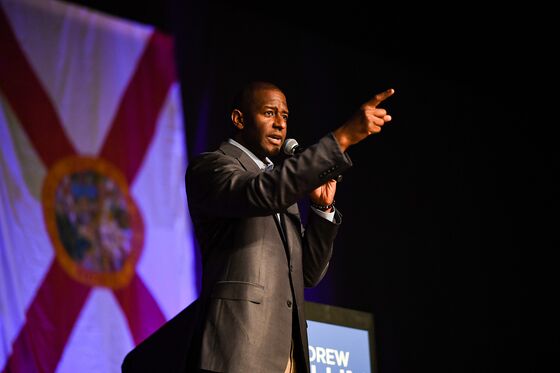 Regardless of the ballot-battle outcome in these states, last week's voting patterns demonstrate that President Trump and his 2020 Democratic challenger are likely to face an electoral topography quite different from 2016.
Even Georgia's gubernatorial results were more encouraging than frustrated Democrats may realize, said Andra Gillespie, an Emory University political scientist who studies the intersection of demographics and politics. Abrams significantly outperformed all of her party's white male nominees in the 16 years since the Georgia governor's office flipped Republican. In doing so, she undercut a Southern political truism that only white, centrist Democrats can compete in marquee statewide races.
"There is no longer a reason for any concern about black candidates being viable in statewide races in the Deep South," Gillespie said.
Flipping Southern states has been a dream of Democrats since the Republican Party began locking them up two decades ago. Georgia Democrats have been predicting a demographic wind at their back since 2013, based on an influx of Democratic-leaning minorities, Northerners and educated younger people into the state.
Texas Democrats have said the same, with both states vying to follow Virginia in turning first to a competitive purple and then to Democratic blue. Swing state North Carolina, meanwhile, has been alternating between the two parties for eight years. Democrats hope Georgia will be the next former Confederate state to slide in their direction.
Abrams, a former minority leader in the Georgia House, made corralling the state's new electorate her cause, becoming a national advocate for increased access to the polls. She launched organizations to conduct massive voter registration and turnout drives for Georgia minorities beginning in 2014, with a goal of closing the 200,000- to 300,000-vote margin that Republicans had been winning statewide.
"She's been working at this for years," said Charles Bullock, a political science professor at the University of Georgia. "Abrams' strategy from the get-go was to pump up black participation, in the hopes that it will turn the tide. "
Tuesday's results showed dramatic gains. Almost 766,000 more people voted for Abrams than voted for the Democrat running in the 2014 mid-term elections -- Jason Carter, the grandson of former President Jimmy Carter. She narrowed Republicans' 203,000-vote margin by 140,000, to 63,000, with 90 percent of the difference coming from two increasingly diverse suburban Atlanta counties.
But Republicans upped their turnout, too, by about 600,000 voters -- not as much as Democrats but enough to "offset her gains," Bullock said.
He said the fight over Brett Kavanaugh's confirmation to the U.S. Supreme Court, not Abrams' race, is one likely reason. "She may have been done in by Chuck Schumer and Cory Booker and Kamala Harris," he said.
Exit polls showed Abrams getting about 25 percent of the white vote, which is 4 points better than Hillary Clinton got in 2016, Bullock said.
The official breakdown of who voted in Georgia won't be available for several weeks, but Abrams appears to have generated even more excitement among black voters than Barack Obama. They appear to have made up about 31 percent of the total vote, more than the peak of 30 percent who turned out during Obama's first run for president, said Mark Rountree, a Republican political consultant and pollster.
There's no guarantee black voters would turn out in similar numbers for a white presidential candidate two years from now -- just as they didn't for Carter's grandson.
He also said Kemp outperformed Nathan Deal, Georgia's current Republican governor, in the rural white counties in North Georgia by almost 20 percent, while trailing Deal's performance significantly in the state's urban and suburban counties.
The same dynamic was in play in Florida, where Democrats ceded whole sections of the state to Republicans, said Jon Ausman, a former member of the Democratic National Committee from Florida.
Sure, Gillum won heavily blue Broward County in South Florida by a wide margin, but most of that was offset by the Republicans' margin in Florida's conservative Panhandle, Ausman said, adding that Democrats need to spend more time campaigning in the Interstate 10 corridor, running from Jacksonville to Pensacola, instead of only focusing on the Interstate 4 corridor in central Florida, he said.
Still, Gillum managed to win over Duval County, which comprises Jacksonville and in 2014 voted for the then-Republican gubernatorial candidate, Rick Scott. That and the fact Gillum got more than 4 million votes in Florida, speaks volumes about changing attitudes in the state, Ausman said.
"He cracked the glass ceiling," Ausman said. "That means other people will have the opportunity to run regardless of race."
Gillum did all that despite some obstacles. Throughout the campaign, he was dogged by an FBI probe into the Tallahassee community development agency. Records released during the campaign show Gillum unknowingly hung around with an undercover agent and attended a showing of "Hamilton" in New York on a ticket that the agent bought for him. The case hasn't produced indictments, and Gillum has said he isn't a target of the probe.
Gillum also ran an extraordinarily progressive campaign -- pushing Medicaid expansion and a $15 minimum wage -- in a state where Democrats have typically run as centrists.
Then there's the turnout machine. Democrats still need to do more to bring out voters, said Susan MacManus, professor emeritus of political science at the University of South Florida. In the suburban Orlando county of Osceola, with thousands of Puerto Rican natives, Democrats outnumber Republicans by almost 2-to-1. But only 53 percent of registered voters there cast ballots, the third-worst turnout among Florida's 67 counties.
Longer term, though, demographic trends in Florida are catching up with the Republican Party even if Gillum comes up short in the near term, MacManus said.
And a ballot initiative approved on Tuesday is expected to return voting rights to more than a million disenfranchised Floridians convicted of felonies, including an outsize number of African Americans, who are statistically more likely than whites to be arrested and imprisoned. Numerically, the measure will result in the biggest extension of voting rights since women got the right to vote nearly a century ago.
"Yes, they didn't win now," MacManus said. "But the changing makeup of these larger generations is going to expedite more people of color running and winning."
Former New York City Mayor Michael Bloomberg contributed to the campaigns of Gillum, Abrams and McBath through political committees. Bloomberg is the founder and majority owner of Bloomberg LP, the parent company of Bloomberg News. He has given millions of dollars in 2018 to Democratic congressional campaigns and told the New York Times that he is considering running for president as a Democrat.