Democrat Named Postal Board Chair Amid Calls to Fire Postmaster
(Bloomberg) -- The U.S. Postal Service, struggling with slow delivery following disruptive changes by Postmaster General Louis DeJoy, selected a Democrat as its board chairman.
Ron Bloom, a member of the board of governors since 2019 who had previously advised the National Association of Letter Carriers, was chosen by a vote of the Postal Service board on Tuesday to succeed Robert Duncan, a Republican who was chairman since 2018.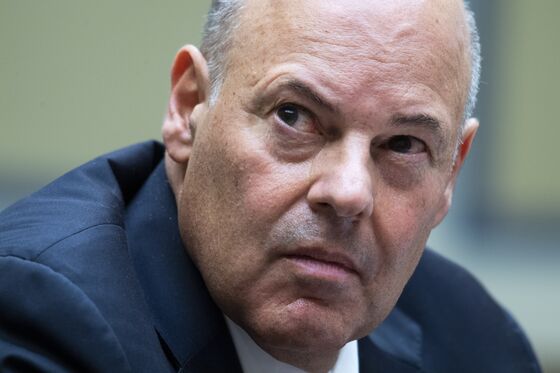 "Our current level of service is acceptable to no one at the Postal Service, and we are committed to urgently addressing this vital issue," Bloom said.
Bloom promised "a bold and comprehensive plan" to "revitalize" the Postal service.
Since 2016, Bloom has been a vice chairman at Brookfield Asset Management Inc. Earlier he was at Lazard Ltd. where he advised the National Association of Letter Carriers on postal issues, according to his biography on the Postal Service website. While in the Obama administration, Bloom, a former special assistant to the United Steelworkers president, helped lead the auto industry restructuring, according to the website.
DeJoy, chosen by former President Donald Trump, faces increasing pressure from congressional Democrats after what critics termed unprecedented delays in mail delivery.
A U.S. president can't directly fire the postmaster general. The board normally consists of as many as nine governors appointed by the president, and the governors select the postmaster general.
Mark Dimondstein, president of the 200,000-member American Postal Workers Union, said President Joe Biden should appoint three new members to bring the board to full membership. It currently has four Republicans and two Democrats, and action by Biden could give Democrats a majority on the board.
"It is imperative that the Biden administration fill these openings promptly so that we can right this ship that has gone off course," Dimondstein said in an email. "Mail is not moving as it should."
Dimondstein called for a board "made up of pro-public postal service advocates." Most current board members have ties to the world of finance and banks, he said.
Representative Bill Pascrell, a New Jersey Democrat, in a Jan. 25 letter urged Biden to fire the entire postal board and bring in "a new slate of leaders to begin the hard work of rebuilding our Postal Service."
DeJoy led efforts to dismantle mail sorting machines, cut overtime, restrict deliveries, and remove mailboxes, steps that slowed mail nationally, Pascrell said.
Many of the changes were halted under court orders last year as Democrats warned against slowing service while an unprecedented number of Americans were voting by mail.
Pascrell cited "an unprecedented level of mail disruption" with only 64% of first-class mail delivered on time in late December.
When asked about Pascrell's suggestion, White House spokeswoman Jen Psaki at Jan. 25 press briefing said, "We all love the mailman and the mailwoman. I don't have anything for you on it."
Bloom said the service had lost more than 100 employees to Covid-19 and the disease has sidelined "thousands" of workers at the Postal Service and its partners.
DeJoy in remarks to governors acknowledged shortfalls, which he blamed in part on worker absences caused by Covid-19 and a surge in packages flowing through the system during the holiday season.
"We fell far short of meeting our service targets," DeJoy told the board. "Too many Americans were left waiting weeks" for deliveries.
Without offering details, DeJoy said he would offer steps in coming weeks to improve service.
The prospect drew attention from Dimondstein, the union official.
"We are very concerned that the current board and Mr. DeJoy are planning to soon introduce a 10-year plan that has had to this date little or no input from postal workers or customers," Dimondstein said.