Democracy Comes to Ethiopia at Breakneck Speed
(Bloomberg) -- On a continent where true political reform often seems to be a mirage, Ethiopia is pursuing change at a breathtaking pace.
Since taking over as premier in April, Abiy Ahmed has spearheaded a redistribution of power across Africa's second-most populous nation – and its fastest-growing economy – that's been under the iron rule of the Ethiopian People's Revolutionary Democratic Front for a quarter-century.
Vowing a crackdown on the "cancer" of corruption, the 42-year-old has been taking on some sacred cows. As Nizar Manek reports, they include officials at a military-linked conglomerate once in charge of building Africa's largest hydro power plant, former spy chiefs and elites in the gas-rich east.
He has overseen the end of a state of war with neighboring Eritrea following a 1998-2000 conflict that claimed as many as 100,000 lives, and the appointment of the country's first female as the ceremonial president and a cabinet half filled by women. Abiy also nominated a once-jailed opposition leader as the new chairwoman of the electoral authority.
But resistance to change remains strong, and the new openness has led to the flaring of ethnic tensions in some regions.
So far, Abiy appears unbowed in his drive to establish a multi-party democracy. The jury is still out on whether he can see it through.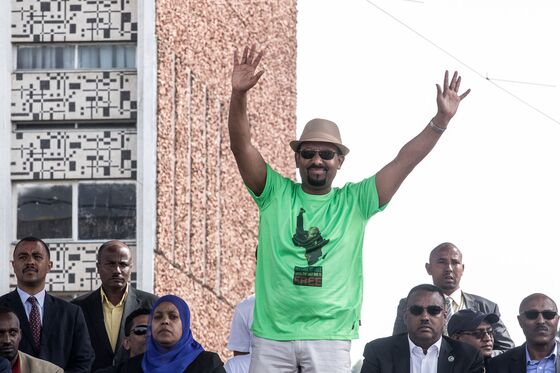 Brexit deal | The pound surged after a draft Brexit agreement was reached at a "political level'' between the U.K. and the European Union, according to the bloc. The accord envisages "a free trade area, combining deep regulatory and customs cooperation." It also declares a "determination'' to replace the controversial backstop solution for keeping the Irish border open with a later agreement for "alternative arrangements.'' EU leaders meet on Sunday at a summit called to sign off on the deal.
Trump fires back | Donald Trump escalated a spat with Supreme Court Chief Justice John Roberts, who's likely to cast pivotal votes on the president's priorities over the next two years. The tweets came hours after Roberts pushed back against Trump's criticisms of a judge who blocked a White House effort to curb asylum claims. It was Roberts's most direct rebuttal yet to Trump's attacks on federal judges who've ruled against him.
Chilling effect | The U.K. warned of "repercussions" after the U.A.E. sentenced British student Matthew Hedges to life in prison for spying. Hedges, 31, was arrested in May in Dubai, where his family says he was researching Emirati security and foreign policy. He was made to sign a document in Arabic — a language he doesn't speak — that was used as a confession. He can appeal the verdict.
Common enemy | Lithuania leads the three tiny Baltic nations on NATO's eastern frontier in deepening ties with Poland, where the governing nationalist party has been tightening its grip. The blossoming relationship reflects a new reality for the former Soviet states, Milda Seputyte reports. With Trump in the White House and Merkel preparing to step down as Europe's go-to leader, it's time to seek more allegiances to counter the threat of Vladimir Putin's Russia.
Climate 'disaster' | Australia's opposition leader Bill Shorten, on track to become the next prime minister after elections next year, told a Bloomberg NEF event today that climate change is no longer an emergency – it's a disaster. He's betting that ambitious promises to boost clean renewable-power funding and reduce greenhouse gas emissions will help him oust Scott Morrison's government, which is focused on cutting electricity prices.
Trump is spending Thanksgiving at his Mar-a-Lago golf resort in Florida – the holiday has typically been a time for previous presidents to visit troops deployed to combat zones, but Defense Secretary Jim Mattis says he told Trump to stay away from certain overseas locations.
Brazilian President-elect Jair Bolsonaro got a reality check before even taking office when the heads of both houses of Congress doused cold water on two key bills he supports – one authorizing an oil tender and the other a proposal to grant formal autonomy to the central bank.
Singaporean Finance Minister Heng Swee Keat will be named second-in-command of the city-state's ruling party, according to the Today newspaper, paving the way for him to succeed Prime Minister Lee Hsien Loong, who's signaled he'll hand over the premiership by the time he turns 70 in 2022.
And finally… Europe's populists are considering some colorful proposals. Fresh off a bruising European budget battle, ministers and lawmakers from Italy's governing Five Star Movement-League coalition are turning their attention to weaning the country off "unhealthy" habits like shopping on Sundays, guzzling sugary drinks and even getting divorced. Switzerland holds a referendum in two days on a proposal to give state subsidies for livestock owners who keep the horns on their cows and goats, a campaign animal welfare advocates support.