Biden Touts Progress Against Covid Ahead of July 4: Virus Update
(Bloomberg) -- President Joe Biden hosted a large, in-person event at the White House for the Los Angeles Dodgers, building up to a weekend billed by his administration as celebrating "independence" from the Covid-19 virus.
About 67% of adults in the U.S. have had at least one vaccine dose, enough for Biden to plan a victory tour even though he missed his target of reaching 70% by July 4 and U.S. health officials are raising alarm about the spread of the more-transmissible delta variant.
Cases in Illinois more than doubled in two weeks. France could see a surge as soon as the summer, spoiling holidays. In England, hospitalizations due to the virus rose 25% in a week.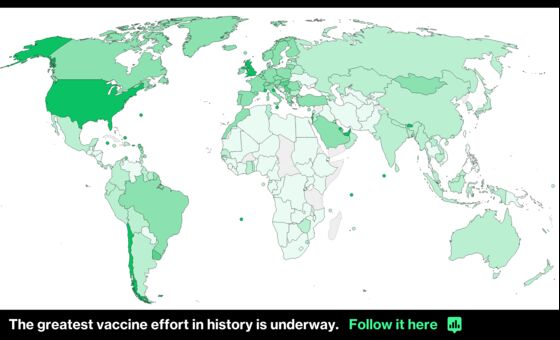 Illinois Cases More Than Double in Two Weeks (2:30 p.m. NY)
Illinois's weekly cases jumped to 2,120, more than double the 928 recorded two weeks earlier, according to state health department data. Deaths declined to 54 in the last week, compared to 66 reported on June 25.
While almost 72% of Illinois adults have received at least one dose and more than 56% are fully vaccinated, the state is struggling in some spots.
The department on Monday reported 85 teens and adult staff at a central Illinois summer youth camp last month tested positive for Covid-19, leaving one unvaccinated young adult hospitalized. The camp was not checking vaccination status and masking was not required indoors, and only a handful of campers and staff got the vaccine even though all were eligible, according to the department.
South Africa Reports Record Cases in Third Wave (1:14 p.m. NY)
South Africa's new cases surged to a record as a third wave of infections rips through the nation. Cases rose by 24,270 on Friday, surpassing second-wave peak of 21,980.
Biden Touts Achievement Against Virus (12:40 p.m. NY)
President Joe Biden toasted the Los Angeles Dodgers' World Series victory at the White House, saying the return of championship celebrations at the White House marks a "national achievement" in the fight against the coronavirus.
The president hosted the large, in-person event despite the country falling short of Biden's goal that at least 70% of U.S. adults receive at least one vaccine shot before the July 4 holiday.
China Province Sees Zero New Cases for Ten Days (12:03 p.m. NY)
The southern Chinese province Guangdong, a manufacturing hub, has seen no new Covid-19 cases for the past 10 days. A working group of the state council has departed the province, the Ministry of Health said in a statement.
Olympics Weighs No Fans For Opening Event: Nikkei (11:34 a.m. NY)
Organizers of the Tokyo Olympics are considering a ban on spectators at the July 23 opening ceremony, Nikkei reported, citing people familiar with the matter.
Earlier, the Sankei newspaper reported that the government is planning to extend strong virus measures that are in place in Tokyo and its 3 neighboring prefectures by about a month, covering the entire duration of the Olympic games scheduled to end Aug. 8.
England Hospitalizations Rose 25% in a Week (11:32 a.m. NY)
Hospitalizations with Covid-19 virus reached 1,611 people in England, up 25% from a week ago. U.K. Prime Minister Boris Johnson has said some "extra precautions" could still be required even after the July 19 date previously marked as the end of the country's Covid restrictions.
Manhattan Apartment Buyers Are Back (10:02 a.m. NY)
Manhattan apartment sales had their biggest gain on record, driven by opportunity-seekers sniffing bargains in a borough that's still recovering from the Covid lockdown.
In the second quarter, transactions surged 152% from a year earlier, the biggest annual increase in data going back to 1990, according to a report Friday by appraiser Miller Samuel Inc. and brokerage Douglas Elliman Real Estate.
Morocco Reports First Cases of Delta (9:54 a.m. NY)
An unspecified number of delta variants were detected in Casablanca, the most populous city in Morocco, and in Kenitra, 25 miles north of the capital Rabat, according to online newspaper Alyaoum24, citing Mustapha Ennaji, a member of the kingdom's Covid-19 scientific committee.
France at Risk of Variant-Driven Surge (9:18 a.m. NY)
French Health Minister Olivier Veran said the delta variant could lead to a new rise in coronavirus cases as soon as the summer.
"It could spoil the holidays and spoil the summer," Veran said. The variant already represents close to a third of positive cases in France, increasing by almost 75% in a week.
EU Clarifies Rules on Travel (8:08 a.m. NY)
The European Commission responded Friday to concern that tourists from the U.K. and elsewhere could be blocked from entering the EU if their Covid-19 vaccination isn't one of those approved by the European Medicines Agency.
At issue is Covishield, a version of AstraZeneca Plc's vaccine made in India. The shot is approved by the World Health Organization, and the commission said individual countries can decide whether to accept people vaccinated with WHO-approved shots even if they aren't authorized by EMA.
A spokesman for U.K. Prime Minister Boris Johnson said Friday the government is working with the EU on mutual recognition of vaccinations, and said the U.K. medicines regulator has shared its Covishield inspection report with its EU counterpart.
U.K. Finds Greater Vaccine Hesitancy in Young (7:46 a.m. NY)
Young people in the U.K. are more reluctant to get vaccinated than adults, potentially complicating the next stage in the fight against Covid-19.
Some 14% of 16-to-17 year olds were hesitant to get vaccinated in the month to June 20, the Office for National Statistics said Friday. That's 10 percentage points higher than the rate for adults.
J&J Vaccine Recipients Seek mRNA Booster (7 a.m. NY)
Some people who received the Johnson & Johnson Covid-19 shot in the U.S. are seeking out added doses of a messenger-RNA vaccine, fearing their initial inoculation won't protect them from the virus.
Ireland Targets Younger People for Shots (4:48 p.m. HK)
In Ireland, 18-34 year olds can register to get the J&J Covid-19 shot at a pharmacy starting next week. This brings forward the rollout to younger people by one to two months, amid an anticipated surge in the delta variant, Health Minister Stephen Donnelly said on RTE's Morning Ireland. Currently registration for vaccination is only open for people age 35 or over. Ireland plans to require a Covid certificate, obtained through vaccination or a negative PCR test, in order to access indoor hospitality, when it re-opens.
Singapore's Covid Cases Drop to 3-Week Low (4:34 p.m. HK)
Singaporean authorities found three new local coronavirus cases, the lowest daily tally since June 11, amid a vaccination push that the government said is key to reopening borders and the economy.
India Deaths Surpass 400,000 (2:00 p.m. HK)
India added 853 Covid-related deaths Friday to cross the 400,000 mark in the third-worst-hit nation by number of fatalities. Confirmed infections surged by 46,617 in the last day, pushing the total tally to 30.5 million, according to latest data from the Indian health ministry. India has administered a little over 340 million doses so far and fully vaccinated 4.4% of its population.
Japan Faces Pre-Olympics Vaccine Bottleneck (1:05 p.m. HK)
Some Japanese municipalities have stopped taking vaccination reservations due to short supplies from the central government, possibly slowing inoculations just weeks before Tokyo hosts the Olympics.
Osaka City -- part of Japan's second largest metropolitan area -- is considering suspending new reservations for vaccination because of a lack of supply from the government, Mayor Ichiro Matsui said Thursday.
Australia to Halve International Arrivals to Fight Variant (10:20 a.m. HK)
Prime Minister Scott Morrison has announced Australia will cut international arrivals by 50% in a bid to halt a surge in the delta variant of the coronavirus, which this week forced half the population into lockdown.
In his first appearance after emerging from self-isolation in the wake of traveling to Europe last month to meet leaders attending the G-7 summit, Morrison said the leaders had also agreed to a pathway to switch from virus suppression to focus on reducing the risk of serious illness, depending on a high vaccination rate that's yet to be determined.
South Korea's Cases Hit Six-Month High (9:15 a.m. HK)
South Korea reported 826 new coronavirus cases, the largest daily tally in more than six months, as the Asian nation began to ease social distancing measures amid accelerating vaccination rates.
After a slow start due to supply shortage, South Korea has stepped up the pace of inoculations with about 30% of the population now having had at least one shot. With more people vaccinated, the government began to ease restrictions on number of people that can gather and how long businesses could remain open.
But with the latest rise in Covid-19 cases, the capital city of Seoul has pulled back on easing the restrictions, leaving the ban on private gathering of more than four people in place for one more week.
Hong Kong and Macau Discuss Traveler Protocols (8:57 a.m HK)
Macau and Hong Kong don't have a specific date for bilateral quarantine exemption, but have agreed on preliminary conditions for travelers, Tai Wa Hou, representative of the Macau Health Bureau, said at a briefing on Thursday. In order for exemption measures to come into effect, Hong Kong will need to have no untraceable local cases, and if no community clusters arise from cases that are epidemiologically linked to imported cases or traceable local cases for 14 days.
Separately, Hong Kong is investigating a preliminary positive local Covid case with unknown source of infection involving the more transmissible mutant strain. The person worked as a part-time cleaner at a designated quarantine hotel in Yau Ma Tei.
J&J Shot Effective Against Delta Variant (8:45 a.m. HK)
Johnson & Johnson said that its single-shot coronavirus vaccine neutralizes the fast-spreading delta variant and provides durable protection against infection more broadly.
The company said in a statement Thursday that recipients of its vaccine produced strong neutralizing antibodies over the course of at least eight months against all variants including delta, which was first seen in India and has been spreading around the globe.
The J&J shot provides less protection initially than messenger RNA vaccines from Pfizer and Moderna, and experts have been discussing whether some people may need booster shots to keep the virus at bay long-term.