Dell Likely Must Sweeten Dell Technologies Bid, Bernstein Says
(Bloomberg) -- Dell will probably have to sweeten an offer to buy a tracking stock tied to VMware Inc. that is central to its plan to restore its public listing, Bernstein analyst Mark Moerdler said in note.
"We have spoken to multiple investors who feel the deal is an unfair one," Moerdler wrote.
Replacing the tracker, known to traders as DVMT, with its own shares is the pivotal step in Michael Dell's plan to return to public markets. In July, he announced a plan to exchange cash and equity in his privately held computer maker for the security, valuing the package at $109 a DMVT share. But DVMT has been mired roughly $15 below that price ever since.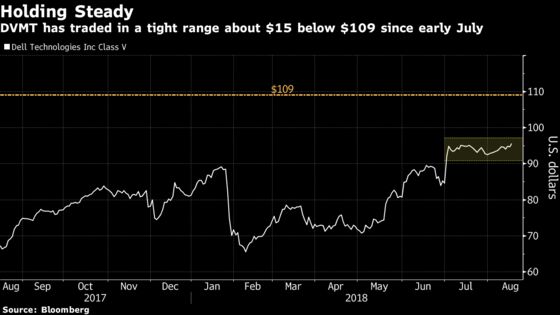 Analysts have noted that the market seems to disagree with Dell about the value of the equity being exchanged. The $109 Dell says its deal is worth implies a value to its existing operations that Bernstein deems "optimistic or ambitious," according to today's note. In effect, Dell is offering DVMT shareholders 31 percent of a combined company it values at $70 billion. It should be offering more like 37 percent to 41 percent, the brokerage wrote.
"What constantly came up in our discussions with clients were: Is $70 billion a fair equity valuation for Dell Technologies? Or should DVMT stockholders be getting more than 31 percent of the company?" Moerdler wrote.
While Bernstein says DVMT holders should received 37 percent to 41 percent of the combined DVMT/Dell, the final deal may be "somewhat" below that as Dell would probably walk away before "giving that much of the company away." An earlier offer of 35 percent ownership may be a "decent starting point."
Dell could try to bypass DVMT holders and IPO Class C shares, then convert Class V (DVMT) into Class C. Converting DVMT holders in this way, would give those holders between 41 percent to 43 percent of consolidated company.
"This option doesn't help Dell in its predicament," Moerdler writes."We believe it is more likely Dell will try to try to sweeten its existing deal rather than IPO Class C and try to force a conversion."
Today, DVMT is trading at 12 percent discount to the $109 offer and is trading at a 37 percent discount to VMWare Inc.