Delivery Hero Raises Outlook on Growth During Covid-19
(Bloomberg) -- Delivery Hero SE has raised its full-year revenue guidance, in a sign the food-delivery company continues to benefit from the lockdown that resulted from the Covid-19 pandemic.
The company said FY revenue guidance will be raised to 2.6-2.8 billion euros ($3.05-$3.29 billion) up from 2.4-2.6 billion euros
Delivery Hero said its gross merchandise value year-on-year rose 66% at 2.8 billion euros, while second quarter revenue was up 96% year-on-year to 612 million euros.
Company said it will expand into Japan in the third quarter.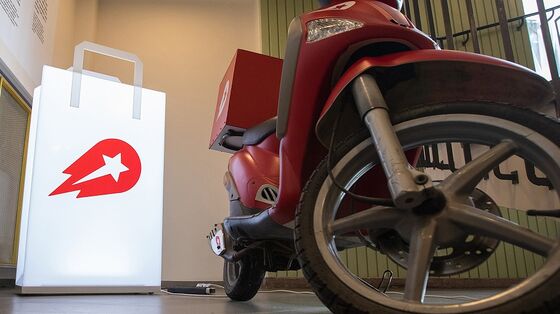 The Berlin-based company said order numbers in the second quarter rose 94% versus the same period last year, in preliminary guidance issued earlier this month.
The company said it managed 4 million orders delivered in a single day and over 100 million orders delivered in June, breaking its own record of monthly orders
The company said it added 130,000 new restaurants in the second quarter alone
Previously said it expects to close its deal for control of South Korea's biggest food delivery app, Woowa Corp., in the second half of the year, part of a wave of consolidation in the food-delivery industry.
The company could be valued at as much as 30 billion euros once the deal with Woowa closes, Chief Executive Officer Niklas Ostberg said in an interview earlier this month.
And Delivery Hero wants to keep growing. The company is holding regular discussions with other food delivery companies, including Rappi and Glovo, about potential deals, Ostberg has said. It's also outlined plans to sell as much as 1.5 billion euros of convertible bonds intended "for general corporate purposes and to take advantage of attractive investment opportunities that may arise."
Delivery Hero has been tipped as one of the companies that could grab a seat in Germany's benchmark DAX index after its stock continued to rise throughout the coronavirus crisis.
A spike in orders during lockdowns helped boost the stock by about 33% since January giving the company a market value of 18.8 billion euros.
Delivery Hero Seen as

Front Runner

for Wirecard's DAX Spot