Delinquent India Shadow Lender Seeks Insolvency Cover
(Bloomberg) -- India's Infrastructure Leasing & Financial Services Ltd. has sought to shield itself from being dragged to bankruptcy court as it tries to restructure its borrowings in the wake of a string of defaults that have sent shock waves through local markets.
The company, which has missed more than five debt payments since August, filed an application with the National Company Law Tribunal seeking some accommodations for itself and 40 units under the Companies Act, according to an exchange filing. The troubled infrastructure lender is attempting to reach a compromise with creditors outside the insolvency courts.
"The compromise formula needs to be proposed by IL&FS and then put to vote," said Amit Agarwal, head of corporate practice at law firm SNG & Partners. "It will require the approval of both the creditors and the shareholders. If the creditor does not like the plan, they have the right to reject it and file a complaint," in court, he said.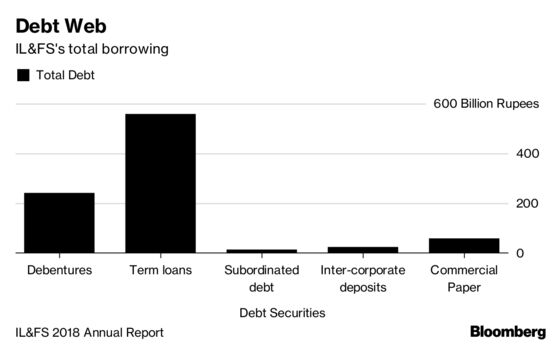 A systemically important non-bank lender, defaults by IL&FS group have rattled India's financial markets this month with mutual funds marking down investments, lenders concerned about further delinquencies and confidence in the shadow-lending industry plummeting. Worries over contagion have led to a collapse in the stock prices of some non-banking financial companies and made bond sales tougher even as authorities pledged to support local markets.
Click here to know of other repayments due soon from IL&FS
Small Industries Development Bank of India, a government-backed lender which lent funds to IL&FS group, may push it into insolvency for not honoring repayments, The Economic Times reported on Tuesday, citing people familiar with the matter.
IL&FS group, which had total debt of $12.6 billion as of March 31, hasn't been able to pay more than 4.9 billion rupees of its obligations this year. Sixty-one percent of its borrowings are in the form of loans from financial institutions.